Did you know that 76% of people say that colleagues using voicemail share a deeper connection? Fortunately, LinkedIn recently launched its robust "Linked Video Messages" feature!
So, you can now leave a LinkedIn voice message to stand out in your prospect's inbox. But how? Below, we'll dive into what voice messages on LinkedIn are, how to send one, and its pros and cons.
What are LinkedIn Voice Messages?
LinkedIn audio messages are 60-second voicemails that you can share with 1st-degree connections. You can send one through LinkedIn's messaging feature.
LinkedIn voice messages are excellent for professionals wanting to reach prospects. With this tool, you can personalize your LinkedIn request!
How Can I Send a Voice Message on LinkedIn?
Now let's explore how you can send a LinkedIn voice message on desktop and mobile:
Steps to Send a LinkedIn Voicemail on Web
Follow this step-by-step guide to send a voice note on LinkedIn on the web:
Tap the Messaging Button
Open your LinkedIn profile by adding your username and password. Next, click the "Messaging" tab at your desktop's bottom right.
Choose Your Prospects
Once you click the LinkedIn messaging box, a list of 1st-degree connections appears. You can manually select a prospect or search via the "Search Messages" box.
In addition, you can narrow conversations using My Connections, Unread, or Spam filters.
Hit the "Record" Button
Navigate the audio icon in the bottom-right of your messaging box. Simply hit the "Microphone" button and start recording.
Ensure LinkedIn Access
LinkedIn might not allow you to create a voice message if it lacks access. So, ensure the platform has "Microphone Access" before starting a recording.
Create Your Voice Message
Now, it's time for fun! Press the blue audio icon and create your unique LinkedIn voice message. While recording a voice note, remember to keep it short, or you'll bore the listener!
Send Your LinkedIn Voicemail
Congrats! You can now start sending exciting LinkedIn voice notes to grow connections. Here's a side note: you can send mass messages on LinkedIn, but we'd recommend taking it slow.
It's best to warm up to a prospect before sending hundreds of voice notes.
Ste
ps to Send LinkedIn Voice Notes On Mob
ile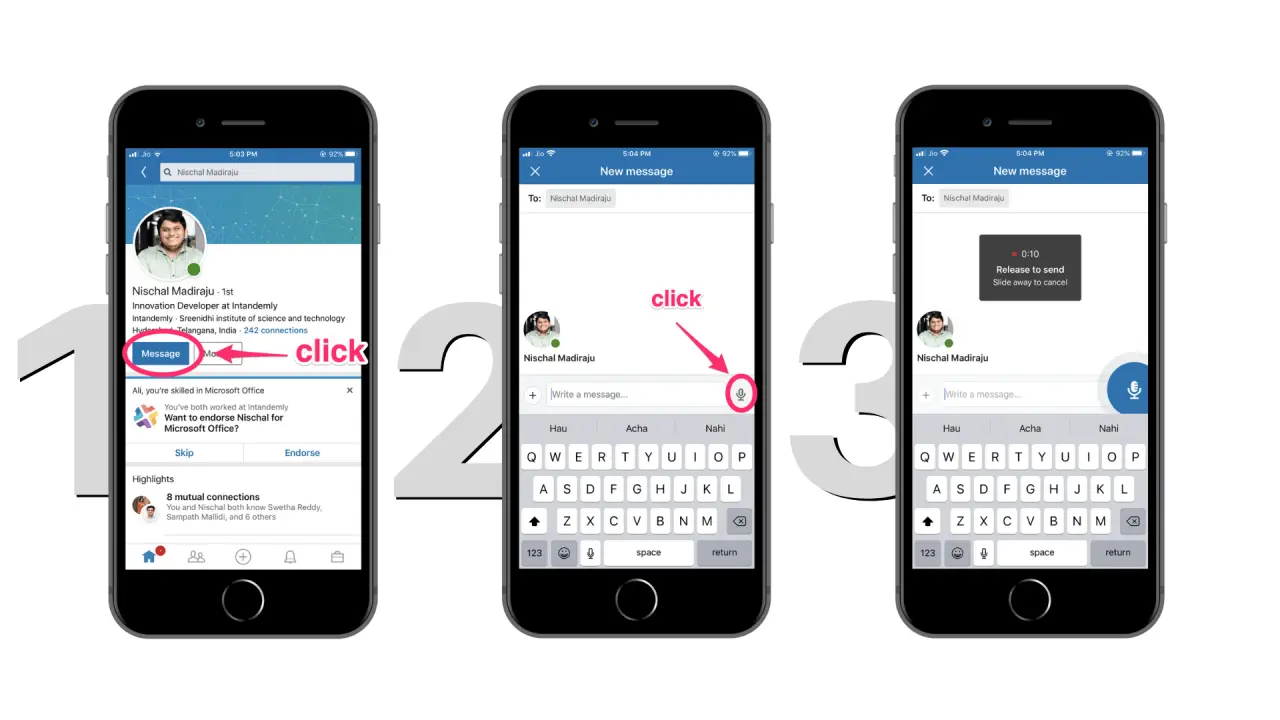 You can still send voice notes if you enjoy using the LinkedIn mobile app. Here's how:
Navigate the Messaging Button
Start by launching the LinkedIn mobile app and opening your profile. Once done, tap the "LinkedIn Messages" button in the top right corner.
Find Your Prospect
Search and select the LinkedIn user you want to send a voicemail. Next, click the "New Message" icon to start a new conversation.
Read also: Steps to Build a Prospecting Plan
Provide LinkedIn Audio Access
You can't send voice messages on LinkedIn if your phone does not allow access. So, before starting, check the settings and open the "Microphone Access" button.
Start Recording Your Message 
You can now start leaving LinkedIn voicemails! So, tap the "Microphone" icon located in the bottom right. Once you hold it, a timer appears, showing how long your voice note is.
Remember, you only have up to 60 seconds to create an enticing LinkedIn voice note.
Hit Send or Cancel
If you want to re-record, you can cancel by sliding away from the microphone. But if you're satisfied, release the icon.
LinkedIn sends a pop-up to confirm if you want to deliver your voice message. Hit the "Yes" button, and your prospect can hear your voice note!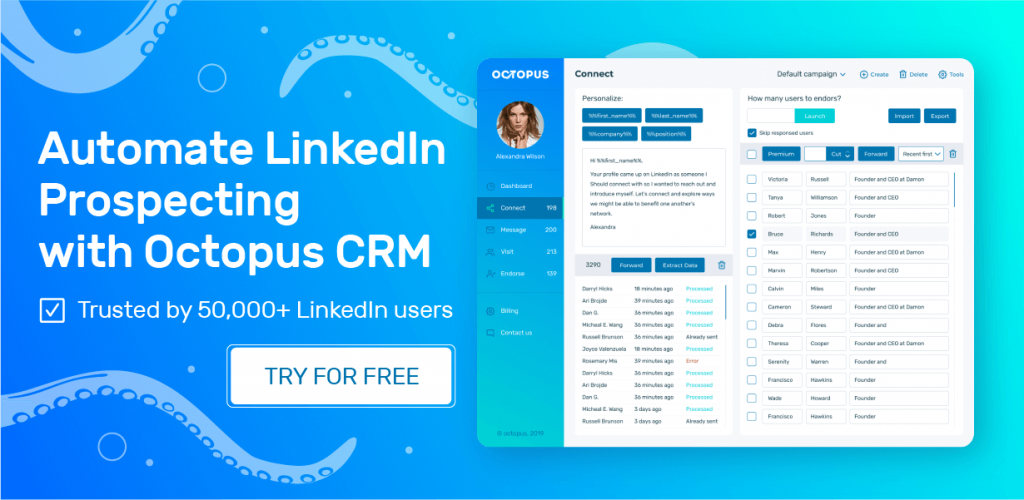 Good LinkedIn Voice Message Example
Need some inspiration to create the perfect LinkedIn voice message? Here's a fantastic example to get your creative juices running:
LinkedIn Voice Note Template # 1
Hey [Prospect's name]!
I read your recent post on acquiring another firm and [Prospect's challenge]. Similar organizations struggle to integrate different sales processes [other prospect pain points].
Here's a case study of a client we helped solve the same issue just last week! [Add a resource to provide the prospect value]. I'll send the link in our message thread so you can read more.
I look forward to hearing from you. Have a fantastic day!
LinkedIn Voice Note Template # 2
Hey [Prospect's name], I just saw your post about your promotion and wanted to say congrats! 
I know for a fact you'll bring something new to the table with your standout skillset. I just wanted to talk about your diversity and inclusion department. Our solutions have helped businesses like yours boost employee retention rates.
If this interests you, we can chat on LinkedIn. Or, you can call me at XXX-XXX-XXX. Thanks, and heartfelt congratulations to you!
Tips to Use LinkedIn Voice Notes Successfully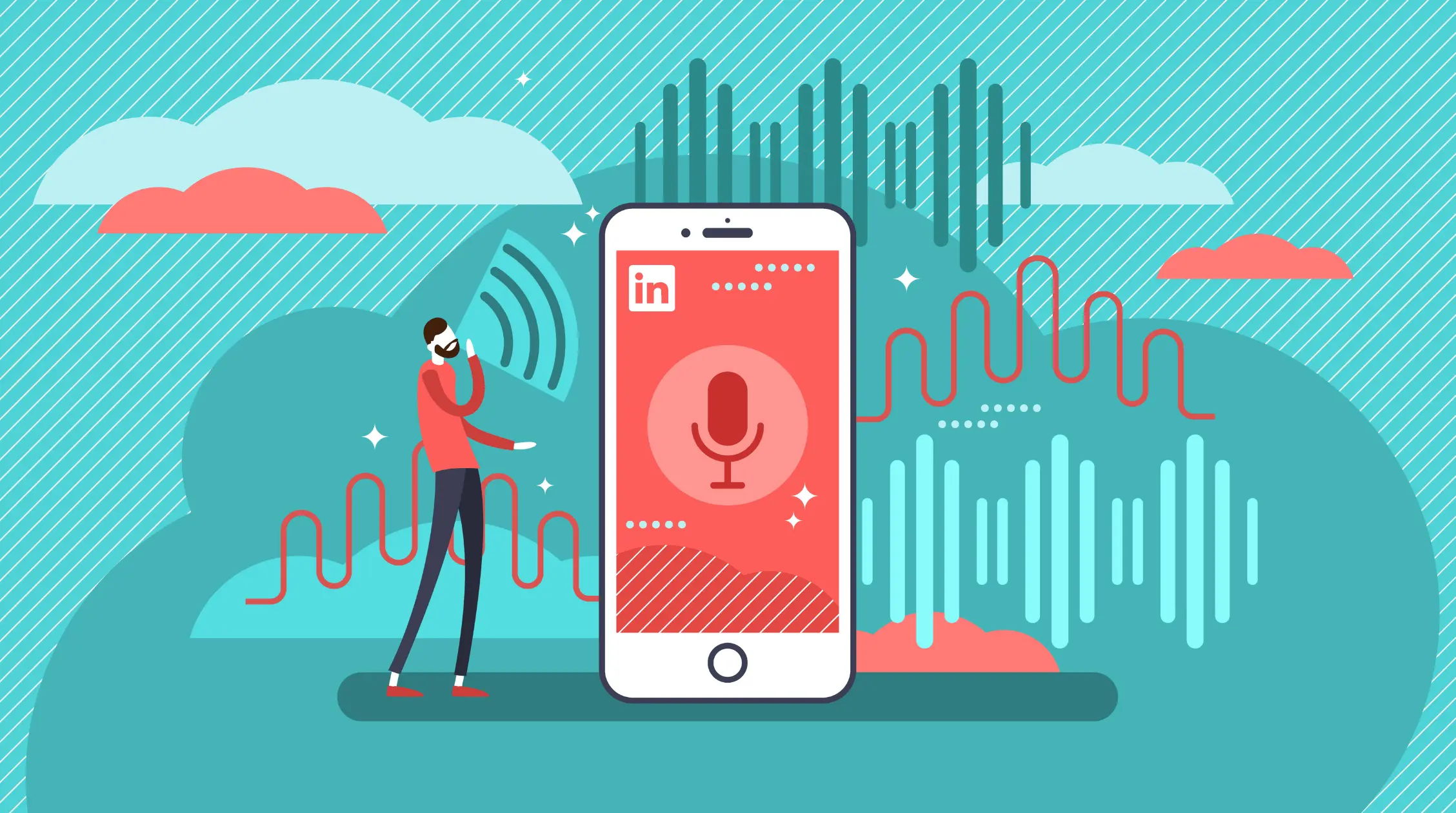 You've learned how to send a voice note, but do you know how to create one? Below we've added the top five tips to help you make the ideal LinkedIn voice messages:
Ask for Permission
The last thing you want when growing connections is to end in the LinkedIn voice message spam. So, respect your prospect's preference and ask for permission.
Once they give you the heads up, you can send a voice note introducing your services!
Keep It Brief
LinkedIn is not a social app for chatting and making friends. It's a professional networking site that allows you to grow valuable connections.
While LinkedIn offers a minute, ending your voice note in under 30 seconds is best. That way, you demonstrate that you respect their time without compromising your message!
Add a Personalized Intro
Creating a short LinkedIn message doesn't mean you can't personalize it! Add a little oomph to your LinkedIn voice notes by personalizing your intro. If you sound like a robot, prospects will think you're using LinkedIn automation, so, be natural and avoid being too formal.
Offer Value 
Captivate your prospects and give them a reason to follow up. How? Easy: send them a powerful message that delivers value.
Skip the unnecessary pleasantries and offer them something that helps them grow. Remember, the goal is to get the prospect to respond.
Finish with a Strong Call to Action 
So, you've added a strong intro and a value proposition; what's left? You're only missing a solid call to action!
Give your prospect concrete instructions for how you want them to proceed. Do you want them to give you a call? Or maybe you want to encourage them to read your article. Whatever your CTA is, ensure it's clear and concise. 
The Benefits of LinkedIn Voice Messaging
Feeling skeptical about LinkedIn's voice messaging tool? Here are several compelling reasons to get you started:
Adds a Touch of Personalization –

When you send a voice message, it shows prospects that you're genuine. They'll notice how you went out of your way to send a personalized voicemail. 

Helps You Stand Out –

LinkedIn voice notes are relatively new, so you can make a mark using them!

Increases Response Rate –

Sending a hyper-personalized audio message can help you increase your responses. With voicemails, you can make prospects feel more engaged.

Low-Pressure Communication –

The best thing about voice notes is that prospects can listen whenever they're free. They won't have to spend hours reading text messages and can respond quicker. 
Read also: Techniques for Successful Prospecting on LinkedIn
The Downsides of LinkedIn Voice Messaging
While LinkedIn voice notes are a fun way of communicating, they've got drawbacks. Here are several of its cons:
You Might Not Resonate with Prospects –

Most Millenials and Gen-Z prefer voice notes, but it's not every prospect's cup of tea. So, consider asking for permission before you send an audio.

You Can't Skim Voice Notes –

Not everyone has the time to open their computer and wear headphones. So, there's a risk your prospect might forget to respond!
Conclusion
LinkedIn voice messages are a unique and effective way of reaching prospects. With this robust feature, you can captivate new leads in a personalized and compelling way.
So, use the five tips we discussed and the examples for inspiration. After that, follow our step-by-step guide to sending the perfect LinkedIn voice note!