There's nothing worse than sharing a post filled with typos and a faulty link. Posting a URL with the wrong image or title can hurt your brand's credibility. It can also decrease your engagement and CTR. So, how do you avoid the embarrassment of sharing the wrong link? Easy: you keep reading our comprehensive guide on the LinkedIn URL Inspector tool!
Let's dive into the post inspector on LinkedIn, its pros, and how to use it:
What Is the LinkedIn Post Inspector?
It is a 100% free LinkedIn tool used for optimizing your posts on LinkedIn. The robust software allows you to generate error-free content previews.
Also known as the LinkedIn Debugging Tool, the versatile tool shows when you last updated a link. It also helps debug potential issues in your content preview, including:
Preview Image

Post Title

Meta Data

And more!
Other Te
rms for LinkedIn Post Inspector Tool
LinkedIn uses many terms to refer to the Post Inspector tool, such as:
LinkedIn Checker and LinkedIn Debugger –

As the name suggests, the LinkedIn debugger helps debug issues with your preview text.

LinkedIn Open Graph Debugger –

Open graph m

eta tags appear on your post's link preview. With the post inspector, you can identify and solve tag errors.

LinkedIn Post Link Checker –

It's another name for the post inspector, allowing you to check your shared links.

LinkedIn Share URL Validator –

The LinkedIn post inspector shows how a link looks from the developer's perspective.

LinkedIn Preview Validator –

The LinkedIn post inspector tool is effective for validating links.
Why Use LinkedIn Post Inspector – 3 Top Reasons to Get Started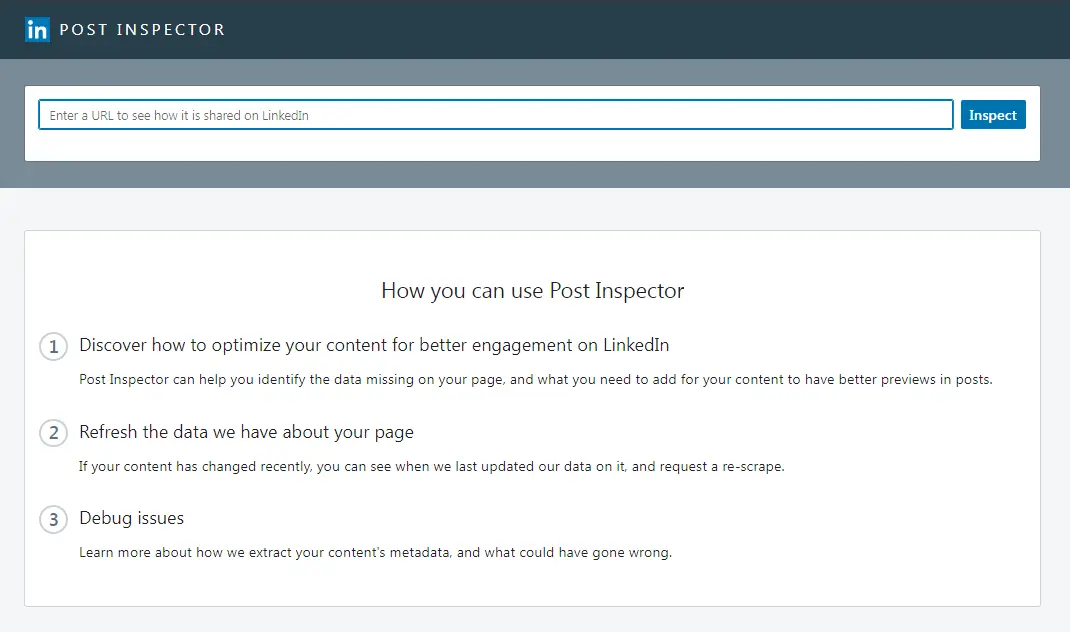 The LinkedIn debugging tool is a fantastic way of determining if you're missing data from a link. That's why LinkedIn users use this powerful software SEO to optimize their posts.
With the LinkedIn post inspector, you can ensure your metadata looks eye-catching. But that's not all! You can leverage this robust tool to unlock the following benefits:
Enhance Your Content
Post Inspector helps you enjoy better engagement on LinkedIn by optimizing content. The state-of-the-art software helps identify if your page has any missing data.
Moreover, it provides insights into what you should add to refine your link's preview.
Refresh Your Data
Modifying your article allows you to refresh your LinkedIn webpage data. In addition, the platform lets you view when they last updated information.
So, you can request a re-scrape to update your content and metadata.
Debug Potential Problems
The debugging tool offers excellent insights into how LinkedIn extracts your metadata. That way, you can debug issues and improve your profile.
Related article: How to Create LinkedIn Content Strategy
How to Debug Your LinkedIn Link Preview?
Is your link preview swarming with errors – now what? Worry not; debugging your post's preview is pretty straightforward!
You only need to answer the following questions:
Is the Post Inspector Showing the Wrong Image?
If you answered yes, it's time to change your post's meta tags. You can't rearrange your photos or re-upload to solve this issue.
Instead, learn to utilize the correct code snippets to tweak your URLs. Actually, they are meta tags in the Open Graph that determines how your link will look like on social media posts. Remember that you'll have to install a plugin to edit WordPress pages.
Is Your Post's Title Easily Readable?
Ensure you make high-quality posts and the title isn't missing or cut-off. In addition, you'll want to verify if there's additional space.
LinkedIn offers 150 characters, meaning you can create a vivid and descriptive title.
Does LinkedIn Inspector Accept Any Links?
The LinkedIn Debugging tool accepts any link you want to share on LinkedIn. You can include your blog, LinkedIn posts, website, or YouTube video URLs.
For instance, you can share your homepage's URL to drive more website traffic. Or, you can add an Insta link to share an informative reel. When you share a video, the LinkedIn inspector tool will provide the following info:
Author

Description

Publish Date

Type of Content

Video Thumbnail

Video Title
What Types of Link Will the LinkedIn Debugging Tool Accept?
As discussed, the LinkedIn Post Inspector accepts various links on the platform. You can add a link to your latest blog, social media posts, or videos!
How to Use LinkedIn Post Inspector
Now let's explore how you can use the LinkedIn post to enhance your content:
On Your Laptop or PC
Follow these steps to use the LinkedIn debugging tool on your desktop: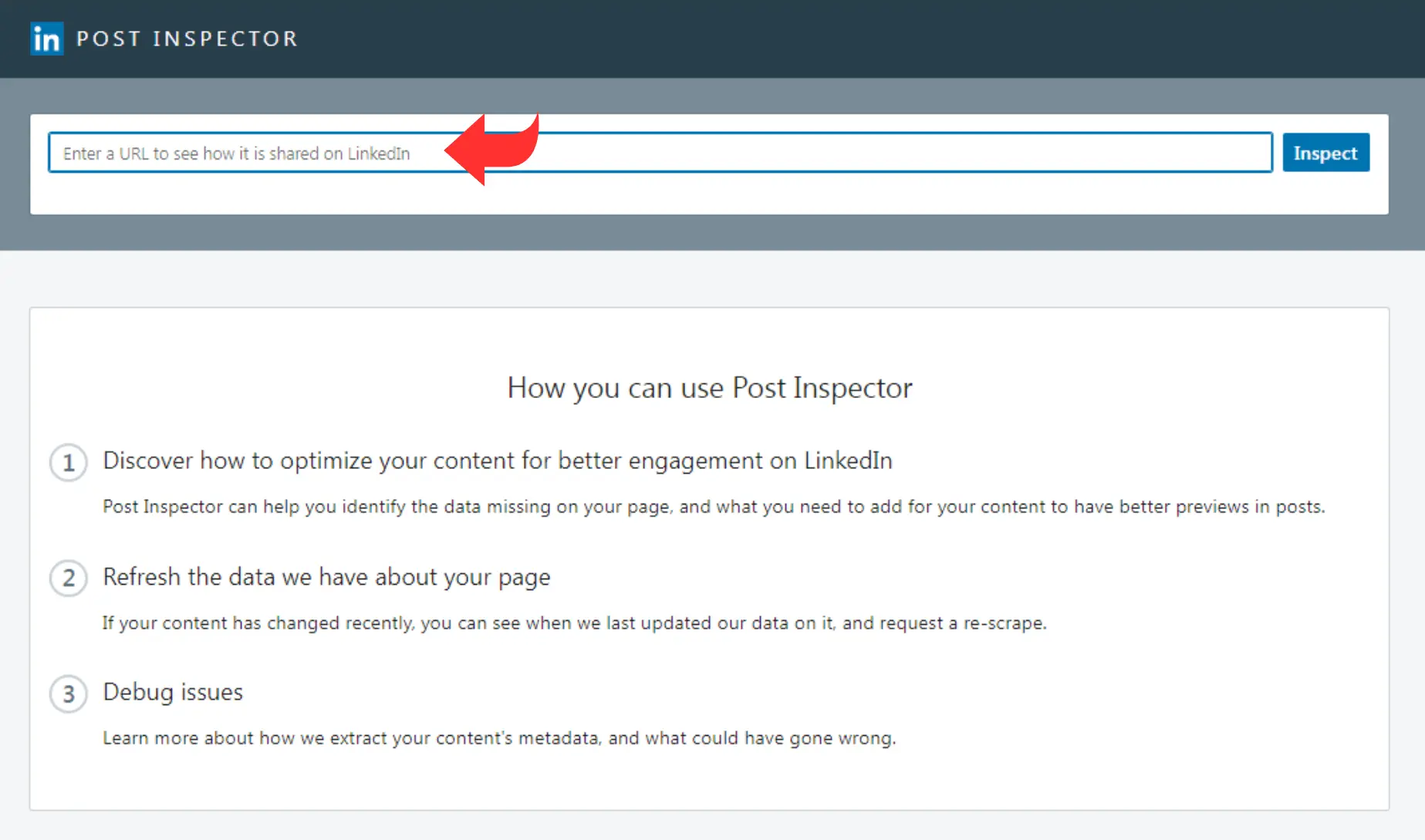 Choose a YouTube video, website, blog, social media, or LinkedIn link

Copy-paste your desired URL into the search toolbar 

Hit the

"Inspect

" button to view the insights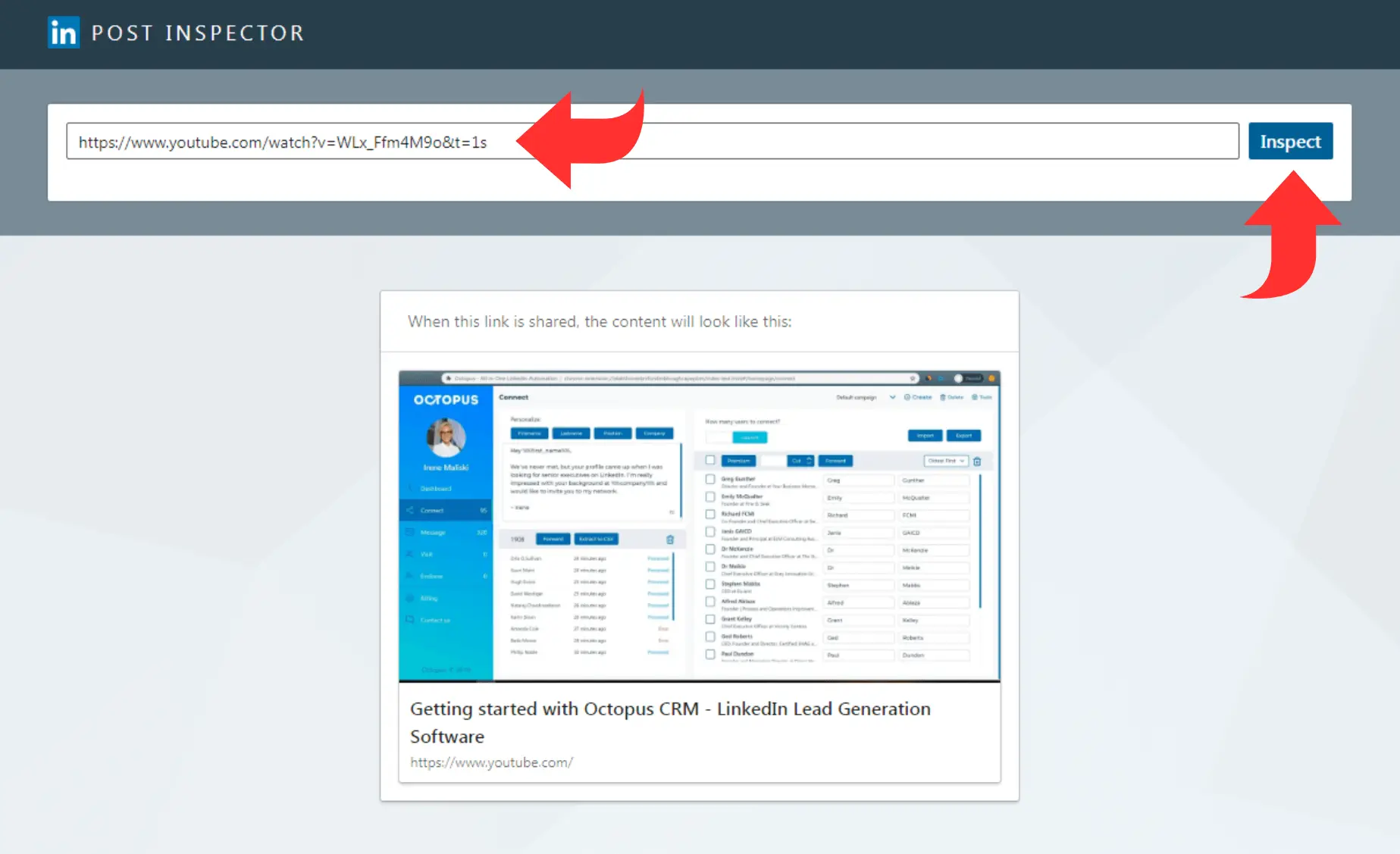 Once it loads, you can access details of your link's preview with section breakdowns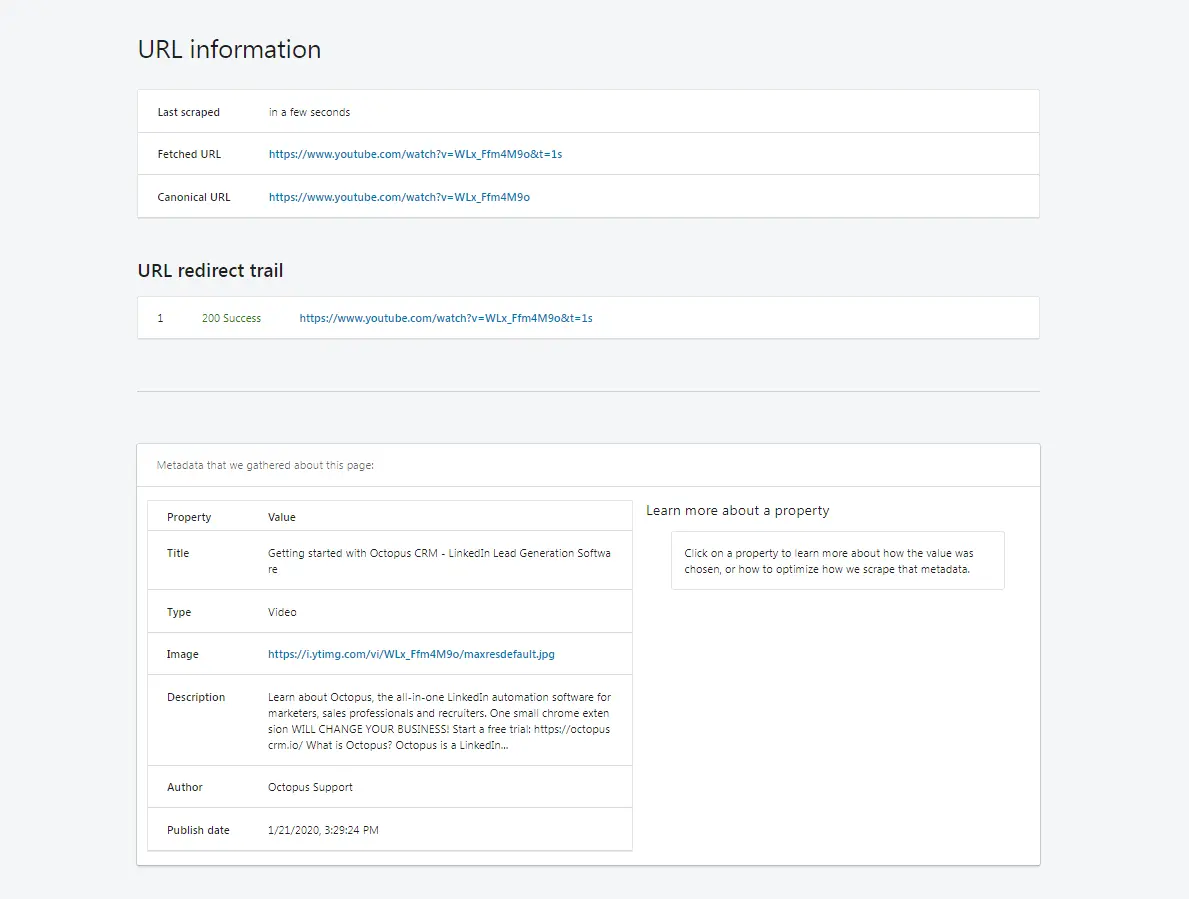 Besides this, you can debug issues in your URL to enhance your posts and captivate viewers.
On Your Mobile
The LinkedIn Post Inspector tool is not downloadable or available as a mobile app. So you can access this on your mobile by following these steps:
Open a Google (or any other web browser) tab

Search for the LinkedIn Post Inspector tool

Open and enter a video, article, or other type of link

Tap on the

"Inspect"

option and wait for the results

You'll receive an in-depth breakdown of your LinkedIn post's preview

Validate the details and debug issues relevant to your link

Congratulations! Your

LinkedIn URL

is ready to share
What If My LinkedIn Post Inspector Stops Working?
If your LinkedIn debugging tool stops working, don't panic! You've likely put the incorrect URL into the software, so redo the process.
If the post inspector still doesn't work, your internet or the platform may be acting up. We recommend checking your URLs late or using the LinkedIn preview tool.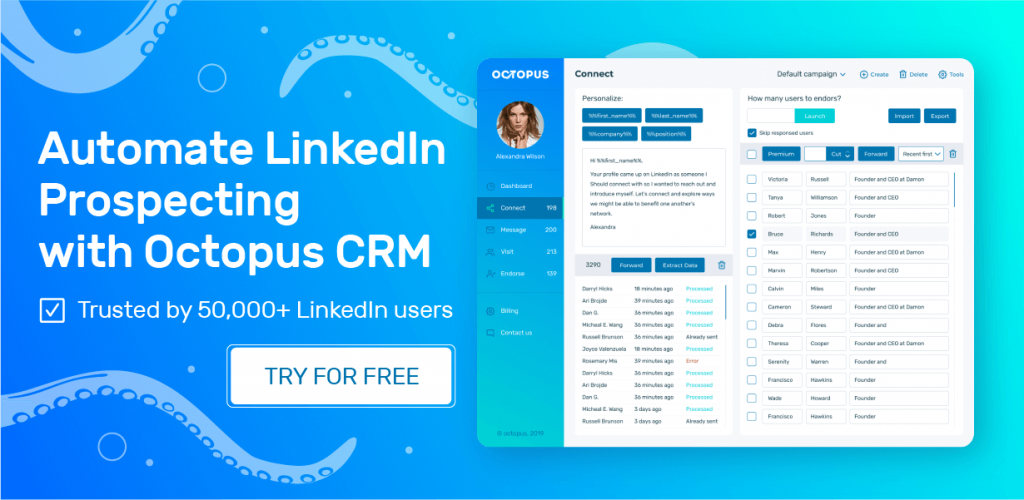 Conclusion
LinkedIn offers users numerous tools and features to fast-track growth. If you want to improve your LinkedIn profile, you'll want to avoid broken links.
With the LinkedIn post inspector, you can optimize your preview text. That way, you can enhance and optimize your title and metadata. In addition, you can leverage the tool to debug potential issues and refresh data.