Boosting a company's sales and productivity is crucial to increasing profits. Aggressive marketing, lower prices, and quality products could tempt your customers. It also improves lead generation and sales. However, businesses must retain customers and maintain meaningful relationships to enhance their productivity and sales. Customer relationship management (CRM) is an excellent tool to help companies to boost sales efficiency while promising long-term growth and sustainability.
How Does CRM Enhance Sales Productivity?
Despite all your efforts, only 24.3% of sales representatives manage to exceed their sales targets. It is directly related to sales productivity, measuring how quickly sales representatives can achieve their sales goals.
Unfortunately, sales representatives only get one-third of their time communicating with prospects. The remaining time goes to other administrative tasks such as research, data entry, and more. It highlights the importance of sales productivity software that can automate repetitive tasks to save time and allow sales representatives to focus on other crucial administrative tasks.
This is where the customer relationship management tool proves to be beneficial. It helps you stay on top by taking relevant actions immediately to avoid delaying deals. The implementation of a powerful tool can help companies overcome productivity challenges.
Integrating technology into sales processes can strengthen team productivity by allowing sales representatives to access information quickly. Moreover, it tracks your prospects to gain insights to engage them to enhance productivity.
Therefore, a customer relationship tool helps align sales processes to attain desired results. Furthermore, it allows companies to effectively sell their products and services by providing a clearer picture of prospects' likes, concerns, and preferences.
Here are some practical ways through which CRM enhances your sales productivity.
СRM Is Your Central Repository for All Data and Tasks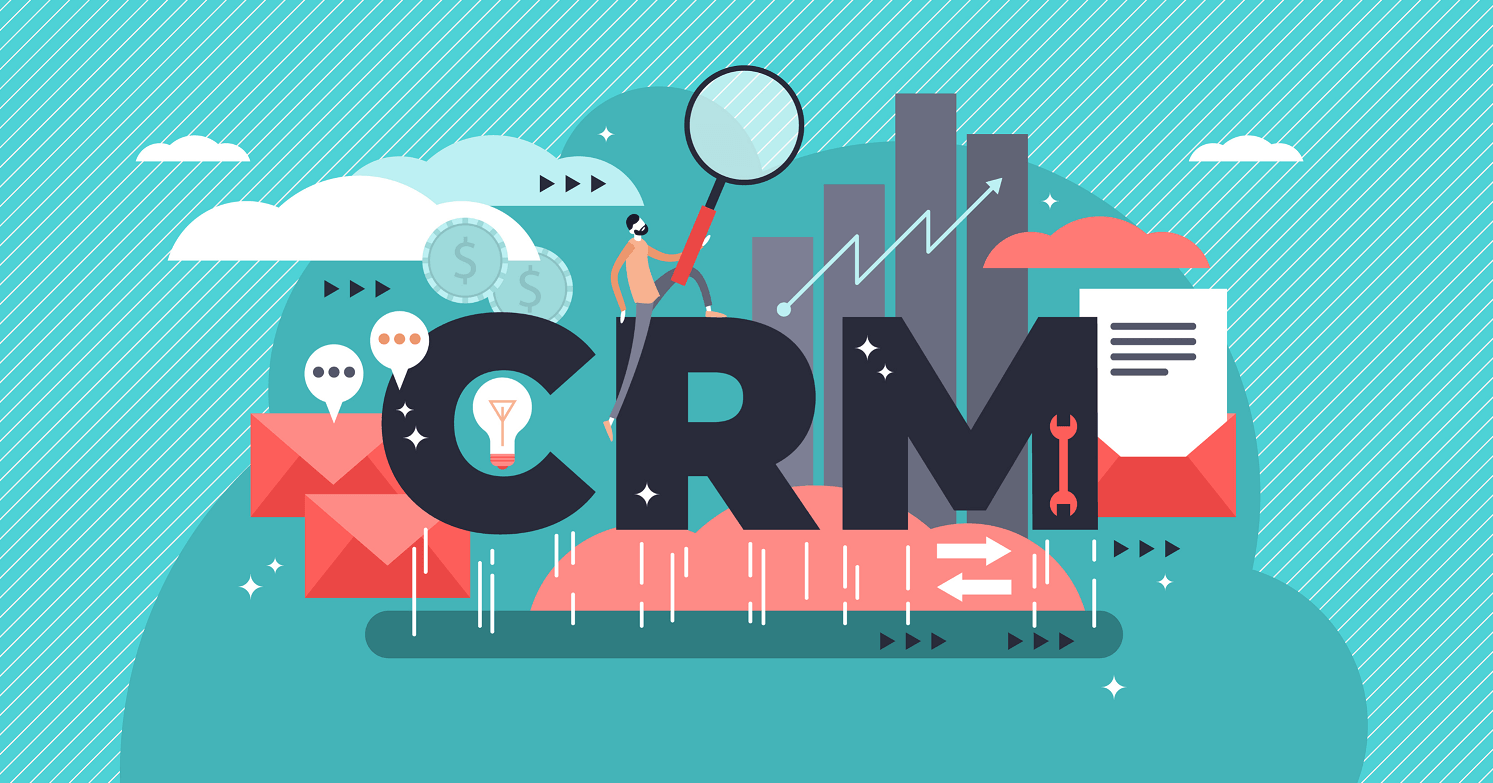 When companies use multiple applications to manage their sales teams, they invest a lot of time in testing, training, and upgrading these tools because it is the only way to help companies compete with other businesses. However, CRM solutions have made life easier. Since they can quickly deploy over the cloud, they have made things easier for businesses. It saves the costs of training, upgrading, infrastructure, and hardware costs, allowing companies to streamline other tasks while increasing bottom-line productivity and revenue.
CRM Helps You Get More Qualified Leads
Recording leads manually is time-consuming and painful, affecting productivity and increasing the chances of errors. Therefore, it is crucial to use CRM to capture information hassle-free. Ideally, businesses look for leads from online inquiries, such as contact forms, downloads, or more, to be directly imported to CRM. It means that it directly influences your workflow.
A great way to automate your responses is by using chatbots. Answering customers' queries can help get qualified leads and ensure people get help when needed.
CRM Automates Your Tasks
Businesses with top-performing sales invest in automation twice as much compared to those who do not make many profits. Automating repetitive tasks can help reduce the time sales reps spend entering or updating data.
In addition, companies can generate automated reminders to prevent missing out on essential deals from slipping away. ACRM tool can help businesses set up marketing automation campaigns to get more leads and follow up quickly. Therefore, companies now prefer automation tools to capture data and prospects effectively and engage leads timely with automated tools.
CRM Enhances Team Collaboration
All departments of companies must work together to achieve better results. Seamless team collaboration across the company's departments can remove miscommunication and inefficient customer service. When all departments sync to deliver results, the customer retention level and conversion rates increase automatically. Therefore, to achieve incredible outcomes, all departments, including sales, customer service, and marketing, must align and be in constant communication.
CRM tools make it easier by providing data that's accessible to all the departments in one place. It makes it easier to make notes for each contact, assign tasks to team members, communicate with other departments, track tickets, and send group emails using an automated tool.
Moreover, employees can use mobile CRM to keep themselves updated on important information. It also helps them prepare for meetings timely and efficiently. Consequently, teams are more likely to close deals when working together.
CRM Tracks Sales Activities
Although measuring sales performance differs in every business, all businesses measure how well their sales efforts are paying off. Every business needs to know the challenges or bottlenecks in the processes and the methods that work well for companies to build a consistent sales process.
When organizations measure sales activities, they identify:
the stages where they drop the most leads in,

which sales representative provides them with the highest leads

how close they are to achieving their sales goals.
Even though companies have a lot of data, the data is only helpful once they have the right tools to sort them. CRM tools help businesses generate sales reports to monitor key metrics. It includes activities assigned, tasks completed, or a comprehensive overview of sales reports. Furthermore, using the analytics feature of CRM tools help businesses in making better decisions and increasing sales performance.
Must-Have CRM Features to Boost Productivity
Customer relationship management tools do more than organize contacts. When you choose the right features, CRM software helps boost sales while keeping a close look at the customers, from maintaining customer loyalty to nurturing leads to close deals. Moreover, it saves time and money through sales automation processes.
Choosing the right CRM tools helps businesses boost sales productivity. Therefore, companies must consider the following features when selecting a customer relationship management tool to automate processes.
Workflow Automation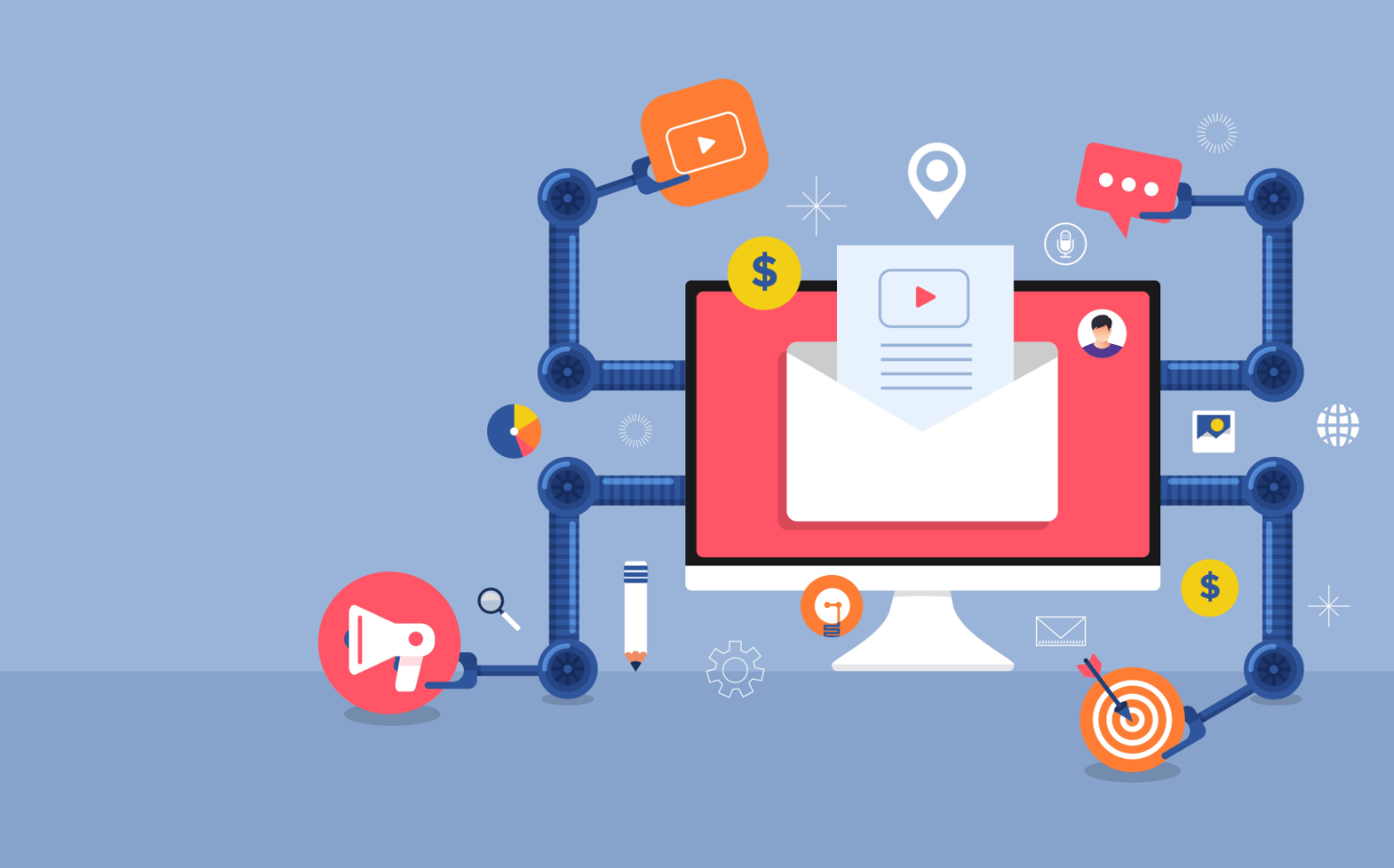 A major complaint of every sales team involves doing repetitive tasks manually, such as inserting data or filling out forms. Thus, using a CRM that offers workflow and automation can save time and effort in completing tasks manually. The following are some areas perfect for workflow and automation:
Activity tracking

Emails if triggers occur

Assigning leads to the proper territory

Lead qualification
Many other possibilities can help ease the workflow for sales teams. Therefore, mapping the process that needs automation would help businesses choose the right CRM tool to cater to their needs. Additionally, it will help them identify the areas that need simplification and understand how to work collectively instead of isolating one another.
Suppose companies set up these automation tools correctly. In that case, these workflows and automation will help the sales team realize that the company's CRM tool has reduced their manual work, giving them time to focus on other crucial tasks such as relationship building and selling products and services.
Related article: Best Workflow Automation Software
Lead Generation and Management
Lead management is a crucial feature of every CRM tool. It allows companies to determine the best customers to follow based on psychographic and demographic factors. Moreover, it improves sales teams' efficiency and productivity and helps them focus on the right leads.
Communication Tools
A perfect CRM tool will consolidate all your communication sources such as notes, phone calls, automatically tracked emails (through Gmail and Outlook), and live chat transcripts to one platform to help the sales team view and answer customer queries.
Consolidating them into one account or view would help businesses and sales teams develop one perspective of the truth without wasting their efforts and time searching through documents, emails, or notes. Further, anyone from the organization can view the records and catch up with previous conversations in the context to know what's happening. It saves your sales team time while offering your customers a consistent experience because anyone they contact will have access to the same story.
Built-In Social Media Monitoring
A good CRM tool with built-in social media monitoring can save a team's marketing time because they do not have to switch to multiple platforms to perform tasks to monitor the company's social media. The right CRM tool would perform the following social media tasks:
Note what people are saying about your brand through social listening

Check social media channels such as Twitter, Instagram, and Facebook to customize your social media strategies

Gain insights about social media actions your brand receives such as shares, comments, likes, mentions

Identify and leverage your brand

Gain insights into your customers to identify them

Manage everyday tasks of posting helpful content to your company's social media pages
Employee Tracking
CRM tools are an excellent way to track employees' performance and activity. Businesses must choose the perfect CRM software that allows employees to have accounts where they can follow tasks, hours, meetings, goals, sales numbers, and other items. The CRM tool should enable supervisors and higher authorities to access dashboards to view completed tasks, individual employee goals, and other metrics to boost productivity.
Again, it will help managers write about employees' performance, reward high-performance employees, create incentives, identify struggling workers, and address areas for improvement.
Reporting
Another crucial feature a powerful CRM tool must have is reporting. It brings the results of marketing and sales efforts and is a part of almost all CRM tools. The more report types you can access, the better:
effectiveness of your emails

number of outbound calls

number of leads coming at a particular time

number of sales generated at a specific time

the stage at which your leads turned into buyers, helping you to identify opportunities to close deals in shorter periods

which sales representative closed which leads

how many leads your sales teams closed
Integrations
Even though CRM tools offer a wide range of features, most companies prefer to customize them to their needs because of their integration possibilities. When choosing a CRM tool, look for the ones that can integrate with other resources and tools. Since you do not know what proves beneficial for your business, it is better to opt for an automated tool that helps the growth of your business. Moreover, if your organization is already using other technology, you can integrate your CRM tool to help them achieve better outcomes.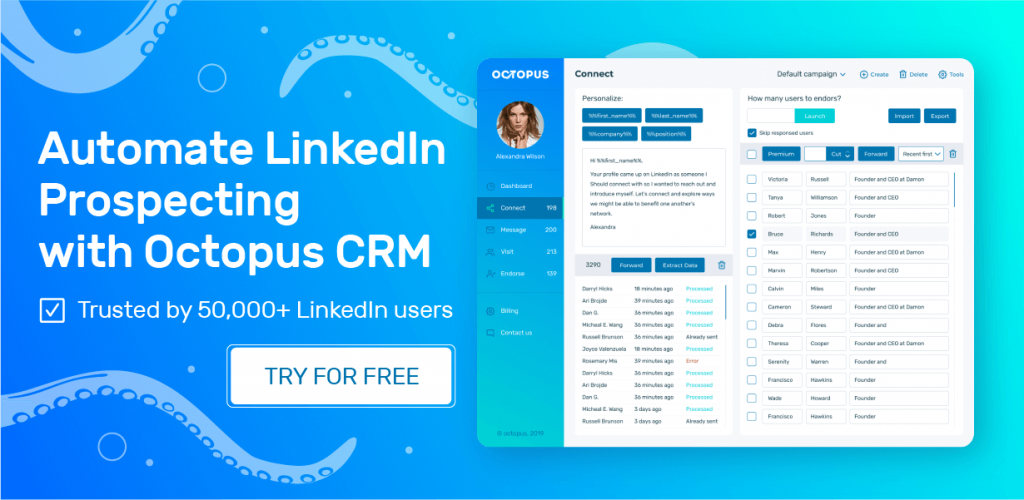 6 Ways to Boost Your Sales Productivity with a CRM
Octopus CRM is an excellent tool that allows businesses to automate repetitive tasks to help employees focus on more crucial matters. Here are six ways to boost sales performance through a perfect automation tool.

Automate Tasks in your Sales Workflow
Companies can instantly increase efficiency by optimizing workflows. CRM tools facilitate optimization by automating processes such as data analysis, collection, and marketing campaigns that employees manually perform. Additionally, they offer analytics and reporting to help users identify the problematic areas to improve them. Therefore, Octopus CRM is a great tool that offers to help companies to automate their sales workflow to reduce manual tasks and improve efficiency. Using this tool would reduce the chances of errors and streamline business processes.
Manage Your Activity
A salesperson often toggles back and forth between different systems to view and complete daily tasks. Since it is time-consuming and takes up a lot of energy, leaving the employees unhappy, using CRM tools that manage activity can help speed up the sales team's day-to-day workflow and help them reach their target goals on time. Octopus CRM is an excellent LinkedIn automation tool that allows the sales team to manage their daily activities to reduce time spent on repetitive tasks.
Integrate Your CRM With Other Tools
A mobile-friendly CRM tool helps employees access data even if they are not at the office. Many CRM tools allow organizations to access the software using android or Apple devices. Accessing files through mobile phones makes the entire process quick and easy. Therefore, the Octopus CRM tool allows sales teams to update their deals after meeting with clients. Moreover, it will enable them to access and input data even if not at work, making remote-working convenient.
Withdraw Pending Connection Requests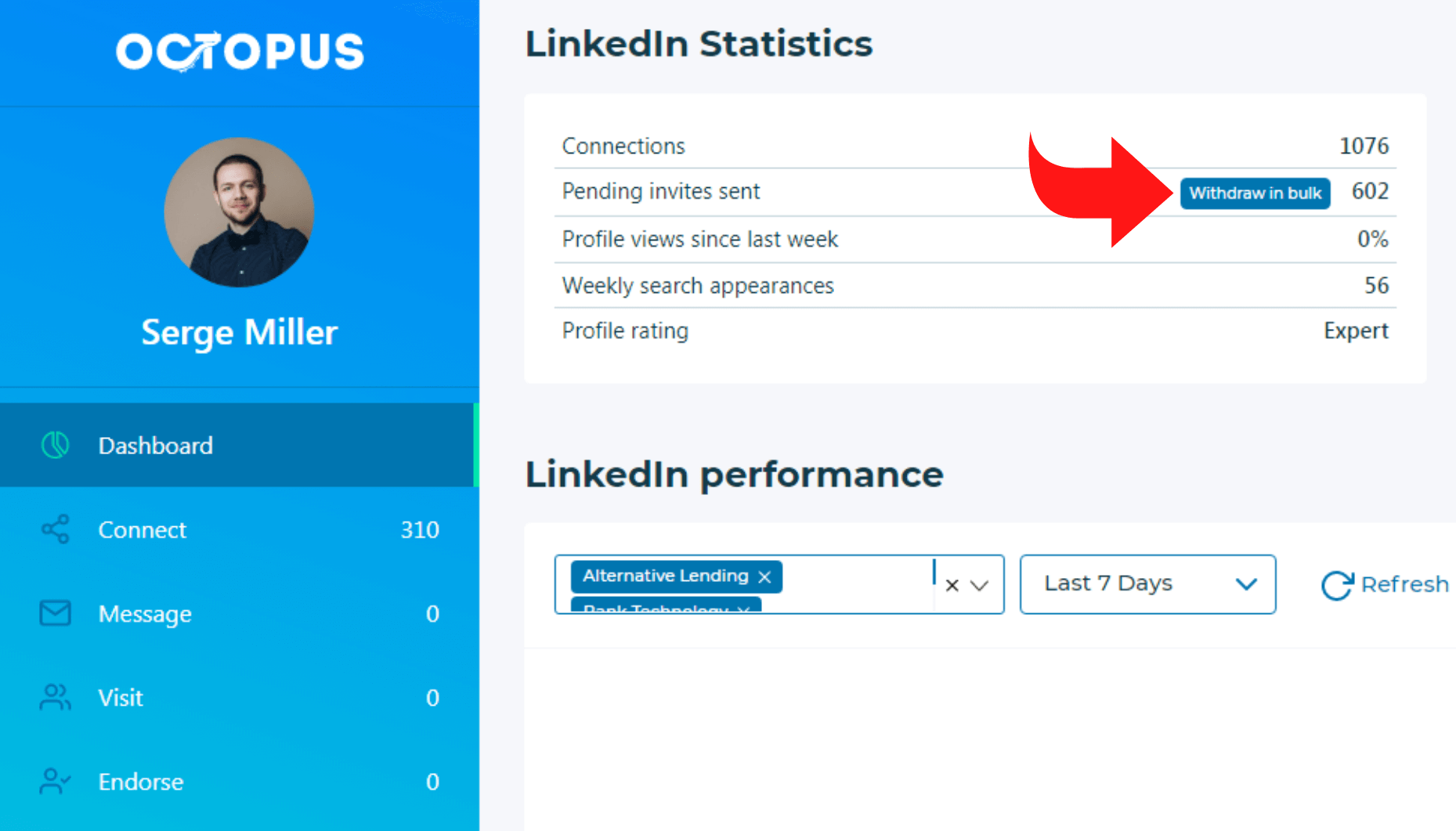 CRM tools are excellent automation tools for connecting to prospects. However, you sometimes cannot link to people since you have reached your connection limit. Octopus CRM tools help you withdraw pending connection requests while leaving you free space to add more people.
Prospecting For New Leads
Capturing leads is an excellent way to boost sales. CRM tools monitor form fills, allowing sales teams to notify of any interest in a company's landing page. Moreover, phone calls will enable them to follow up on their interest.
Octopus CRM LinkedIn prospecting tool lets businesses know when a prospect has clicked on their website while providing information to turn them into leads and paying customers.
Analyze Your Activity
A good CRM tool allows employees to align tasks showing each deal's start, progress, and end. Analyzing activities helps businesses understand the changing interests of customers. Therefore, Octopus CRM is a perfect tool for companies to analyze their activities to increase sales productivity. Moreover, it gives them all the essential insights to help businesses make improved decisions.
Conclusion
Many organizations, irrespective of their sizes, leverage CRM solutions. Since time is money, organizations are focusing more on automating tasks to save time to spend on other essential matters. CRM solutions help keep employees' time through seamless communication and enhancing productivity.
An implemented CRM toll will help streamline business processes by reducing the need to perform repetitive organizational tasks. Furthermore, Octopus CRM is an excellent automation tool that will save time and energy and help your business grow.