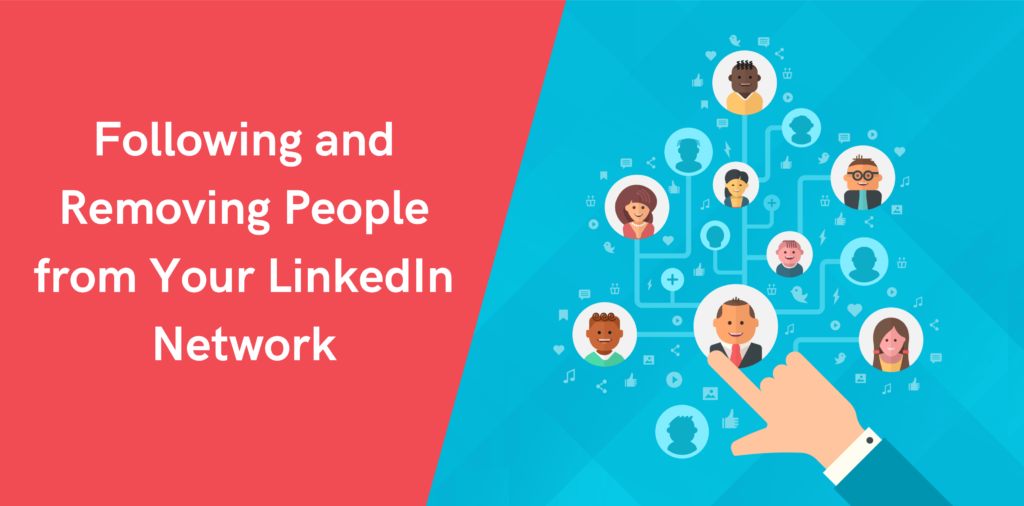 Following and Removing People from Your LinkedIn Network
With over 260 million active monthly users, LinkedIn is the world's top networking platform for professionals to increase their visibility and reach. It allows you to create a knockout profile that will serve as a mirror to your expertise, qualifications, and skills. On top of that, you can use it to brand your career, network with industry professionals, and get business and career growth opportunities.  
To get the most out of your LinkedIn's network, it is vital to know how the site functions and how you can use it for business or career growth. Following and removing people from your LinkedIn network is one such subject that we will discuss in this article. 
Following People on LinkedIn Network
Once you have made an account on LinkedIn, it's time to take your first step to be a part of the LinkedIn community. Being a part of the network means that you can now follow and connect with people, explore career or business opportunities, and do personal branding. There are two ways to network with or add people on LinkedIn; Connect and Follow. 
Following on LinkedIn will enable you to see the articles and posts shared by the people on your homepage without connecting with them. Most people leave their 'Follow' option open, so they can have a larger audience and reach. 
LinkedIn following is a one-way action, meaning that you will see updates posted by the person you follow, but they won't see your posts unless they follow you back. However, you wouldn't see posts that are not shared publicly. LinkedIn users can use privacy options to decide who can see their posts and status updates. Also, you're free to follow a company and even a topic on LinkedIn. 
Here's how you can follow people on LinkedIn: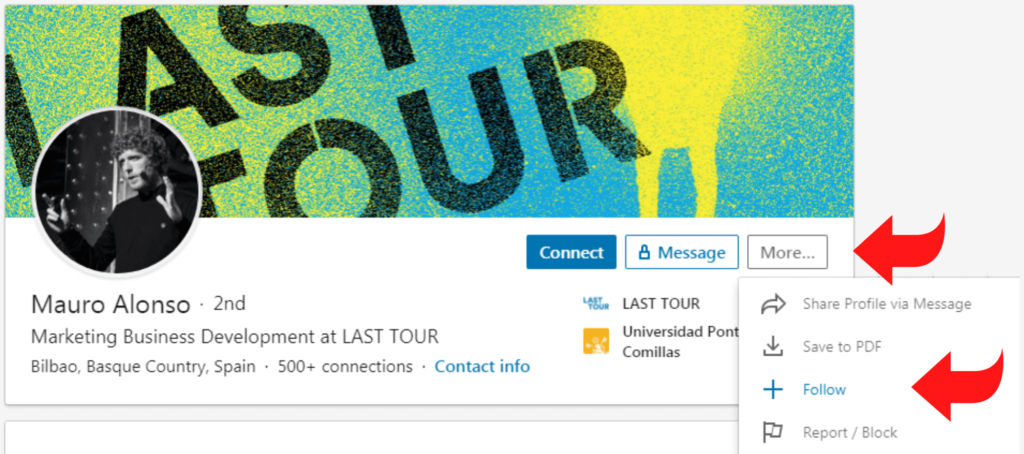 Step 1: Head over to the profile of the company, person, or topic you want to follow.
Step 2: Click on the 3 dots near Connect/Message icon. This will open the menu.
Step 3: Now press the 'Follow' button, and you're done. 
How to Connect With People on LinkedIn Network 
Connecting on LinkedIn works in the same way as adding friends on Facebook. The other person will have to accept your connect request for both of you to be part of each other's LinkedIn network. 
Adding people on LinkedIn is a two-way action, where both parties are ready to connect with mutual agreement. Remember that when you connect with someone on LinkedIn, you follow them by default. It means you get full visibility of their profile (depending on their profile settings). If you are connected on LinkedIn, you will be able to message them, see their posts, updates, and even shares.
Here's How to Add People on LinkedIn to Expand your Professional Reach:
Step 1: Select "My network" at the top of the screen.
Step 2: You will see a list of people that have something common with your profile, such as education, experience, and field. These people will come under the 'people you may know' section.
Step 3: From the list, choose the person you want to connect with and click on the 'Connect' icon. This will send them a connect request.
Step 4: If you know someone you want to connect with, but they are not in your 'people you may know list,' you can simply search their name and send them a connect request.
Step 5: In any case, the other person will have to approve your connect request for both of you to get access to each other's profile and information.
Removing People From Your LinkedIn Network 
Think of your LinkedIn network as one of your biggest assets and add people to your network strategically. People who you connect with and they reciprocate will add value to your network. However, removing connections on LinkedIn will become necessary at times. 
We'll explain how to disconnect LinkedIn account, but first let's take a look at why it is essential to remove connections on LinkedIn:
To Maintain Your Reputation
Many recruiters and HR professionals use LinkedIn to look for potential employees. When you connect with them, they can also see other people in your network. It can potentially damage your reputation if there is someone questionable in your connection list. You can put your prospective employment or business opportunity at risk just because of one dubious connection. In such a case, it is a good idea to double-check your connections and remove contacts on LinkedIn that you think can risk your reputation. Sometimes, removing a connection on LinkedIn can be a blessing in disguise for you. 
To Avoid Being Spammed
Many people use LinkedIn for marketing and advertising. If you have someone on your LinkedIn network who adds anyone and everyone, they are most probably spamming and adding no value to your network. Be proactive and take a step ahead in deleting connections on LinkedIn that use the site for spamming instead of networking.
To Reduce Clutter on Your Homepage
Have you come across those people who share memes and things that add no value? Some people use LinkedIn for fun, just like they use Facebook or Instagram. They do not realize that the LinkedIn Network is a valuable business platform for those looking to hire and those who want to get hired. If you have people in your connections who post things that are not helpful to you or your professional growth, it's best to disconnect LinkedIn connection with them.
How to Remove a Connection on LinkedIn
Many people wonder how to remove a connection on LinkedIn. If you've been searching for LinkedIn removing a connection, here're the steps to do that: 

Step 1: To remove a connection, go to your connections page.
Step 2: Next, click on 'My Network' at the top of your homepage.
Step 3: Click on 'Connections' on the left side.
Step 4: Click on 'More' and then on 'Remove a connection.'
How to Unfollow Someone on LinkedIn
Here're the steps to unfollow someone on LinkedIn:
Step 1: Head over to the profile of the company, a person, or a topic you want to unfollow.
Step 2: Click on the 'Unfollow' button on their profile page, and you're done.
Step 3: If you don't see the Unfollow button, you can select the "More" icon on top of their profile and then select 'Unollow' from the dropdown menu.
Final Thoughts
When used intelligently, LinkedIn can help you grow your business and career exponentially. However, not every person on LinkedIn has to be your connection. You should connect with or follow people who can add value to your network and help you achieve your career or business goals. There's nothing bad in removing people from your network for the reasons explained above.