Research shows that LinkedIn video posts generate over 300 million impressions! As a result, more brands are investing in this content to attract better engagement rates.
In fact, research shows that brands using video marketing can grow their revenue by 49%! Ready to use LinkedIn video messaging to grow your business? Below we discuss how uploading videos on LinkedIn can help you grow your brand:
What is LinkedIn Video Messaging?
LinkedIn video messaging allows you to communicate with other LinkedIn users through video. Creating an attention-grabbing and personalized video message will enable you to share your prospects, business goals, product descriptions, and everything through a simple video.
Furthermore, creating a LinkedIn video message ensures you don't miss out on any points while writing a copy. It also helps make a fantastic first impression.
How to Send Video Messages on LinkedIn?
Let's discuss how you can send a video message on LinkedIn:
On the Web
Here are the steps for sending a LinkedIn video message on the web:
Open your LinkedIn account

Click on the

"View My Profile"

button

Locate the

"Messaging"

option at the bottom right of the page

Select the

"+"

sign on the bottom left of the chat and click on the

"video"

icon

Record yourself or choose a pre-recorded video and send the message by pressing the arrow

You can also write a personalized message to send alongside the video
On the Mobile App
You can also send LinkedIn video messages through your mobile:
Launch the LinkedIn mobile application and open your profile

Navigate the

"View My Profile"

option and click on the

"Messaging"

button

Open your chats and choose the

"+"

sign on the bottom left of your chat 

Click on the

"video"

icon, record yourself, or add a pre-recorded video. Remember to add a personalized message
Best Practices for Sending LinkedIn Messages
Increase your engagement rates and grow your professional brands by keeping the following best practices in mind:
Create an Optimized Profile
The first thing prospects do after reading your InMail is check your LinkedIn profile. Build trust and credibility by putting yourself and your brand in the spotlight.
Poor profiles can reduce response and engagement rates, whereas optimized ones can help grab attention and foster long-lasting relationships.
Add Attention-grabbing Copies
Hook your reader from the first word by creating a compelling and personalized message. Here are several tips to remember:
Catchy messages indicate quick action

Add a touch of personalization to your message by creating a catchy compelling copy

Mention similar skills, hobbies, and expertise that you share with your prospects

Add your prospect's first name to catch their attention
Be Concise
Create a brief and to-the-point video message with up to 400 characters or less to keep your reader engaged.
Personalize Your Messages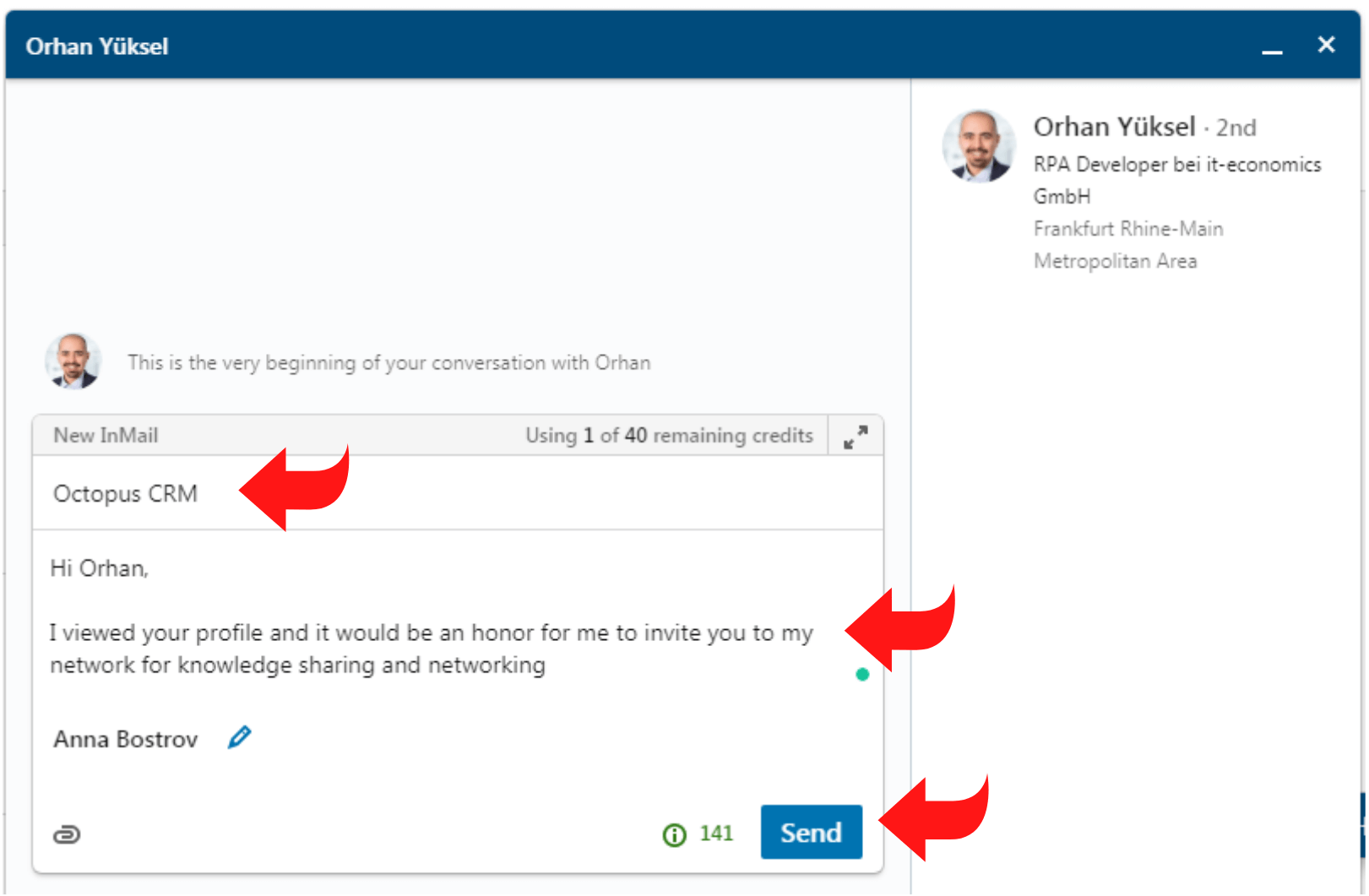 Research shows that personalized InMails perform 15% better! Ensure personalization by researching your prospect's profile, seeking common interests, and looking for pain points.
With these insights, you make your LinkedIn video messages personalized and attention-grabbing.
Include a Call-to-Action
Sending a LinkedIn video message aims to spark conversation, not to close the deal. So, create a catchy to motivate them to take your desired action.
Best Practices for LinkedIn Video Best Practices
Before you start writing your LinkedIn video messages, ensure you create an eye-catching video by keeping these tips in mind:
Optimize Your Setup
Optimize your video setup by following these best practices:
Lighting –

Select a well-lit place, ideally by natural light. Furthermore, ensure your subjects are not well-lit, or they'll create a silhouette

Camera and Camera Position –

Consider using the rear camera or a professional video camera to shoot your videos. Adjust your tripod and add several books to ensure clarity and quality in the video

Background –

Avoid shooting in a cluttered environment, especially if you have confidential material lying around.

Body Language –

Improve the performance of your video's on LinkedIn by maintaining a relaxed presence and rehearsing your script
Design for Sound Off
Did you know users play 85% of social media videos without sound? It means most LinkedIn users will watch your video like a silent film.
So, ensure you prepare your video with descriptive images, explanatory infographics, and body language.
Adapt for Mobile and Desktop
According to research, 57% of LinkedIn users use its mobile app! Ensure you adapt your videos for mobile and desktops and integrate captions to improve inclusivity.
Choose the Right Video Length
The most successful video ads are less than 15 seconds. However, the length can vary depending on your niche and industry. Here are several tips to remember:
Keep the video's length under for brand awareness and brand consideration videos

Stick to 30 to 90-second videos for upper-funnel marketing goals 

LinkedIn

long-form videos

drive more clicks if you're explaining a complex story

Never exceed the 10 minutes mark – it's an informal cut-off point 
Use the Word
"Video"
for Promotions
LinkedIn videos that include the word "video" can increase your click-through and engagement rate. If you're investing time and money in a video, remember to promote it!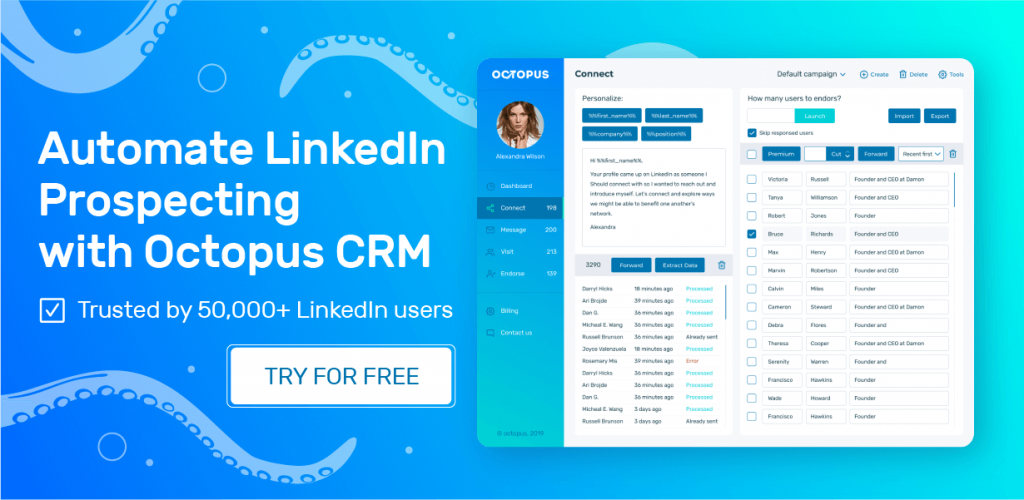 5 Best Tools for Video Messaging on LinkedIn
LinkedIn's video messaging allows you to boost engagement by adding extensions and applications. Here's a list of five tools for video messaging you can use:
BombBomb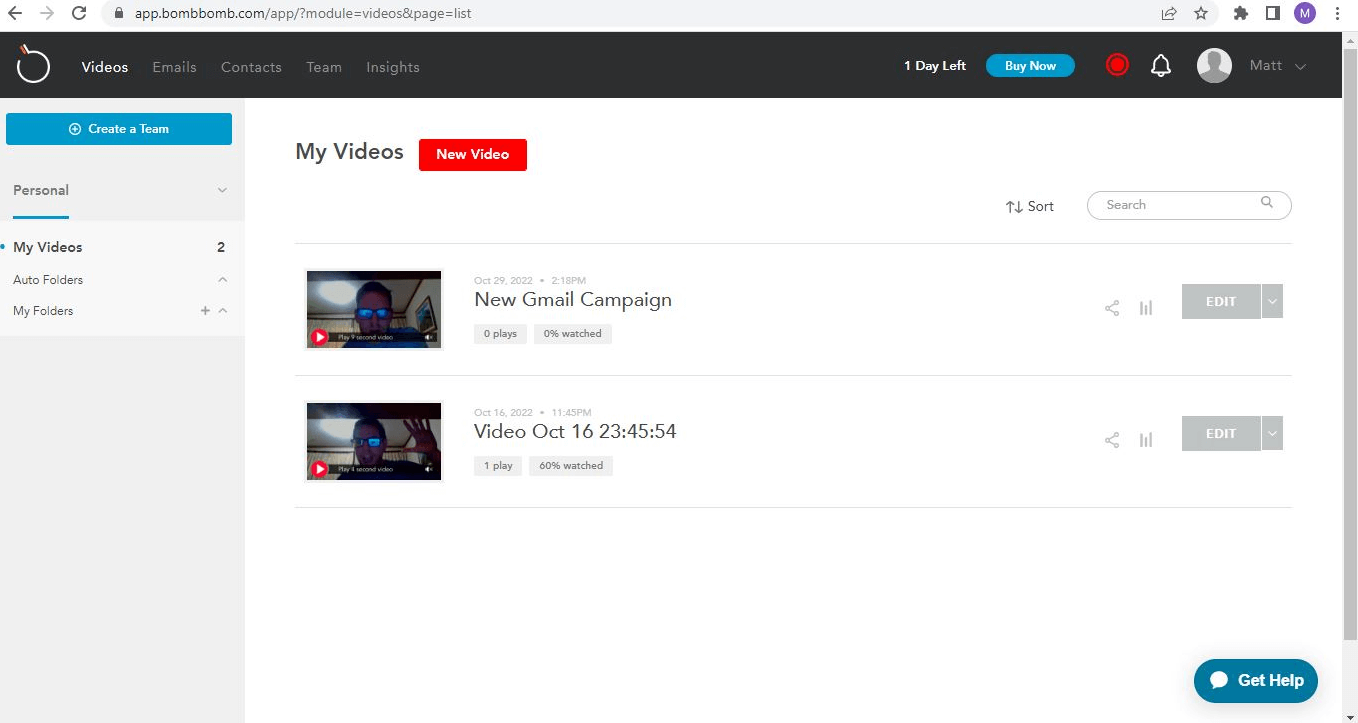 Bombomb is a fantastic Chrome extension that allows you to record and edit LinkedIn videos. The tool provides you access to an extensive library of vivid videos you can share with prospects.
Besides this, you can use the Chrome extension to record creative videos. You can also edit your video's thumbnail to grab your target audience's attention.
Switcher Studio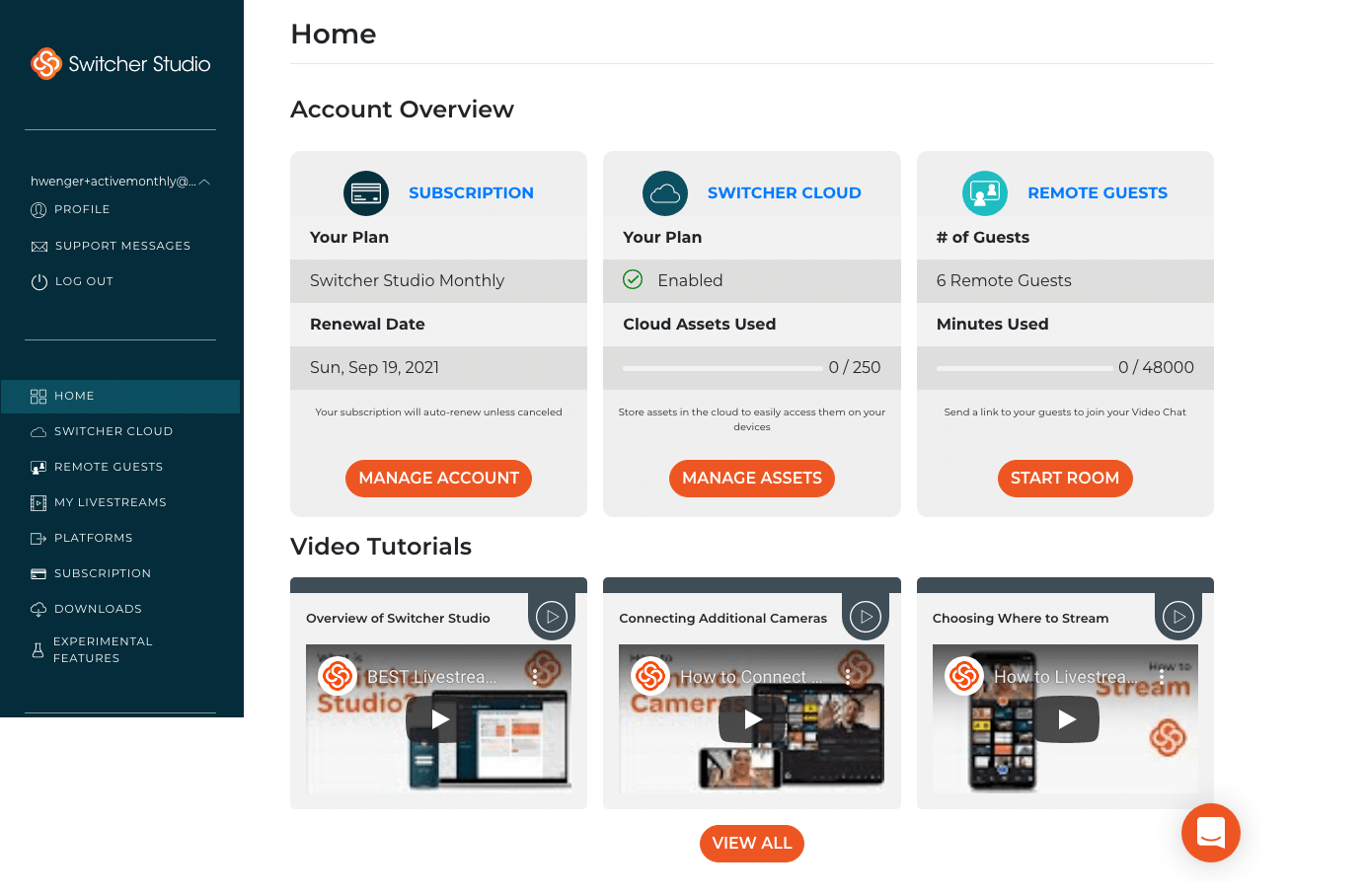 Switcher Studio is a revolutionary live streaming platform that allows users to create and stream videos to LinkedIn. The best part? You can simultaneously record on any setup- iPhone, Android, Nikon DSLR, and even nine cameras!
Furthermore, LinkedIn approves Switcher Studio, which means you can find a native, no-code integration on its dashboard. That way, you can create a memorable impression on your prospects.
The downside of Switcher Studio is it costs up to $49 per month. However, you can use its 14-day free trial to discover its countless features and identify whether it matches your needs.
Promo.com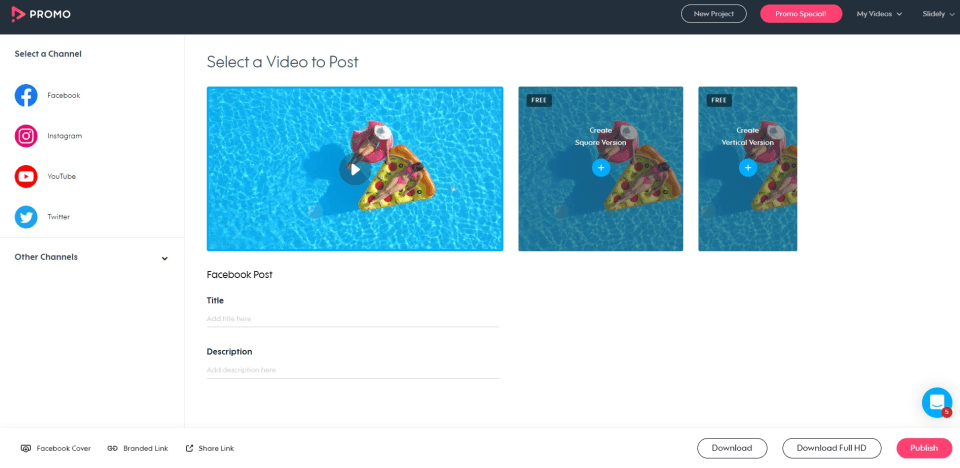 Promo.com is the ideal LinkedIn video messaging tool for businesses seeking high-quality adverts. The platform offers users an extensive catalog of short and eye-catching video clips to get started.
You can customize these videos to match your brand's voice and appearance. Furthermore, you can add videos, images, and music to stock clips to ensure personalization.
Social Pilot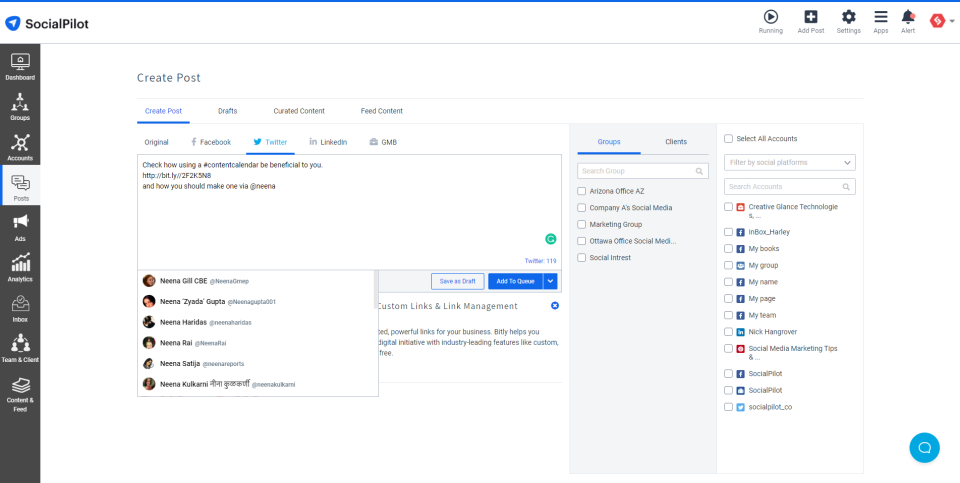 SocialPilot is among the top popular LinkedIn automation tools for creating personalized and optimized LinkedIn profiles and Company pages. With the help of this revolutionary tool, you can build and execute your LinkedIn marketing strategy.
Social Pilot allows you to create content, automate LinkedIn posts, and analyze its performance to boost your brand's online reputation.
Send Spark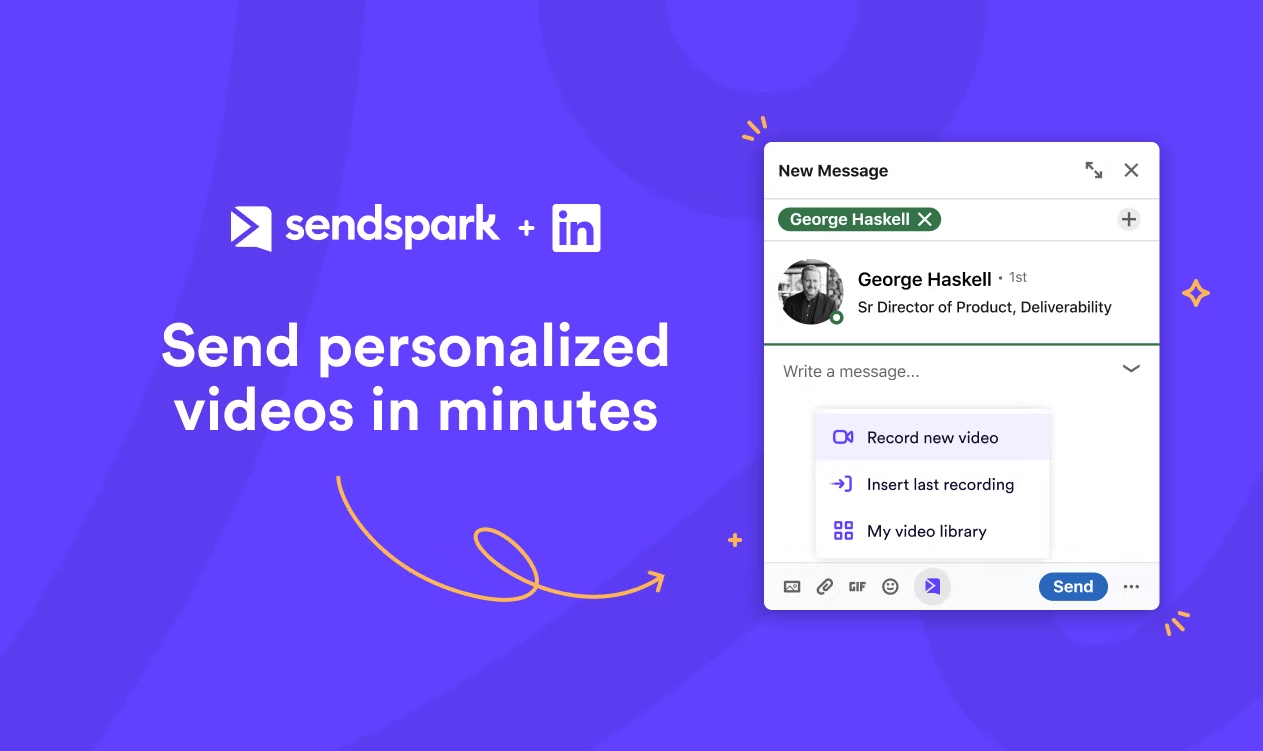 Spend Spark allows users to send high-quality and personalized videos on LinkedIn. Start using this extension by installing and launching it by clicking on its icon on the top-right corner of your Google page.
The tool allows you to record and customize videos with innovative features or choose a vivid design from its extensive template collection. Consequently, you can create eye-catching videos in less time for mass prospecting!
Furthermore, the tool enables you to share the video's URL in a private message or post it on your profile. Try Spend Spark's free account to explore its features and tools.
How to Make Good LinkedIn Video Messages?
Make the most of LinkedIn's video messaging by learning the best strategies. Here's a list of the top tips you can use to grow your reach:
Start Strong –

With millions of businesses saturating the marketplace, it's near impossible for newbies to cut through the noise and make their voices heard. Stand out by creating an attention-grabbing hook

Be Yourself –

No one wants to hear cheesy sales speeches. So, ensure you create authentic and honest video messages to keep the reader hooked

Harness the Power of Storytelling –

Storytelling is a fantastic way of making a lasting impression and building trust. Consider creating your brand story and show strength and vulnerability to create a deep connection

Stay Confident –

Maintain a natural body language and sound confident while recording your videos to establish yourself as a brand authority

Show Professionalism –

Your goal is to create worldwide professional, mutually beneficial connections. So, ensure you invest the time and effort necessary to create high-quality videos

Highlight the Good You're Doing –

Foster trust by creating insightful videos about corporate social responsibility. Remember to focus on your company's cause to show authenticity

Spotlight Inspiring Employees –

Introduce prospects to your hard-working team to encourage deeper connections

Preview Upcoming Events –

Incite excitement and curiosity by previewing upcoming events and sending them to people who share similar interests

Customize Your Video –

Add a touch of personality to your video by adding your name, brand's name, products or services, topics you care about, etc. Consequently, you can improve relatability and engage with your target audience
Which Video Formats are Compatible with LinkedIn?
Generate video messages that are effective in engaging prospects by learning what video formats are compatible:
ASF

MPEG-1

WebM

VP9

Srt files (this has a maximum limit of 47 characters per line)
Send Personalized Messages on LinkedIn with Octopus CRM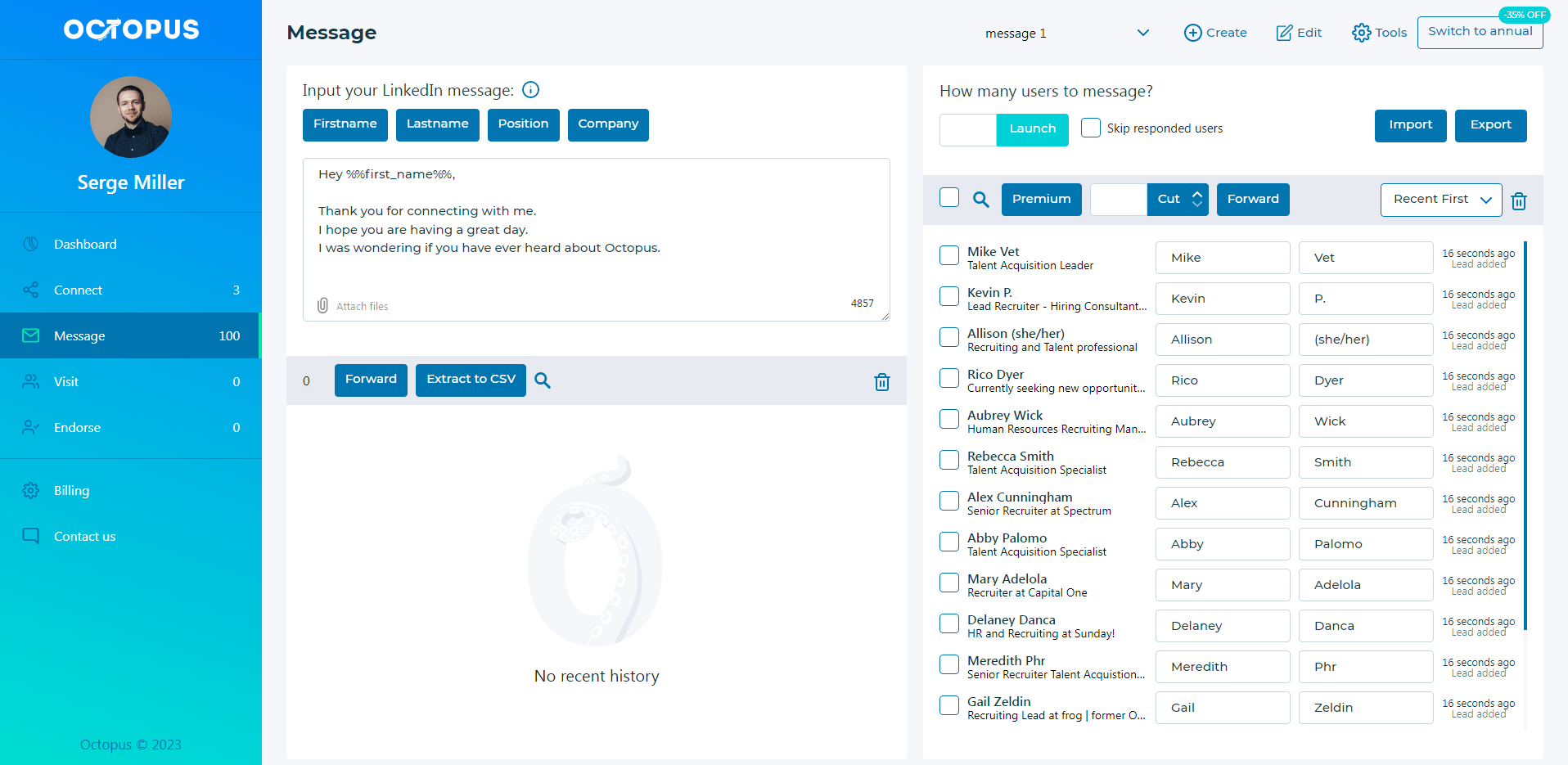 Grow your brand and maximize your response rate by sending high-quality video messages. One problem: how to send a mass message on LinkedIn?
Easy, you use Octopus CRM! Octopus CRM is an all-in-one LinkedIn automation tool that helps you save time and effort by automating your LinkedIn tasks. The innovative software allows you to safely bypass LinkedIn's invite limit and sends personalized messages.
With Octopus CRM, you can automate LinkedIn video messages and take your brand to the next level! Besides this, the tool helps you maximize performance by tracking stats and evaluating performance. You can also check out its in-depth analytic reports to find which LinkedIn copy provides the best results.
Ready to Start Sending Video Messages on LinkedIn
Take advantage of Octopus CRM to stand out, save time, and boost your performance. Get started by visiting our website and checking out our price plans.
The best part? You can enjoy a 7-day obligation-free trial to explore our tools to determine whether Octopus CRM matches your needs. You don't even have to use your credit card!
Conclusion
LinkedIn video messaging is an underused yet fantastic opportunity for your brand to shine from the competition. Using videos can help you boost brand awareness, increase response, and improve engagement rates.
Get started with LinkedIn video messaging by using Octopus CRM. Visit our website to learn how to automate video messages today!