We've all heard of LinkedIn short URLs, but do you know why they're critical?
In this post, we're going to discuss what LinkedIn short URLs are, why they're essential, and how you can create a short LinkedIn URL:
Customize Your Links on LinkedIn
In recent years, LinkedIn has enhanced its sharing features and included a tool that enables you to customize the excerpt of the article you link to.
Thus, allowing marketers to provide users with a better incentive to click on a LinkedIn URL with a catchy headline and attention-grabbing images.
LinkedIn is retaking center stage with its LinkedIn short URL feature. Now, you can customize long and complex URLs into aesthetic ones. As a result, you can boost clicks and views on your content.
Why Do You Need LinkedIn Short Links?
At a quick glance, LinkedIn short links offer incredible benefits, such as:
Making your URLs look personal

Transforming complex URLs into easy to remember ones

Improving the aesthetic of your URL and ensuring they look good on any media you use

Boosting your position in the LinkedIn and Google Search
But here's the thing: LinkedIn profile short links offer many other advantages. Let's discuss them in detail:
Save Character Count
Without a LinkedIn URL shortener, users will lose valuable character count. By customizing and reducing your long URL, you can use the space to elaborate on your content or news piece.
LinkedIn Automatically Shortens It
LinkedIn tends to shorten long URLs by leveraging its built-in tool. But the URL LinkedIn custom creates may not match your style or suit your social media post.
Thus, it's best to shorten LinkedIn URL links yourself.
Enhance the Look of Your LinkedIn Links
Website URLs typically take up a lot of space and look unattractive due to the strings of random letters and numbers.
Not only is it unaesthetic, but it can be distracting. Employing a LinkedIn short URL generator can help make your hyperlink text look attractive.
Boost the Reader's Experience
Short URLs on LinkedIn make your viewer's reading experience smoother and less distracting. Moreover, it makes it easier for your audience to share content on multiple platforms.
Compliments UTM
LinkedIn short links compliment Urchin Tracking Module codes that help you track engagement from specific platforms and campaigns.
Achieve Your Digital Marketing Goals
Another excellent benefit of creating LinkedIn short links is it helps you obtain statistics relevant to your social media marketing efforts.
How Can You Create a Short Link for LinkedIn?
Now that we've discussed the advantages of LinkedIn short, let's jump into how you can customize one:
Step # 1: Accessing Your LinkedIn Account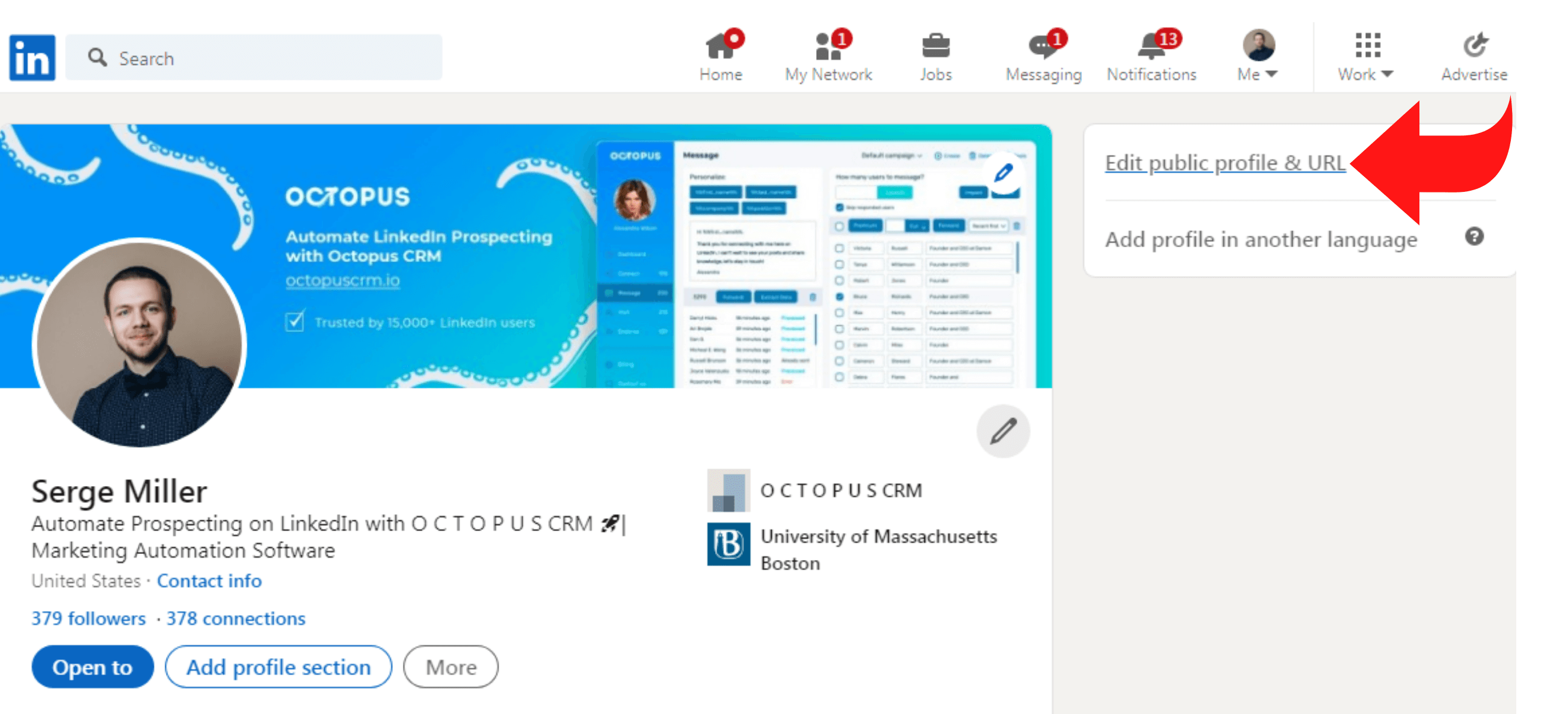 First, log in to your LinkedIn profile and visit the home page.
Step # 2: Locating the 'Edit Profile' Button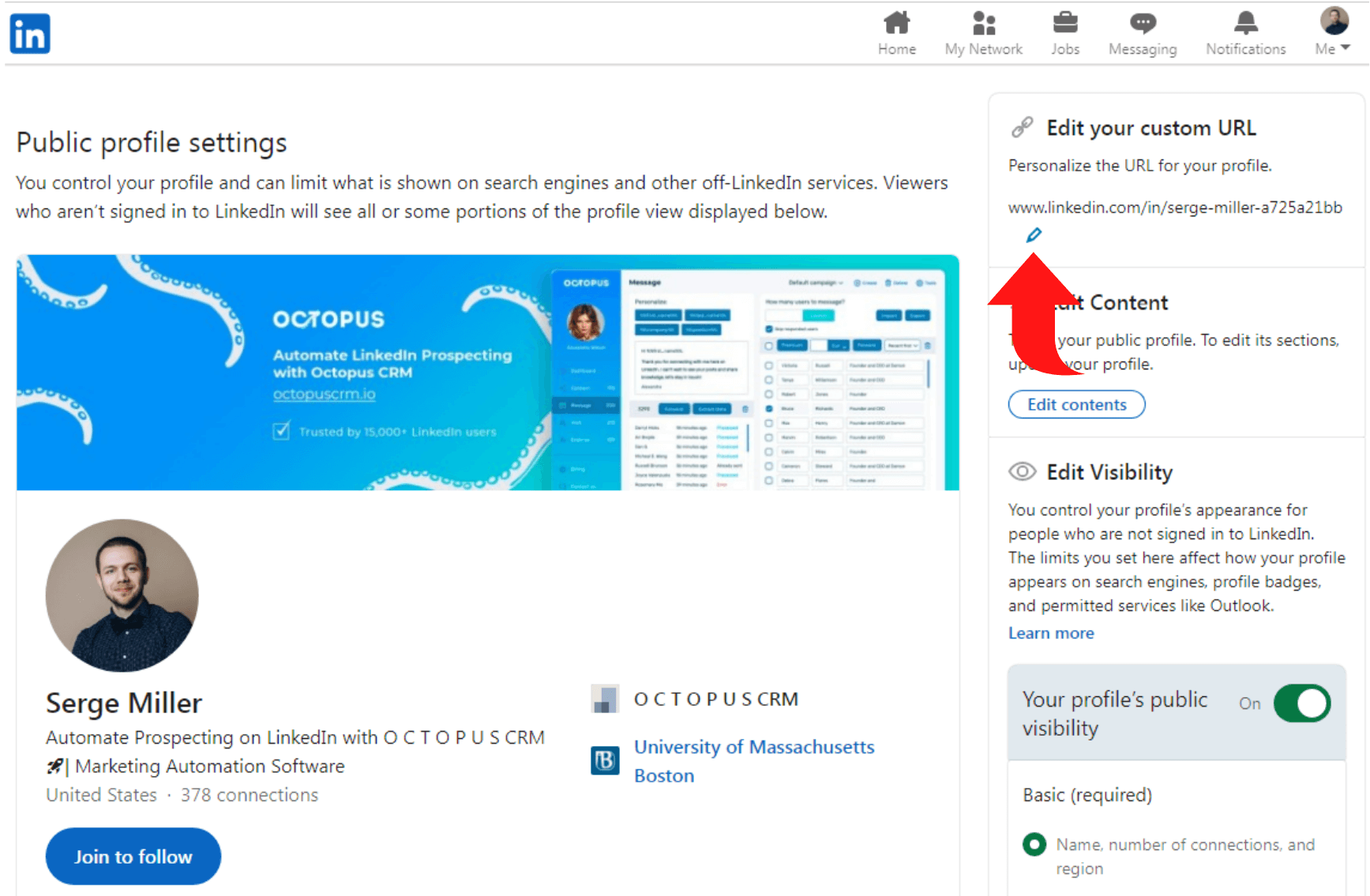 Locate the 'Profile' button and choose 'Edit Profile.' After that, find the 'Edit Profile and URL' button in the upper-right.
Select the pencil icon located beside the 'Edit URL' option.
Step # 3: Customizing Your LinkedIn URL
Start customizing your profile URL into a shorter, more aesthetic-looking link. We recommend removing unnecessary spaces, random letters and numbers, and leaving first and last names.
Step # 4: Saving Your New URL
After editing, click on the 'Save' button and have a new LinkedIn short URL!
Bonus Tip to Keep in Mind
When adding a URL to your resume, consider omitting the HTTP://.
Alternative Method: Leveraging a State-of-the-Art LinkedIn Short URL Customizing Tool
Another excellent and straightforward way of creating a LinkedIn profile short link is by using an innovative LinkedIn short URL generator.
Using a state-of-the-art LinkedIn URL shortener tool like RocketLink.io helps you personalize and preview links. With these tools, you can track your campaigns, add a display image, and choose the link you wish to direct with a single click.
That way, you can save time and create high-quality, easy-to-read links within seconds.
Why does LinkedIn change your short links?
If you share a link on LinkedIn longer than 26 characters, the platform shortens it
Why should I simplify LinkedIn URLs?
Customizing your LinkedIn URLs from long, complex strings of numbers and symbols into a shorter one offers various benefits, including:
Makes it look personal and easy to remember

Enhances its look and enables you or your viewers to share it across multiple social media channels

Boosts your ranking in LinkedIn and Google Search Engines  (according to SEO Guide)

Allows you to track your campaigns and separate analytics from different social media platforms
How can I disable a LinkedIn short URL?
Here's how you can disable your LinkedIn short URL:
Visit your LinkedIn profile and click on the 'Home' button

Locate the 'Updates' section

Here you'll notice the post with a shortened URL

Select the 'My Updates' button and choose the 'See Additional Views' option

Navigate the post that contains the LinkedIn short URL you want to disable and click on the 'X' in the upper right

Confirm by clicking on the 'Yes, Please Delete It' button
Conclusion
Now that you've learned the benefits of customizing your LinkedIn URLs ensure you use a Short URL generating tool.
That way, you can make your posts look more attractive and garner greater views and clicks.