Marketing is not particularly easy. There are several things you need to be mindful of; for instance, you need to use the right tools. You may have great ideas, but you need to have the tools to be able to execute them.
If you plan on marketing on LinkedIn, you need to use the right social media analytics tools. You can use a large variety of LinkedIn analytics tools to optimize your social selling. Let's take a look at LinkedIn social selling tools and learn what they do.
What are LinkedIn Analytics Tools?
If you are working exceptionally hard to market on LinkedIn, then further down the road, you will need to keep track of the LinkedIn analytics to see how well you are doing. It is very important to track LinkedIn analytics; with it, you receive all the data that is important to improve metrics, such as ROI, reach, and impressions. These metrics evaluate your day-to-day performance, and provide good insights for you to use and improve your outcomes.
It is very unproductive for you not to track your data, as without the right reports, you will keep investing in something that is not bearing fruit as it should. This will affect your marketing strategy, and you will not be able to get the outcome you expect.
Different high-quality analytics tools will help you measure all the metrics, and make any necessary changes to your marketing strategy to improve the results. The LinkedIn analytics tools ensure improvement in your strategy and help you develop better outcomes.
How LinkedIn Analytics Tools Work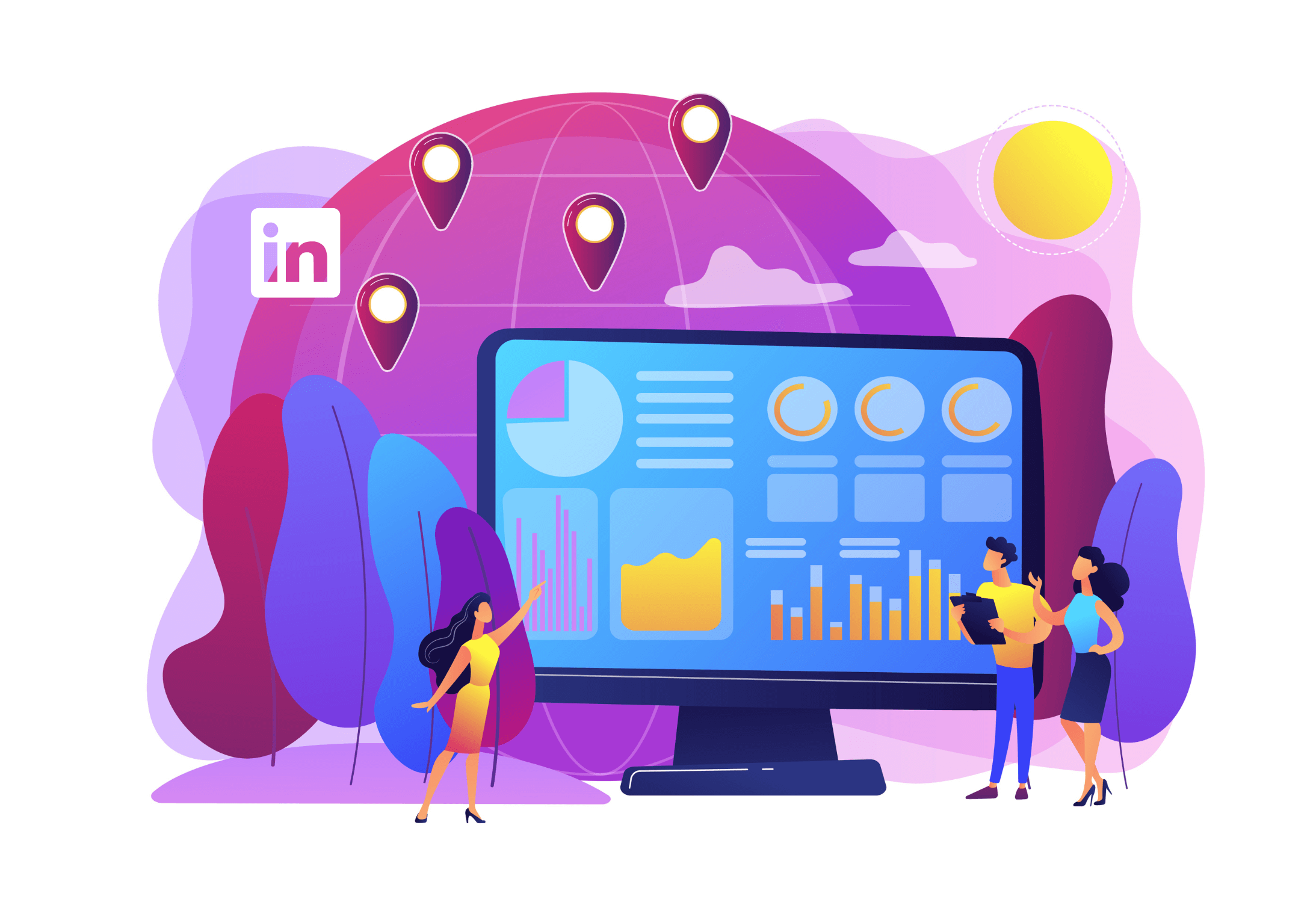 The LinkedIn analytics tool provides different information to social media managers and other marketers about the performance of different marketing strategies. These tools provide information such as what the audience is, and what kind of content best suits them. Other metrics include details such as visitor demographics, job functions, and where they are located. The engagement on your posts is also measured by keeping track of all the impressions, clicks, and other comments. Moreover, these tools also measure follower growth over time.
While LinkedIn measures the basic engagement metrics, you need something more advanced to keep track of your marketing strategy. This is where analytics tools come in. Different analytics tools offer different features, such as integrating LinkedIn data with other marketing data taken from other social media platforms such as Facebook, Twitter, and Instagram.
Furthermore, these tools also help you get all the updated information you need. Fresh ratings are important to work on your marketing strategy. The same tools also help you get instant metrics for marketing data sources such as Google analytics.
With the help of these tools, you will be able to share all the metrics with other members of your team or partners who may not be able to access the LinkedIn analytics on their own. LinkedIn analytics tools work by tracking different metrics; let's take a look at all the metrics these tools track:
Engagement
Reactions, comments, and shares are all part of engagement. In all of these actions, your audience is engaging with you in one way or another. These metrics calculate the number of times your audiences have reacted, commented on, or shared your posts. The reactions show all the emotions your audience has for your content. LinkedIn offers different emojis as reactions, such as 'like' and 'support.' These reactions help you learn how your audience perceives your content.
Impressions
This metric calculates the times your LinkedIn update is prominent and visible to your audiences for a minimum of 300 milliseconds. When designing and testing a marketing strategy, you need to note all the unique impressions; however, if a user sees your post multiple times, that won't count as a unique impression.
Clicks
If there are many clicks on your posts, it certifies that your call to action is working. This directly relates that your user saw the post and chose to interact with it, rather than just scrolling past it. LinkedIn counts the clicks whenever a member is signed in and clicks on a post. This does not mean that all interactions, such as comments or likes, are counted as clicks. A high click-through ratio, or CTR, is a representation that your marketing campaign is working.
Follower Metrics
Follower metrics calculate how many people have established a connection with your brand. This can be measured by the number of followers that increases for a period. If your follower count is decreasing, then that is an alarming situation for your brand.
Visitor Metrics
Visitor metrics track people who log on to your LinkedIn page and visit it now and then without following you. These metrics can include the number of views your page gets, the unique visitors, and even clicks on all the custom buttons, such as 'register' or 'sign up,' if you have put up a form.
Why is LinkedIn Analytics Important?
Using LinkedIn analytics is very important for your marketing campaign; here are all the benefits you may get from using it:
Helps Understand Your Audience
The demographics you get from LinkedIn analytics help you understand your audience better. You get a complete breakdown of what your audience looks like and all the people who are viewing your page. A brand must have a clear idea of its buyer persona and what they need to do if they want to connect with its target audience.
Connects You with New Prospects
Networking on LinkedIn allows you to connect with different prospects. You can build your brand on LinkedIn and keep all the metrics in check to connect with more and more prospects over time. This will also help you learn more details about your followers, and then you can change your LinkedIn data analysis accordingly.
Visual Representation of Your Data
LinkedIn analytics represents all your data visually, giving you an easy glance at all the numbers. This makes it extremely easy for you to pinpoint anything that stands out with a simple glance. You can also spot any spikes and dips in the data with ease.
Branding
With LinkedIn analytics, you will be able to work on the credibility of your brand easily. It will also help boost your presence as you will know what metrics to focus on and build from. Good branding will make it easier for your company or business to stand out to a prospective audience and add more success to your company.
Boosts Engagement  
Increasing engagement is one of the primary goals of LinkedIn marketing. With the help of LinkedIn analytics, you can gather all the information you need on your customers and use it to create content that your audience will appreciate. These analytics tools assist you in competitive analysis so you can learn more and more about engagement.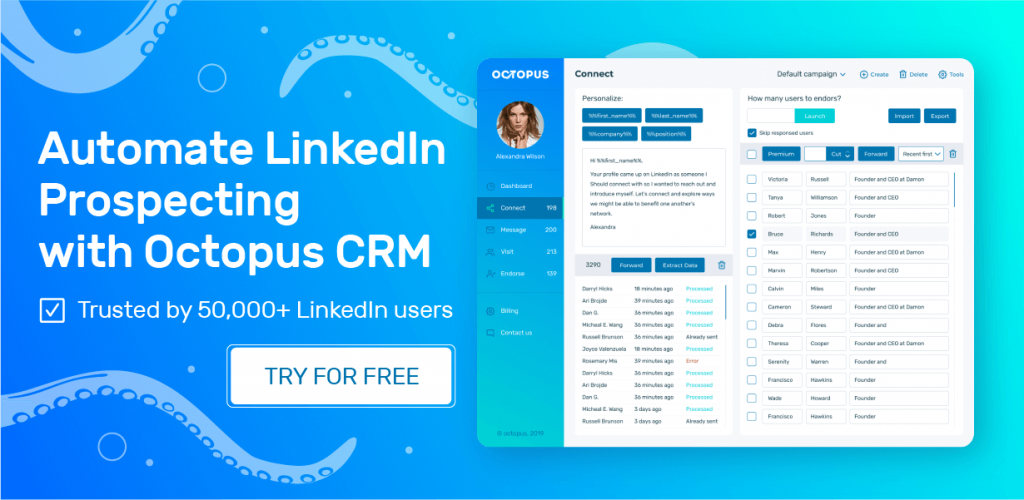 16 Best LinkedIn Analytics Tools to Optimize and Get the Most Out of Your Social Selling
If you are looking for the best LinkedIn analytics tools, you have many options. Here are 16 tools you can try:
Octopus CRM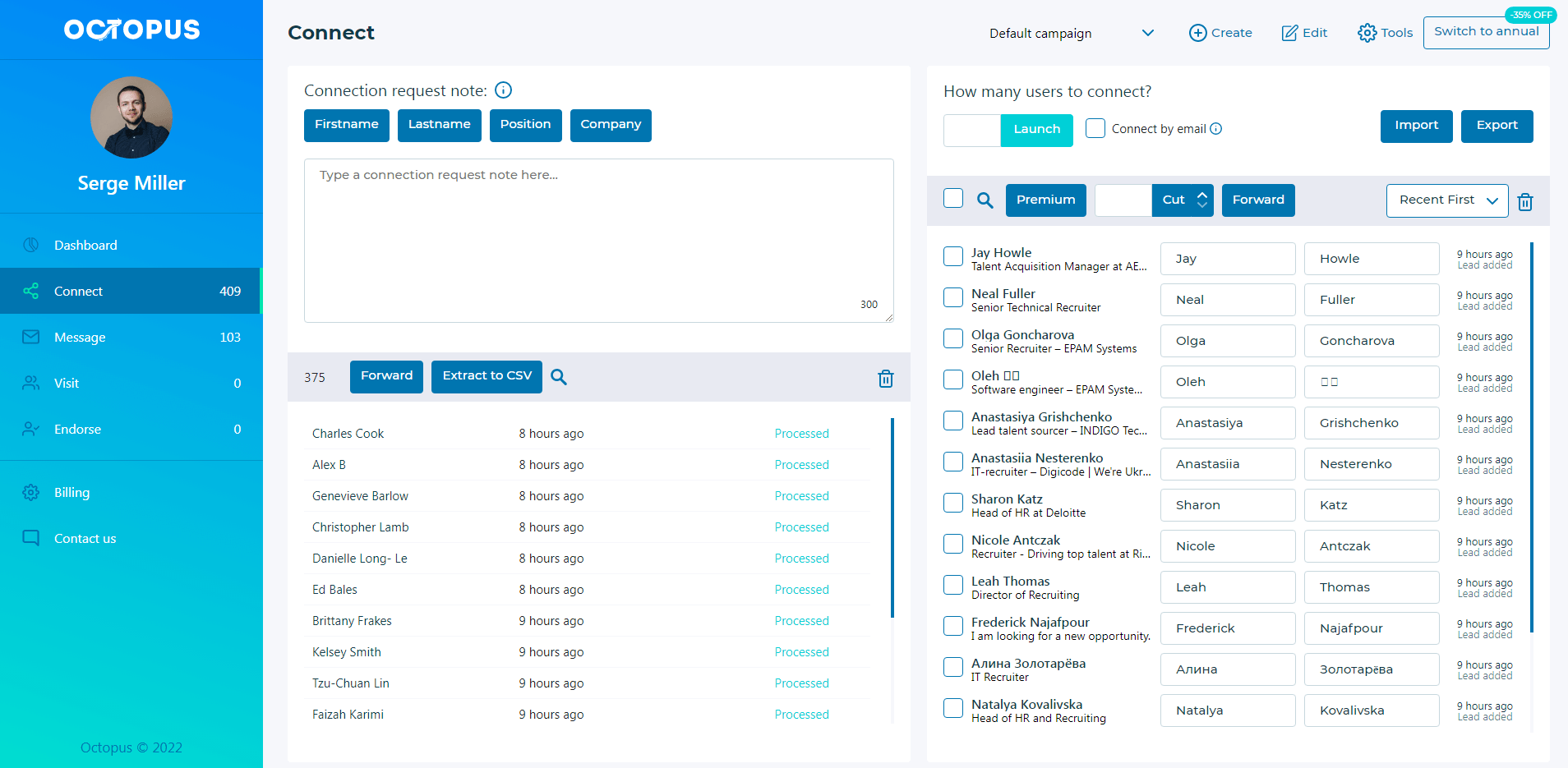 Octopus CRM is a LinkedIn automation tool that does it all. This tool offers great features; for instance, you can send personalized connection requests to your target audience and use them to network with your connections. The whole tool has two parts, the pop-up window, and the CRM page. You can integrate the tool with your LinkedIn page and then transport profiles from LinkedIn directly onto the CRM.
The tool dashboard offers you all the different stats you need to keep in mind. For instance, you can learn all the connections you have and all the invitations you have sent that have not been accepted yet.
All the details mentioned on the dashboard are useful if you want to improve your marketing strategy. Many other features, such as its user-friendly interface, put Octopus CRM at the top of the list. If you are a first-time user, you will not have to struggle with navigation. All the buttons are mentioned, and you can seamlessly go from one window to the other.
Dripify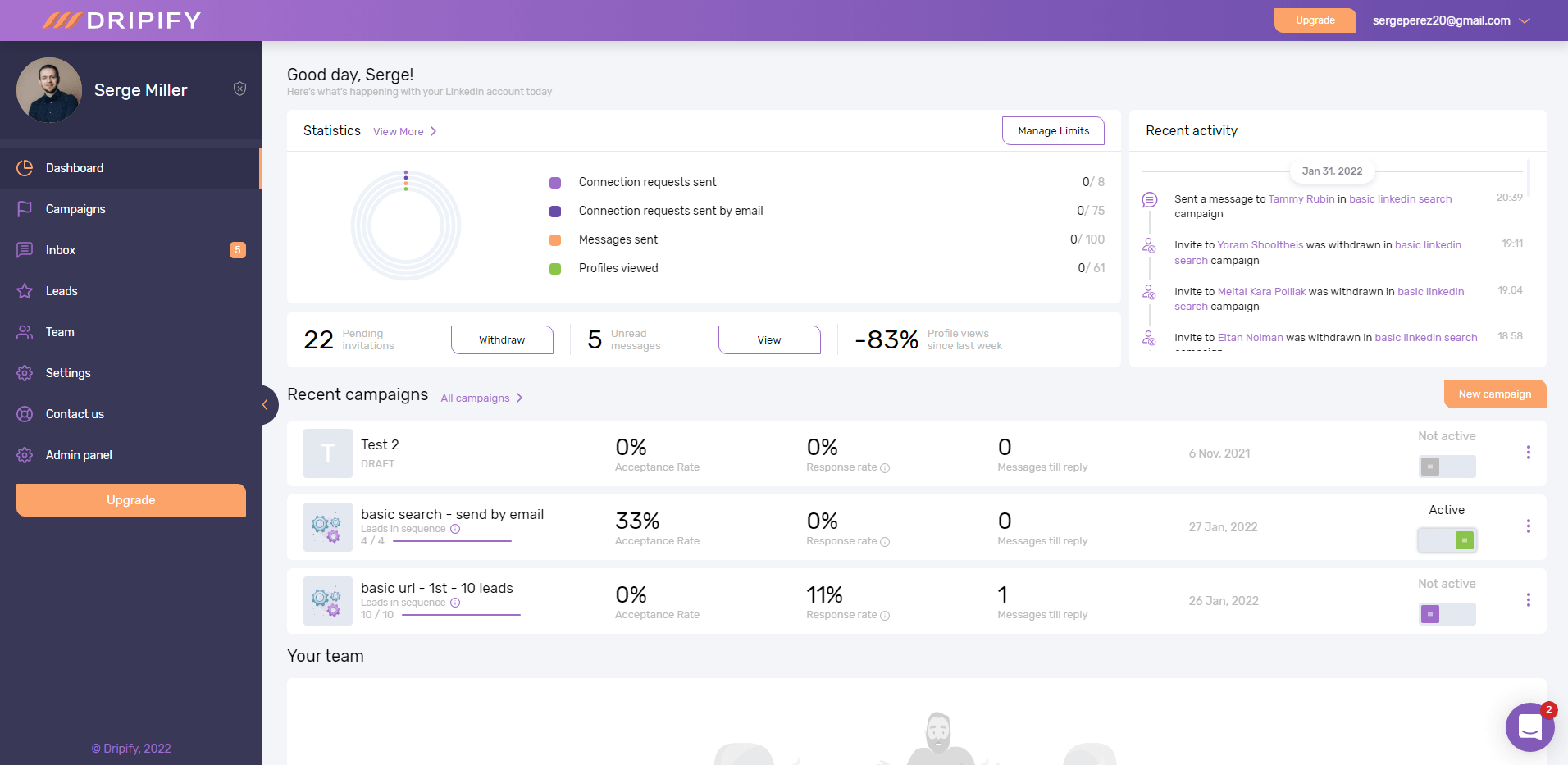 Price: Pro-59 USD per Month, Advanced – 79 USD per Month
Dripify is one of the most advanced LinkedIn automation tools. This fully automated tool offers you a wide variety of services that are compatible with different LinkedIn streams, such as LinkedIn Basic, LinkedIn Sales Navigator, and other Recruiter Lite accounts. There are many features you can expect from Dripify, such as:
Creation of prospecting campaigns. You can decide on the different LinkedIn actions and other delays and conditions.

Different team members can use the same LinkedIn analytics and collectively and simultaneously work on prospecting.

Using different metrics and conversion rates, you can get advanced analytics that will help you mold your marketing campaign for the better.

With the help of the automated system, you can quickly respond to the leads and also make efficient use of the smart inbox feature that reduces the time it takes for companies to get back to their prospective audience.
Users have rated Dripify as easy to use and high on the ease of setting up, as most automated tools can be difficult to set up on your own.
LinkedIn Native Analytics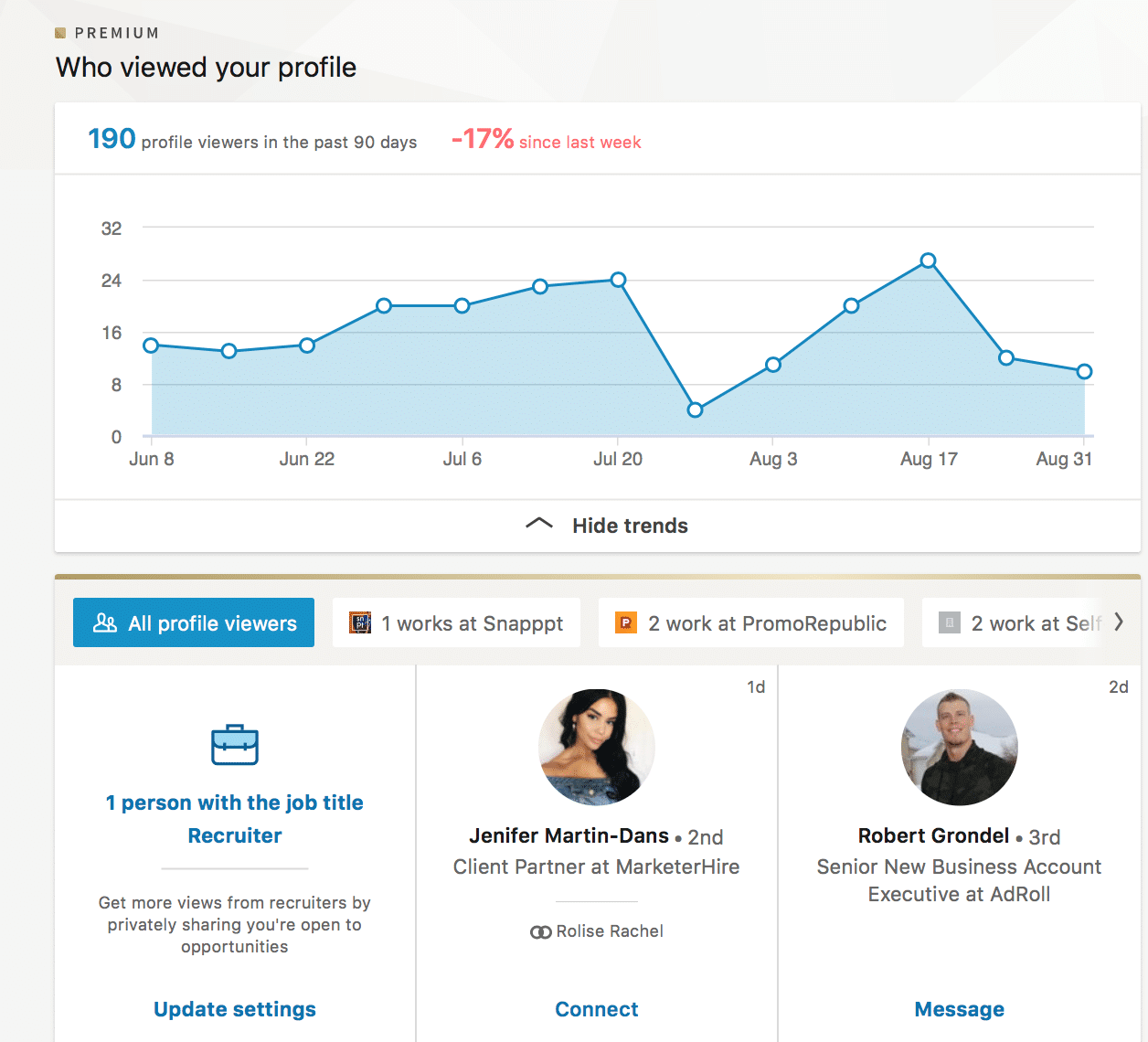 Price: Free  
LinkedIn Native Analytics is a tool that comes with the platform itself. This feature makes it very easy for you to access it. With the LinkedIn Native Analytics tool, you won't have to struggle with a third-party solution and get all the data needed on different metrics such as sponsored posts, impressions, clicks, and other engagements.
The LinkedIn Native Analytics tool is free, but you can squeeze out great benefits with the right usage. But to be fair, other paid tools can help you get much better and quicker results. There is a lot of space for the tool to improve and reach the level of its paid counterparts. The tool allows you to see the analytics of not just your page but also your articles. To use LinkedIn Native Analytics, you can go to your LinkedIn page and click on the Analytics button on the menu. From there, you can access the main analytics, such as updates on your page, the number of followers, and the trends in visitor and follower count.
If you are just beginning with LinkedIn analytics, then you can use this tool as it is basic and can help you get the hang of things before you move on to the paid tools.
Hootsuite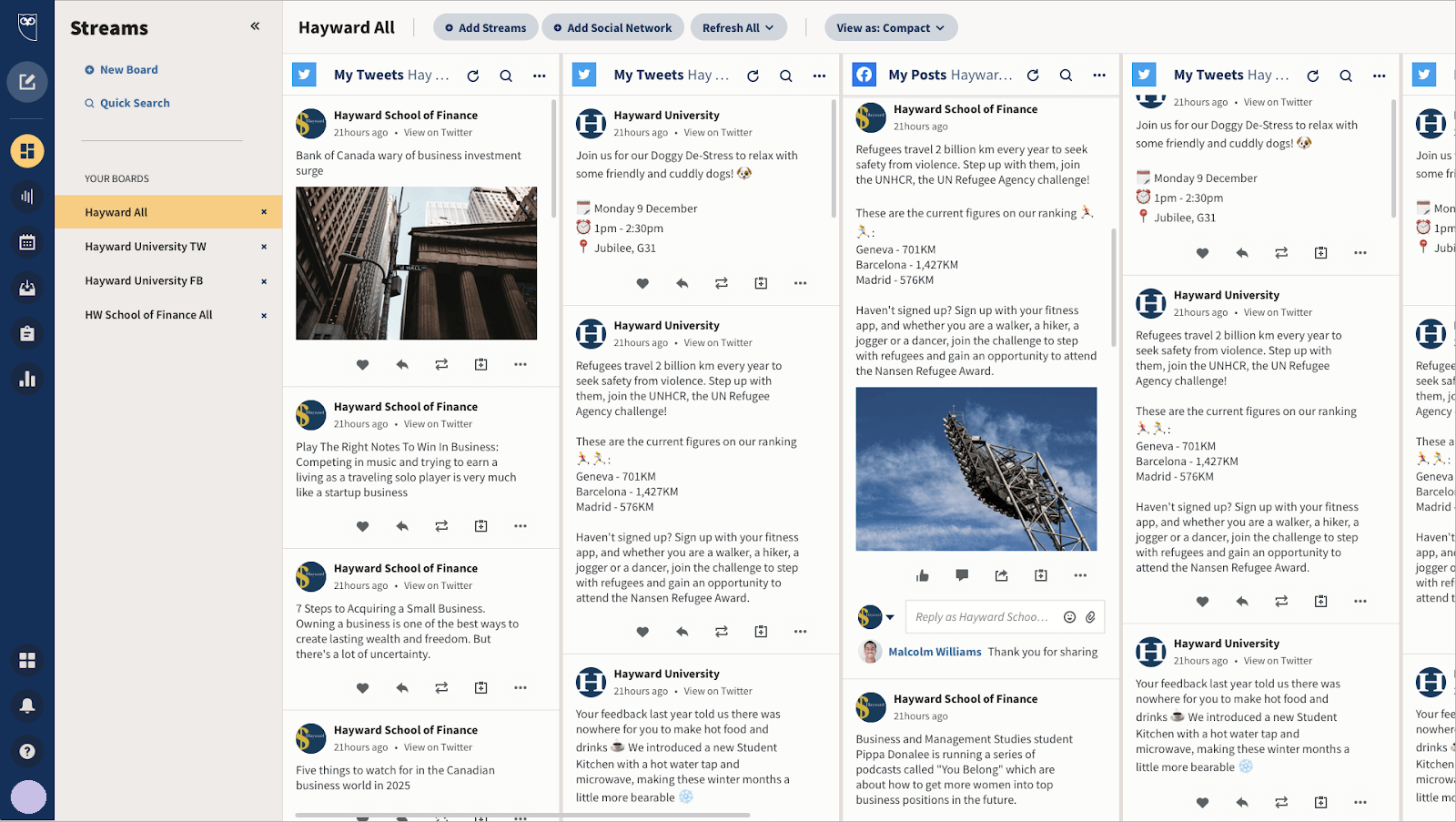 Price: 30 days free trial, basic package for 19 USD  
The Hootsuite dashboard is a great tool for getting different insights on your LinkedIn analytics. This dashboard offers information on metrics such as likes, brand mentions, shares, etcetera. Moreover, Hootsuite also offers other in-depth data that is based on the company page. For instance, it may tell you about the number of visitors your page has or how many followers have increased over time. 
The tool allows you to put up filters such as the time, page, and other metrics so you can get all the details you need. You can also view other visitor demographics and get pieces of information, such as the follower's location, the company's size, and the industry they belong to.
This tool offers you access to Brandwatch, which is a social listening tool. With the help of Brandwatch, you can connect with all the customers interested in your brand and whatever it offers.
Inlytics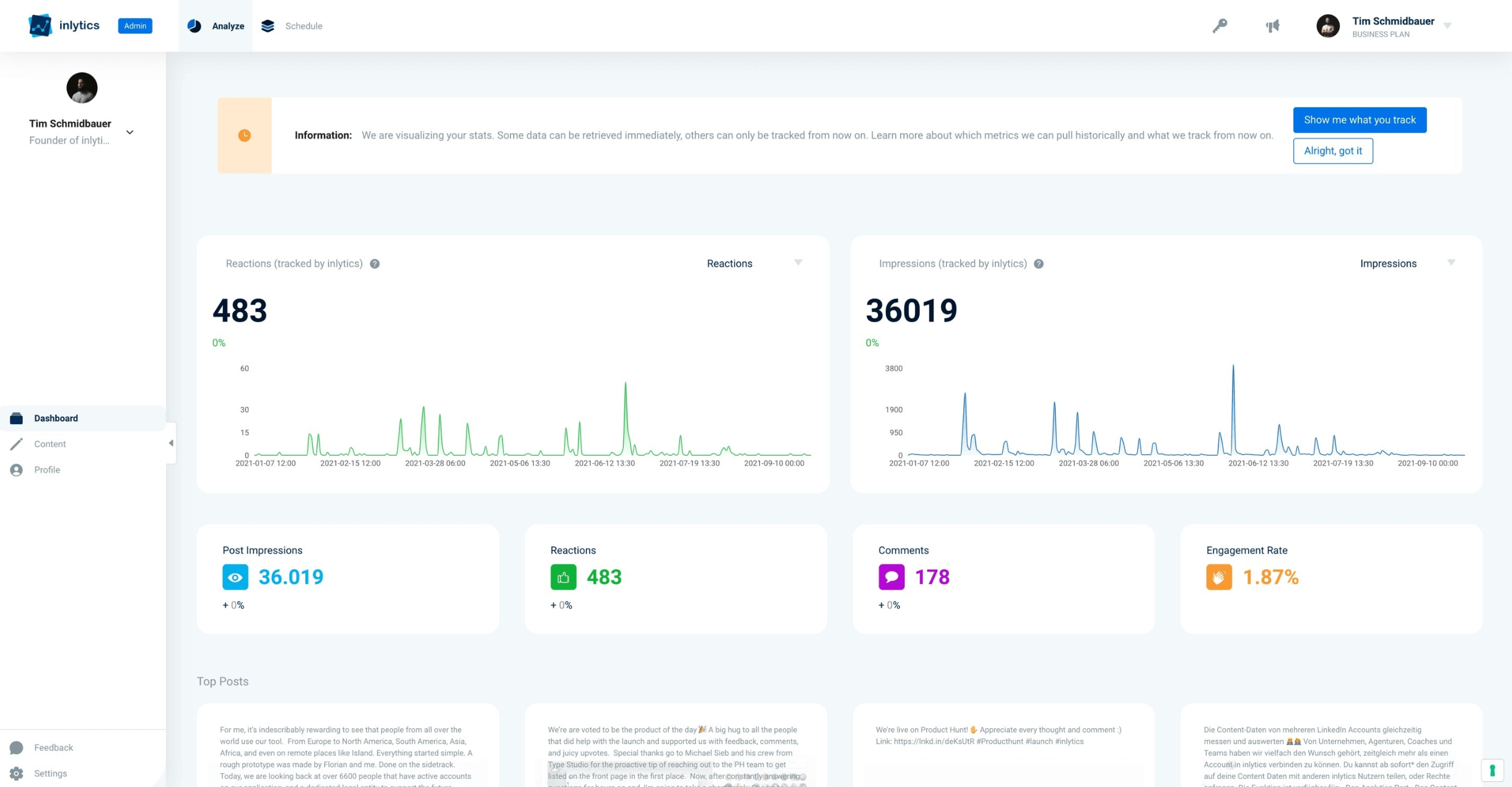 Price: Free- Basic Data, 12.50USD per Month – In-Depth Analytics  
This analytic tool is only limited to LinkedIn and focuses primarily on all the growth insights to increase your brand awareness and follower count. The application allows you to streamline your data and have it all in one place. There are two options for you to choose from. You can either go for a basic program that is free, or you can go for a paid plan and get the in-depth analysis you need for further growth. The advanced analytics comes with unlimited data storage, and you can also schedule 20 posts every Month.  
Inlytics can be used by the complete team, which makes it easier for the team members to put in additional effort. They will be able to download the reports easily and act accordingly.
Brand24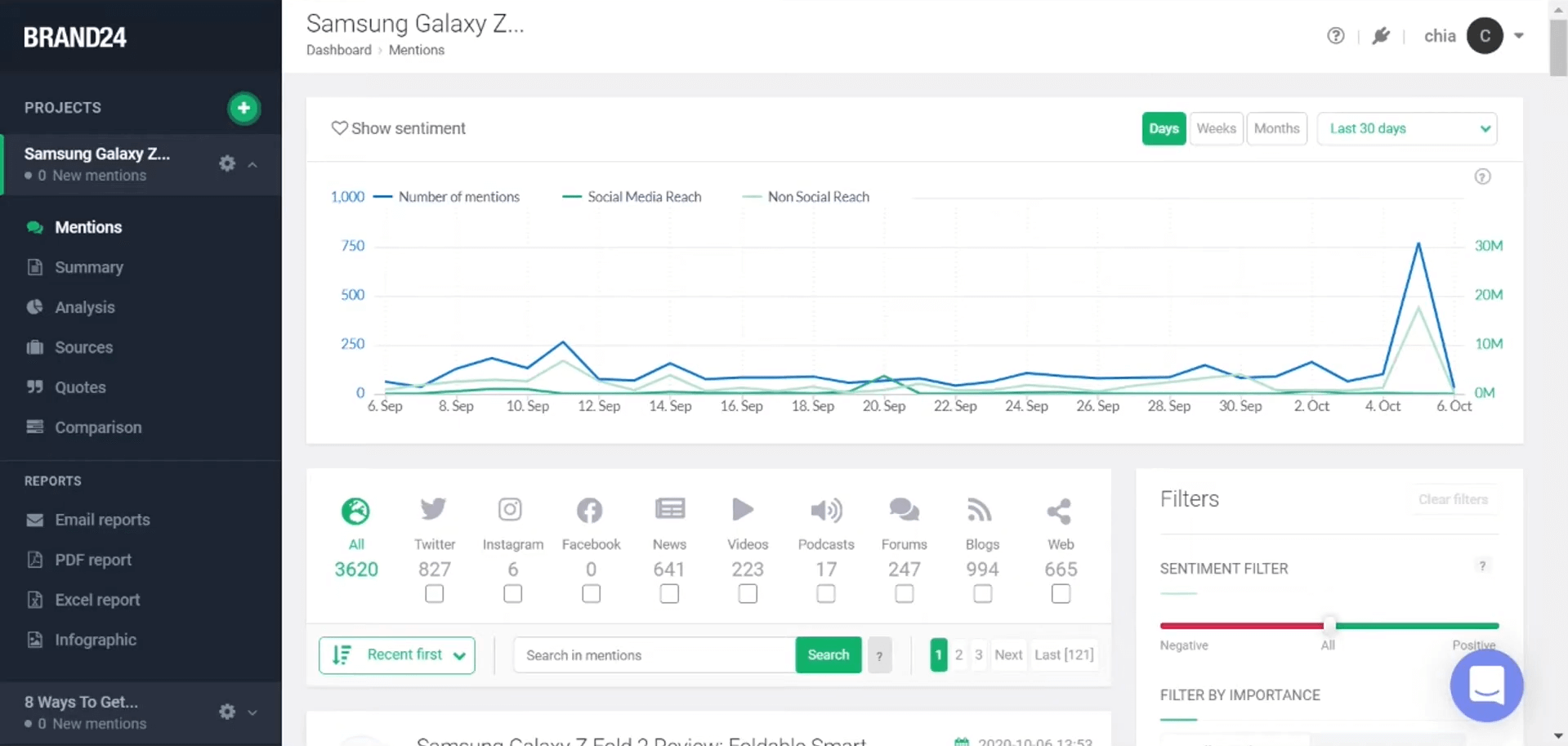 Price: Starts with 49 USD per Month  
You may be looking to improve your presence on social media, and Brand24 is the best choice for you. Originally, Brand24 was a listening tool, but it also provides analytics for LinkedIn. You can easily use it to keep a check on all of your developing ad campaigns. The LinkedIn analytics tool will show you all the instances your brand has been mentioned helping you learn what your brand looks like. When you can perceive the image of your brand from the point of view of audiences, you will be able to make any required changes in your campaign and improve the outcomes.
The tool also gives suggestions as to what you can do to appeal to your audience. All their reports are downloadable in the form of PDF and excel files.
Whatagraph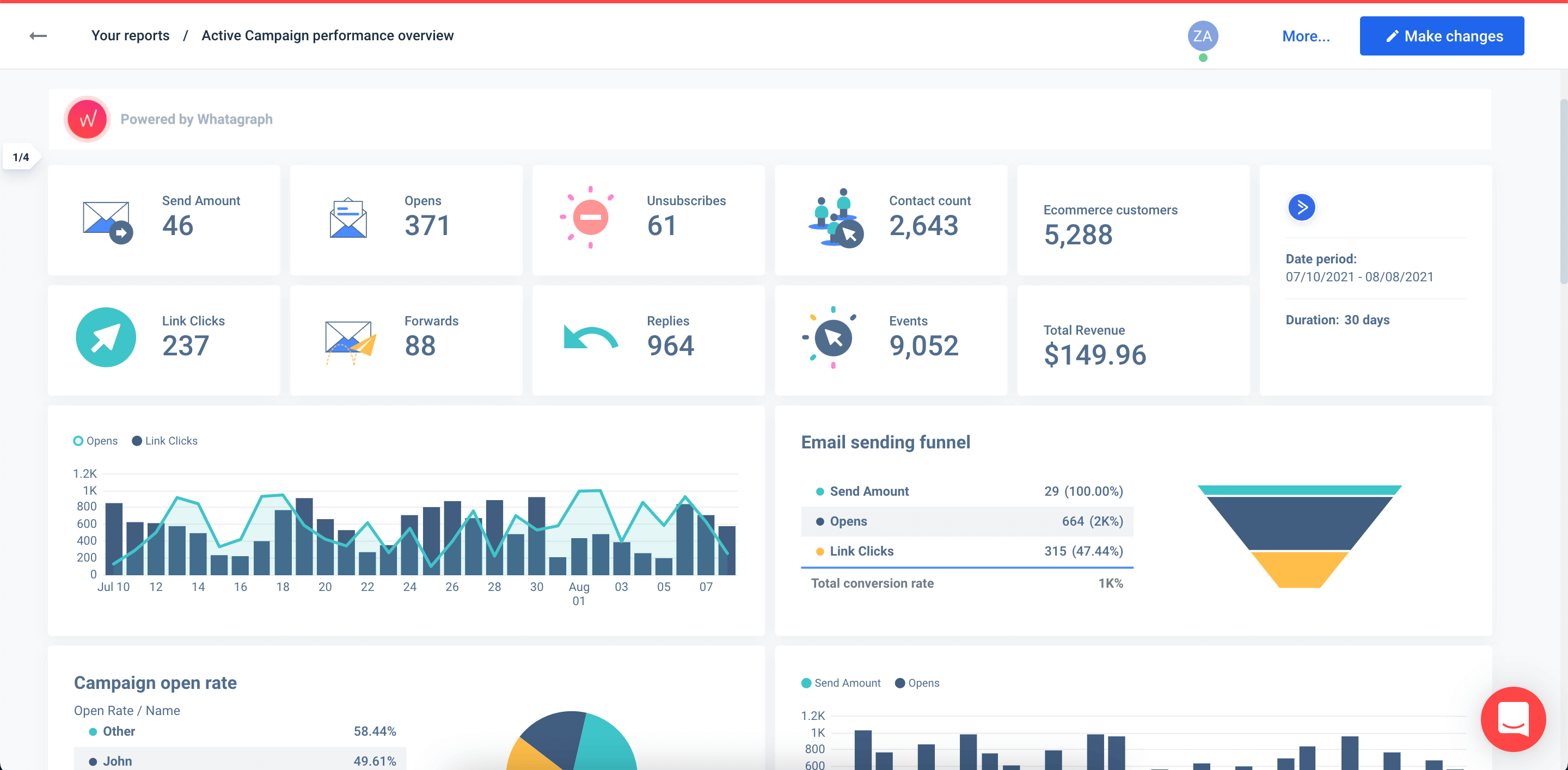 Price: Starts with 99 USD per Month   
If you are not tech-savvy, this LinkedIn analytics tool is the best choice. It is a very user-friendly platform that offers smart buttons to navigate easily and clean graphics that help you get your work done without getting lost in all the buttons.
If you want to create a personalized report, you can use this platform to automatically send all the reports to your clients in their inboxes. The data will be well depicted using a visual format. The tool can use your brand's color scheme and theme in its reports to give you a more personalized look.
You can also find templates that you can use to pinpoint certain data and the growth of a certain metric over some time. Marketers need to keep all the team members updated about the analytics of their company's performance, and this tool can help with that.
Keyhole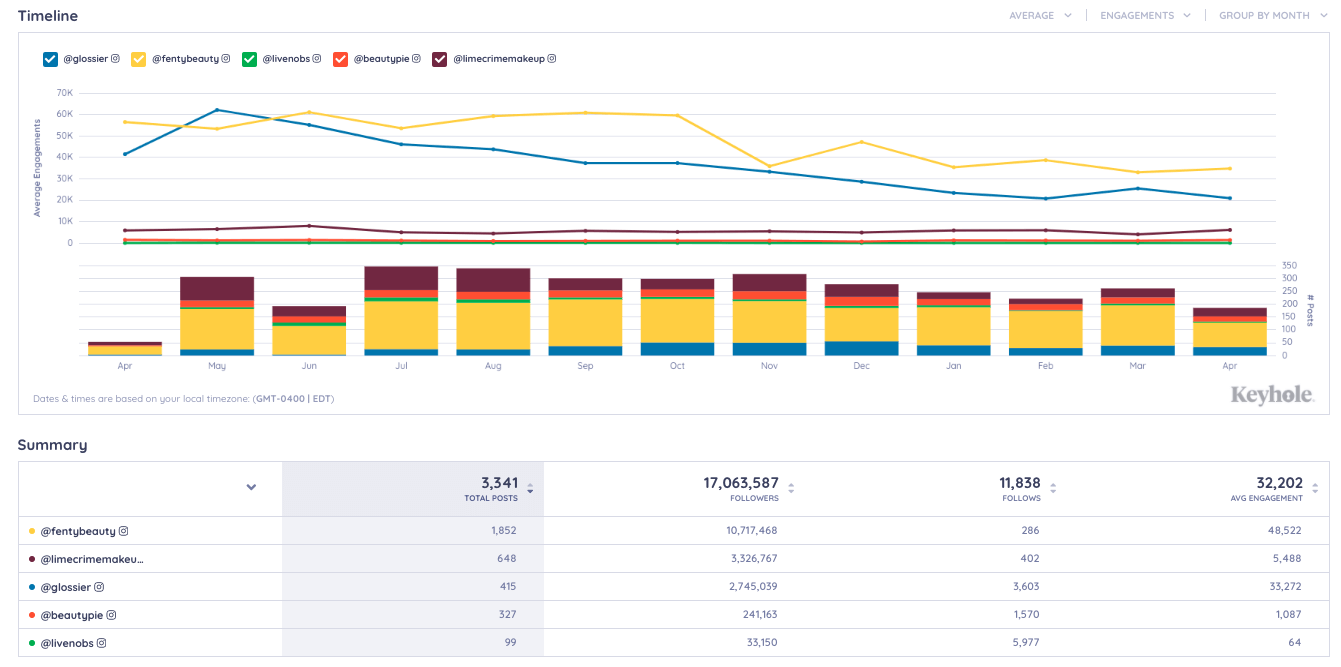 Price: Customized as per preferences    
With this tool, you can learn how well your content is performing and which of your posts are doing the best in terms of engagement. The audience insights are very important and Keyhole gives you plenty of information that can help you with the growth of your business. 
Some of the top features include the identification of different factors that contribute to your growth. For instance, this tool will identify which of your posts perform the best. By knowing which of your posts get the best traction, you will be able to publish more of such posts and get the traction you need.
Moreover, the tool also helps you understand the top industries that are the most interested in what your business has to offer. This way, you will be able to put together a strategy that targets specific industries.
With the help of Keyhole, you can also compare the performance of your brand on all the different platforms you use. This will help you learn which platform is offering you the highest traction. If you are targeting companies you can use this tool to learn more about their demographics and curate content according to the details you get. In addition, you will also be able to learn which of the hashtags you use that brings you the most traffic. Knowing this, you will be sure to use it more often in the hopes of getting traction on your page.
Klipfolio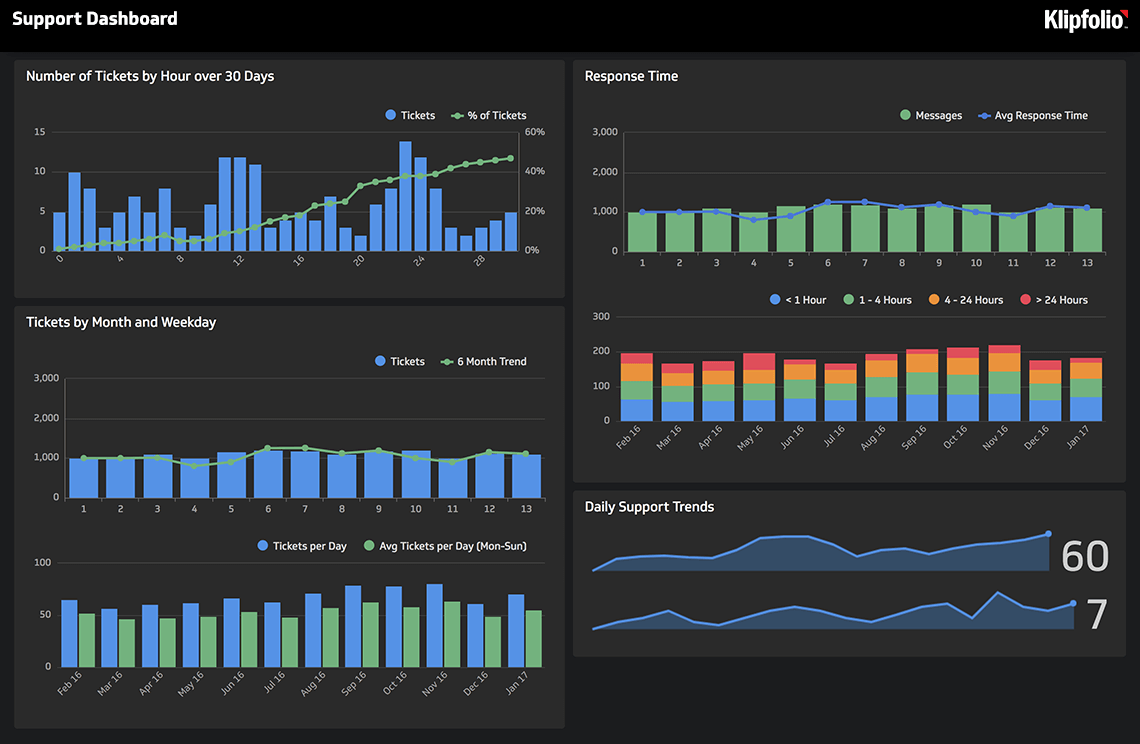 Price: Starts with 49 USD per Month   
Are you looking for a modern cloud solution for your LinkedIn analytics tool that gives you access to high-technology dashboards? Klipfolio is a great solution for you. It is an advanced tool and stands out from all the competitors. One of the most favored features of Klipfolio is that the tool has a black background. This may not seem to contribute much to the functions of the tool, but it is a great help to ensure that your tool looks professional. The feature makes everything clear, allowing new users to navigate the platform easily.
Use the platform to create analytics reports on different metrics. You can get reports on the audience, the ad performance, and so on.
Buffer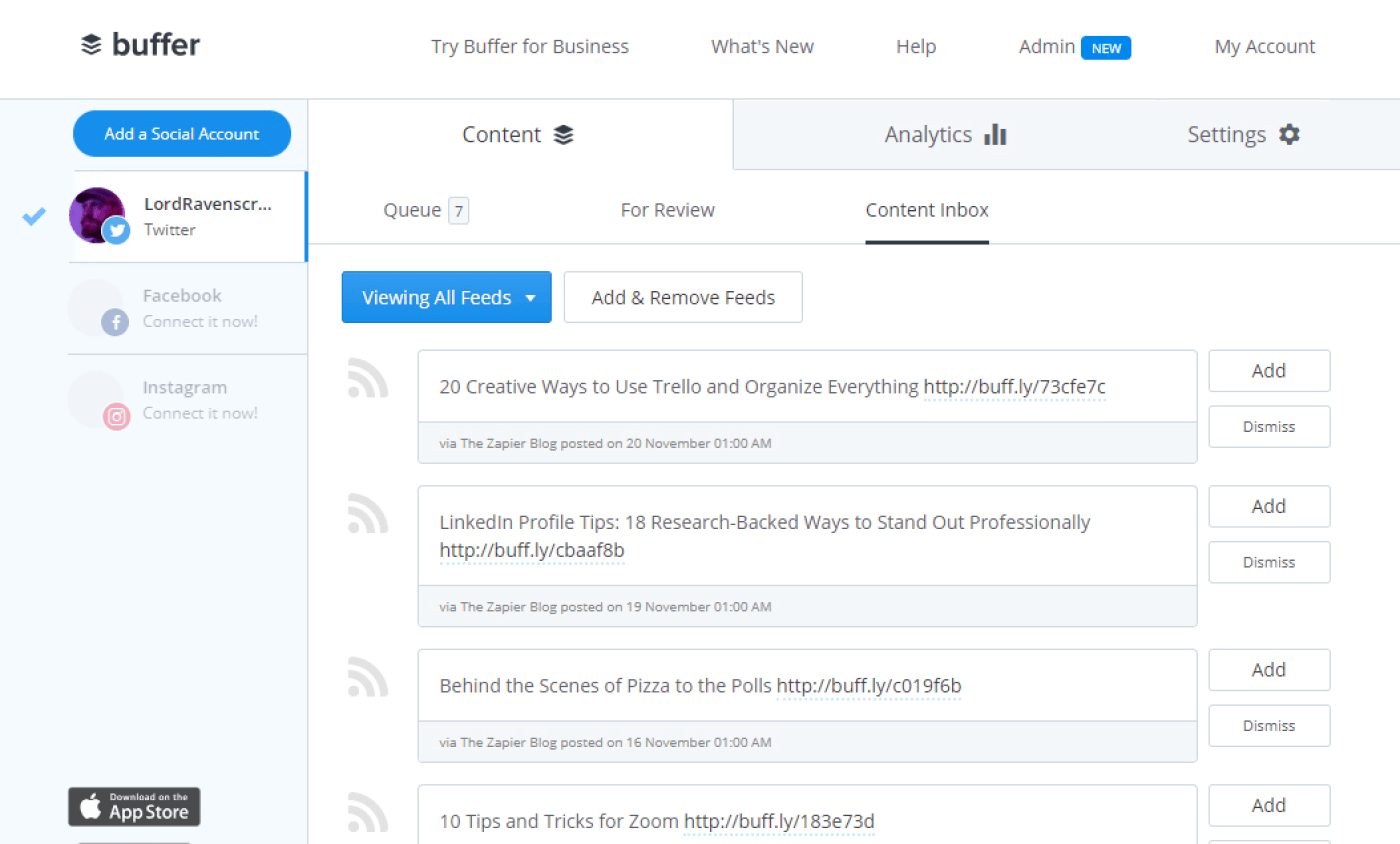 Price: 14-day trial and 35 USD per Month for the pro plan    
Buffer is a multipurpose tool that offers you analytics and allows you to create different posts using the tool. You can post these tools on multiple platforms. For instance, you can create a post on Buffer and then share it automatically on social media platforms such as Twitter and LinkedIn.
The tool allows you to go through all the different posts' analytics individually. This way, you can compare and contrast the metrics from different posts to learn which is performing the best. The metrics include clicks, likes, and comments.
Shield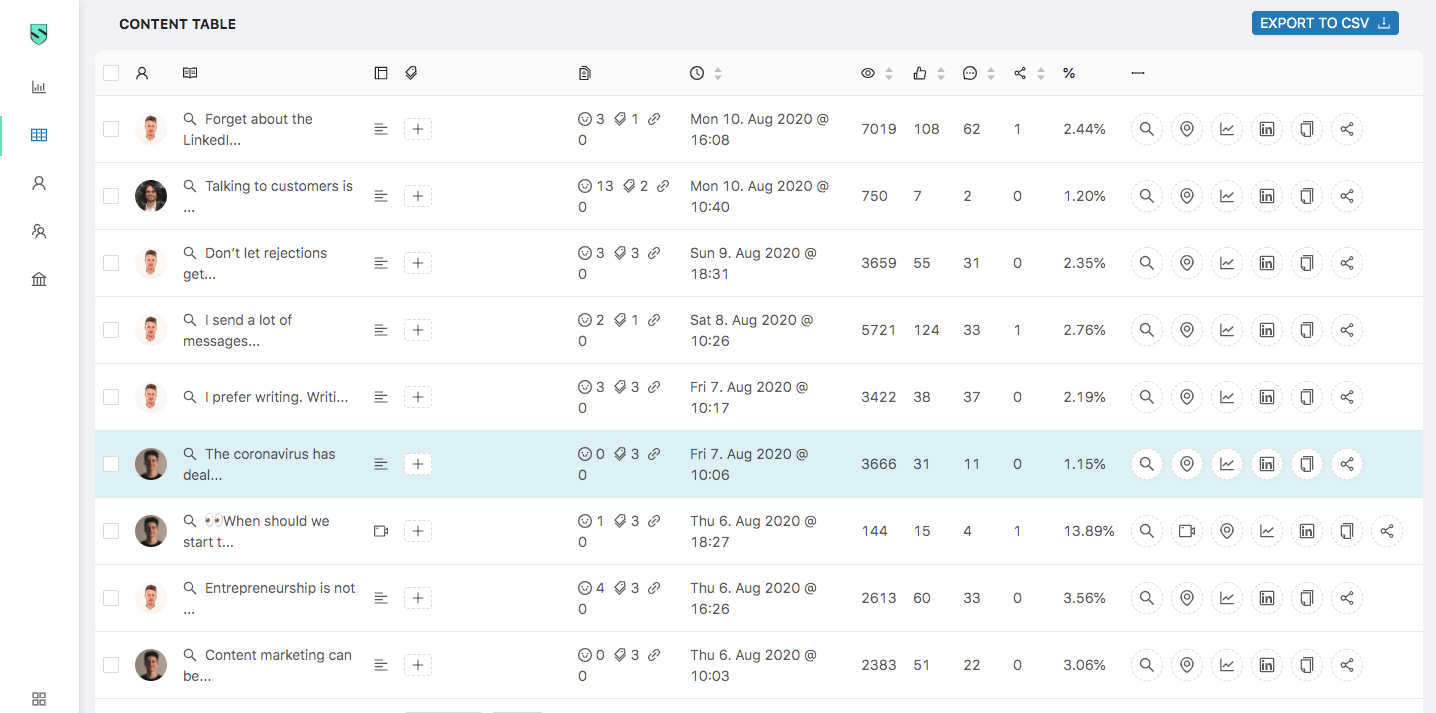 Shield is one of the best one-stop solutions for LinkedIn analytics. However, it is only limited to the profile pages; you cannot use it for your business. This tool offers you a month-by-month analysis that can help you focus on your growth strategies and improve your marketing strategies accordingly.
Its primary focus is on metrics such as impressions, views, and engagement. If you are interested in learning more about who your audience is and how best you can cater to them. The tool provides you access to the details of the demographics of your followers. o
This tool is the best fit for bigger corporations and teams as it specializes in creating social media content, and users can use it to develop better marketing strategies.
DrumUp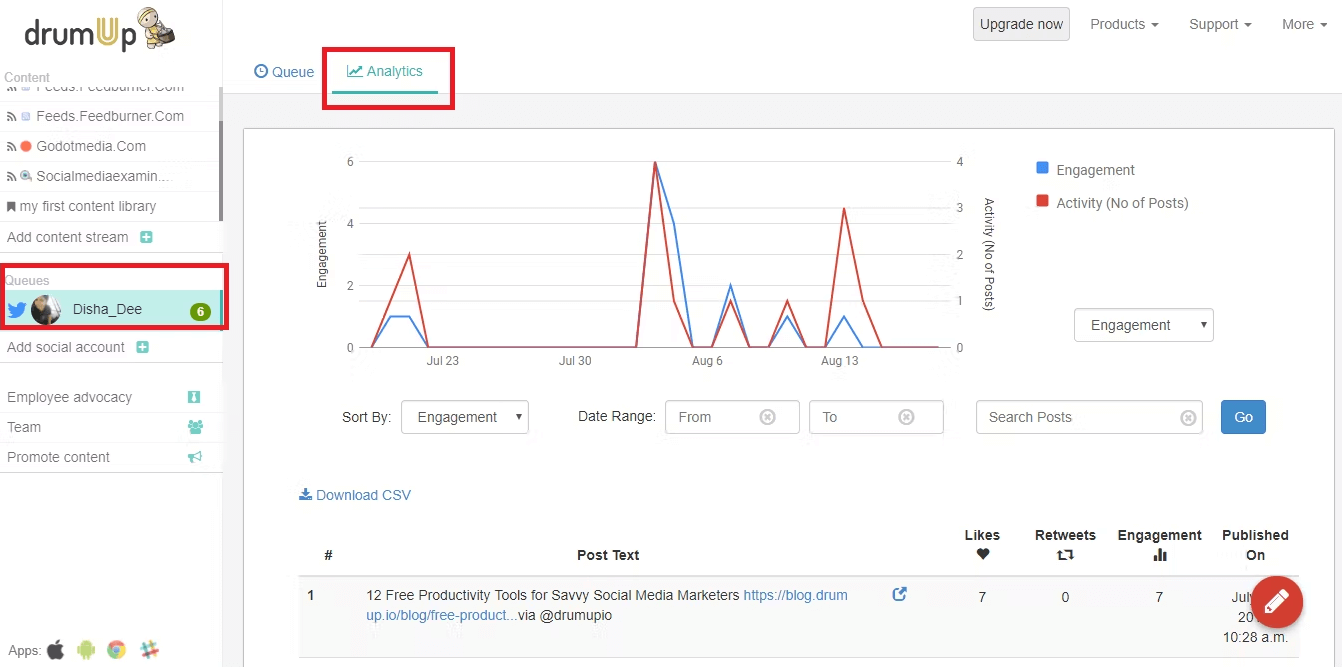 Price: Starts with 39 USD per Month   
You need to go for a tool that integrates all your social media accounts. This makes things a lot easier for you as you will not have to worry about different social media platforms at the same time. DrumUp is more of a content management tool, and it helps you grow your all-over social media presence.
It goes through copious amounts of content available on the internet and then uses it to give you relevant suggestions that help you make your content even more engaging for your followers. With this tool, you will learn all there is to know about your audience and then use that information effectively for your marketing campaign. DrumUp is a great solution for your marketing strategy and has brought you more followers with the help of the right insights.
Talkwalker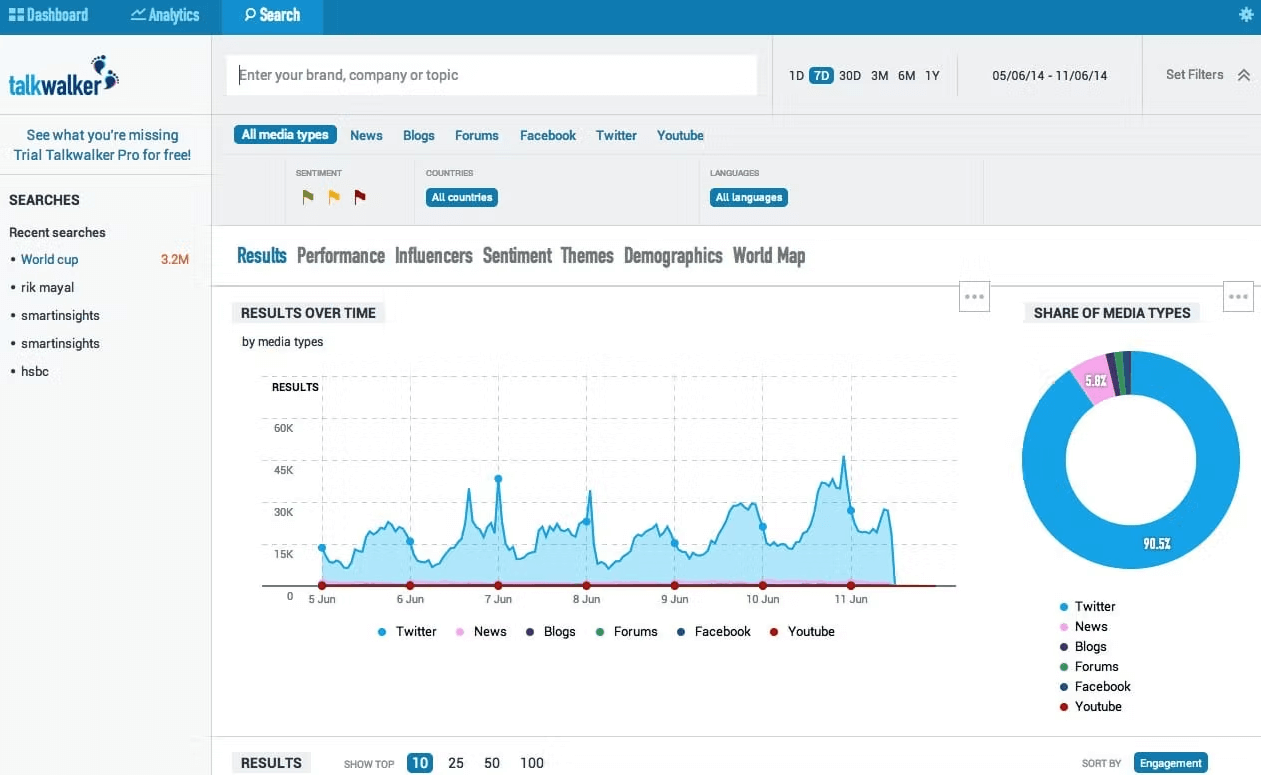 Price: Free demo and get a custom package    
Talkwalker is definitely worth a try if you are looking for good LinkedIn analytic tools. This app is a very popular option for some of the top businesses around the world. This tool is not just limited to digital content, but it also focuses on print and other radio content. This feature is not available in any other social media analytic tool.
You can opt for different pre-developed use cases to generate the reports you need to measure your social media performance. Moreover, you can download these reports in different formats and use them to change and mold your strategy so you can achieve the goals you want. It is also a great idea for you to integrate the tool with your CRM system. That will help you access the data better and get all the ease you need.
Iconosquare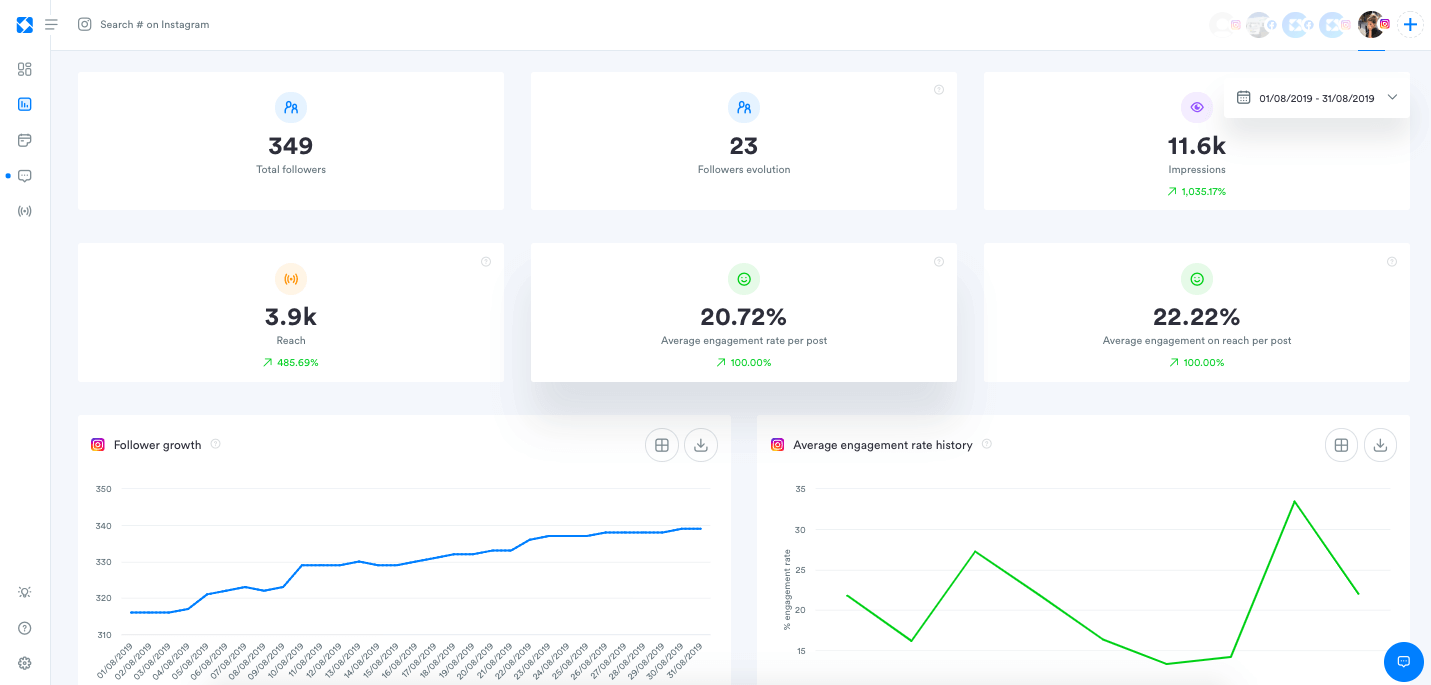 Price: Starts with 49 USD per Month   
For in-depth information, Iconosquare is one of the best options. This tool is a one-stop solution for analytics across different social media platforms such as LinkedIn and Facebook.
With the help of this tool, you will get detailed information that you can use to improve the social performance of your brand. It is best to know what works best for your brand and then use it in your marketing strategies. The information is collected from the interactions, the rate of engagement, and the reach of your posts.
One of the best features of this tool is that you can use it to export the data onto a report and use it when developing your marketing strategies.
Unmetric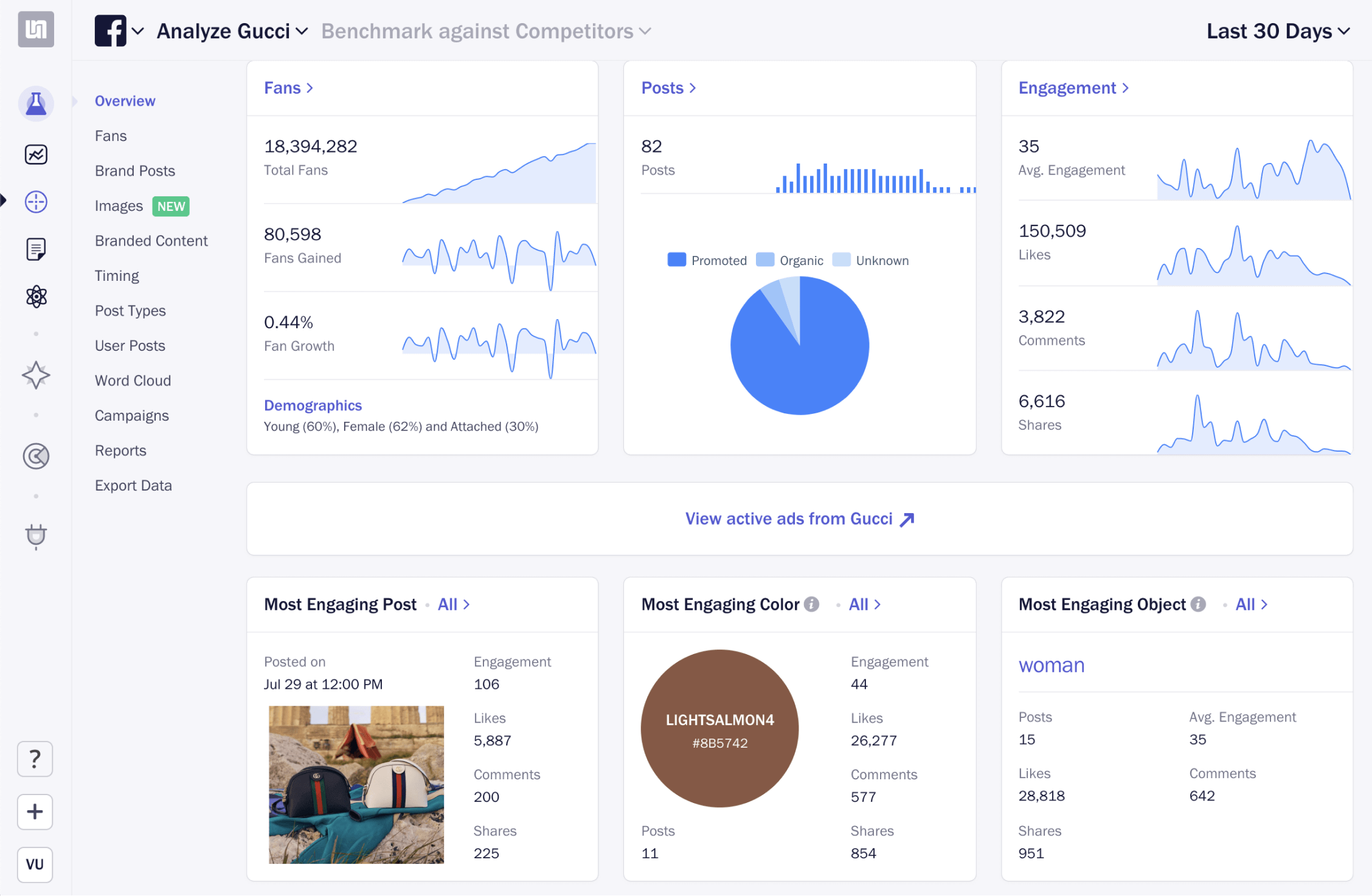 Price: Free demo with custom packages    
The most important thing you need to improve your marketing strategy is in-depth data. With the help of this tool, your company can learn what exactly it needs to work on. The tool helps you understand what kind of content will be appreciated by your audience. When you produce content that your audience is more likely to enjoy, then you will be able to get better traction.
It is important to keep track of all the information and changes. This is why this platform allows you to download all the reports with all the visual representation and other graphics and statistics. Moreover, with the tool, you can keep an eye on your competitors and see how they are doing. If you want an edge over your competitors, then you can use this tool and change your marketing strategies to get much better results.
ReportGarden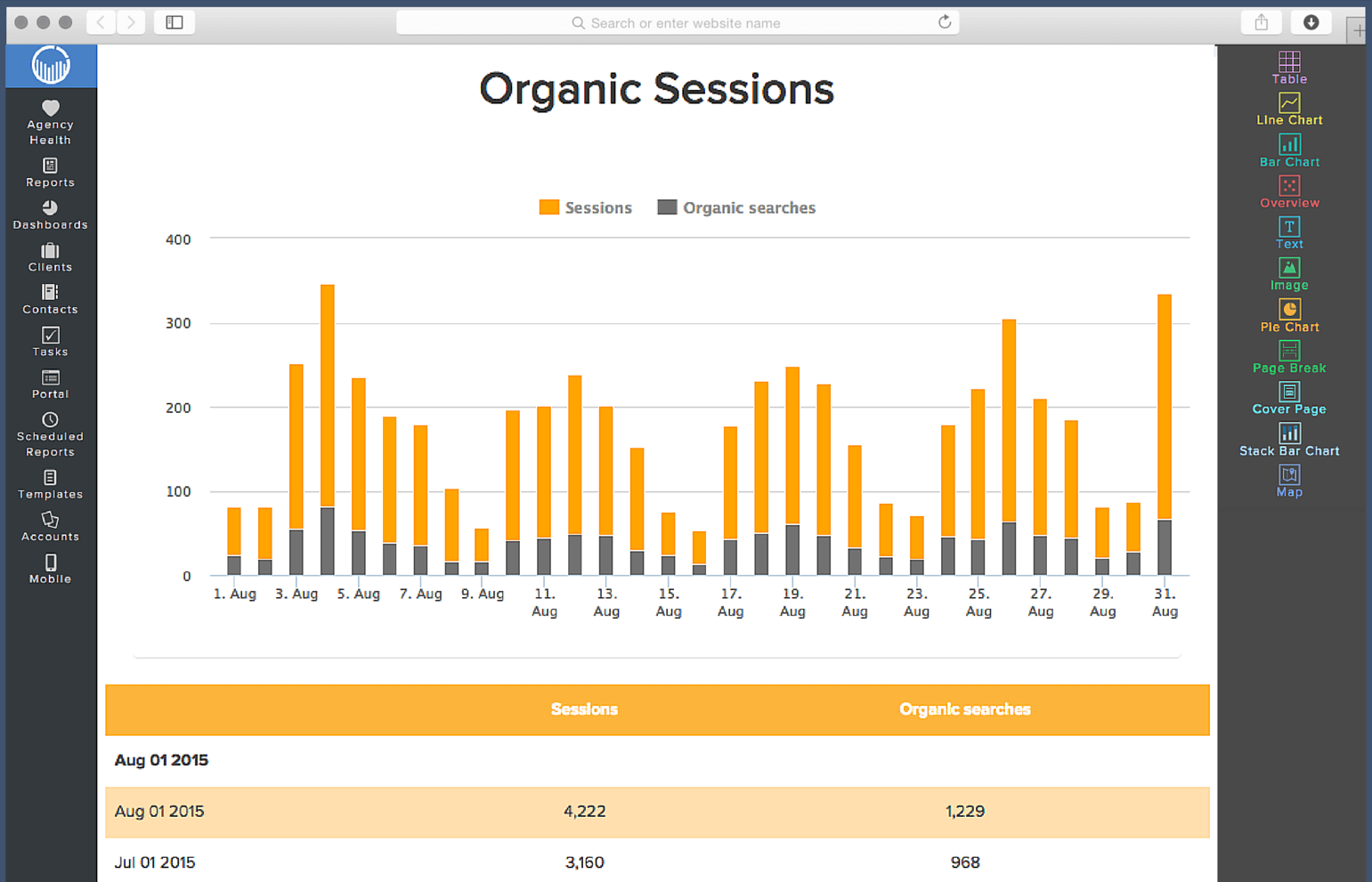 Price: Starts with 89 USD per Month   
To ensure that you get the right amount of details, this tool offers you a wide range of reports that focus on all sorts of metrics. The tool also allows you to download all the data. Downloading the reports will help you make better decisions and use them in your future marketing campaigns. This feature makes this tool a suitable choice for all kinds of businesses.
You can get reports of different social media platforms from this tool exclusively. You can get analytics reports from Facebook, LinkedIn, and even Google. These reports help you get an idea of your brand across platforms, and you can condense all the information down to a single report and use that for all future references.
The tool is beneficial for creating a competitive strategy, and you will be able to get the best possible outcomes if you know what your competitors are doing.
Conclusion
If you are thinking about improving your LinkedIn marketing strategy, then you must invest in the right tools. There are lots of marketing tools that can help you learn about all the metrics and then mold your strategy according to them. However, you need to choose the best tools out there. The above-mentioned tools are a great option as they all offer unique solutions and can give you the results you are hoping for.
Go through the websites and try to learn as much information as you can gather on them to make your decision. If you want to get a closer look, you can also go for the free demos or trial packages to decide whether the tools are easy to use and exactly what you are hoping for.