A Customer Relationship Management system allows companies to record and manage all their interactions. However, you need to use the right CRM system to accelerate your sales process and bring more significant benefits. There are lots of different CRM options for you to choose from.
In this article, we will learn all there is to know about CRM and what are all the options for you to explore.
What is CRM Software for Sales?
If you want to start using a CRM for your sales, it is essential to understand what a CRM is and how you can use it to manage your sales.
CRM is a technology that helps companies manage all their interactions and other relationships with their customers and the customer base they plan to build. CRM software can be used to streamline different processes and improve the efficiency of their tasks. With it, they are also able to increase their profits significantly.
The software gives you a central database where you can easily store all the data pertaining to your sales. The CRM allows users to add and take away data from a single platform, where multiple people can access that information and make edits to their work.
Ideally, a customer enters the CRM when they fill out a form and establish any contact with your team. Then the interaction progresses to a follow-up from a sales representative. Whatever the outcome from the follow-up will be documented on the CRM so all connected can view the interaction. This helps streamline lots of processes, such as marketing and sales objectives. This way, the marketing department can look at the data collected and then change their strategies.  
The CRM offers both automatic and manual functions that can help individuals have all the accessible information they need in one place. Sales data collection using paperwork can take up several hours and is inefficient. It may also result in much information getting lost in the process.
Why Use CRM Software for Sales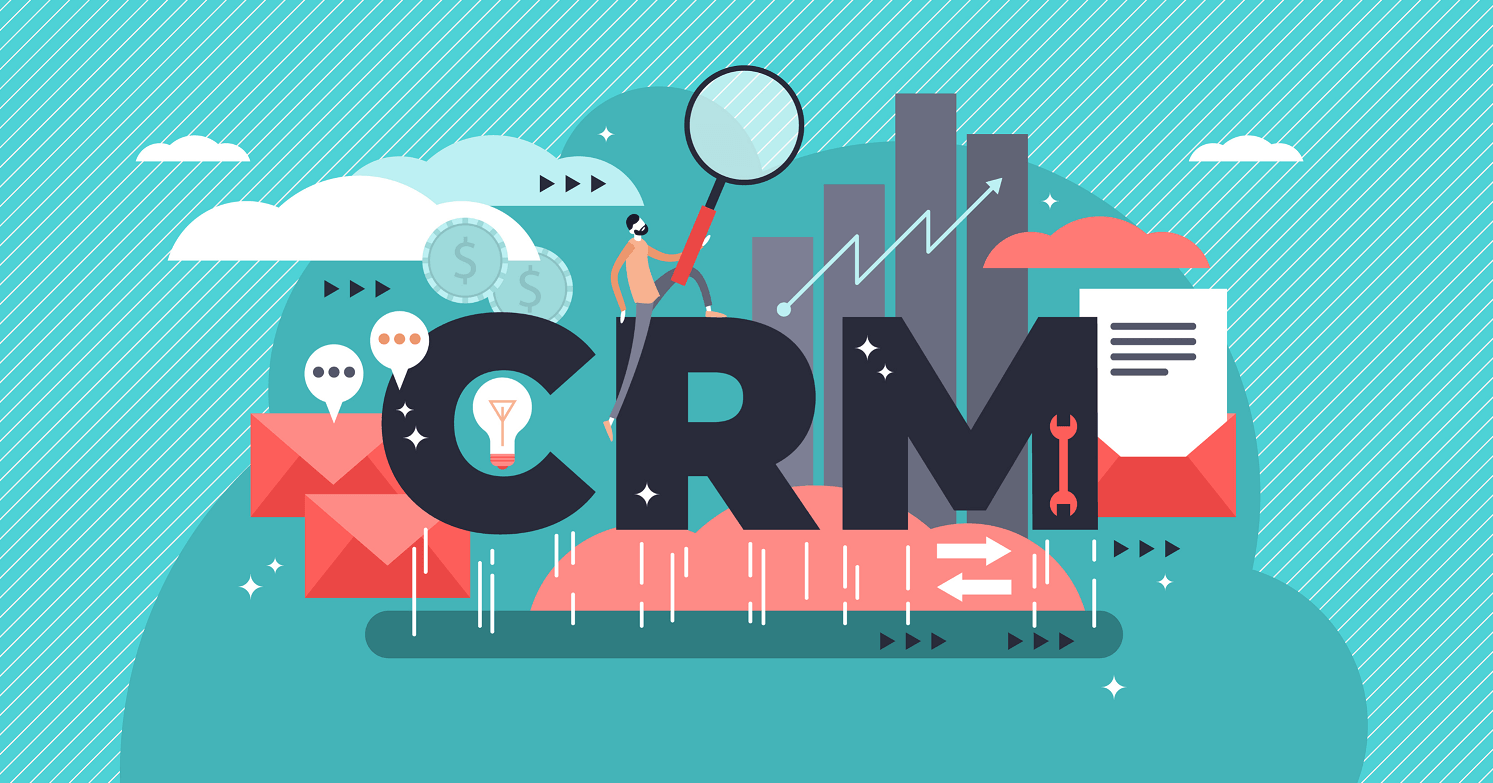 CRM is the best fit for sales, and there are many reasons they must use it to carry out their data collection and storage. Let's take a look at all the reasons why CRM can be an excellent option for sales:
Provides Ample Storage Space
One of the biggest problems with sales is that it is a vigorous process and constant data exchange. Storing all that data can prove to be a problem, which is why using a CRM is a great option. It gives you a lot of storage space and helps you access that information wherever you want.
Manages Time
CRM helps sales persons manage their time and optimize all their activities so they can perform all their actions on time and give the proper attention to their customers. The CRM helps sales prioritize their tasks and improve their response time to ensure they give customers the kind of help they need in a timely manner.
Can Help Create Activity Reports
Activity reports are essential to keep track of all the actions you take. To manage all the sales, it is necessary for them to have weekly or monthly reports to keep an eye on the progress and make changes to their processes accordingly.
Customer Information
The CRM gives you insights into what your customers are looking for and how your services differ from what is needed. Using the data on the CRM, you can even analyze all the problems your customers already face and will continue to face. You can take the proper steps and ensure customer satisfaction with the correct information.
Improves Efficiency
One of the biggest things that affect sales efficiency is all the back and forth that happens within the admin. To improve efficiency, the CRM streamlines the entire process and removes the input of people who are not very relevant to the sales chain, such as the admin.
Shortens the Process
You can take a long time to accomplish your sales goals if you don't use a CRM or streamline the processes. With a CRM, you can rationalize the complete process and improve productivity while cutting down on sales.
The Benefits of Using CRM Software for Sales
Customer Relationship Management software comes with several benefits when it comes to sales; here are all the benefits of using CRM software for sales:
Management
CRM is an excellent tool for the complete management of your sales. It can help you answer some of the most important questions, such as what avenues you need to explore in your sales strategies. The contact and management features of sales need to align, and then you find your ideal customers and what they need to buy from you.
Customization
The best part about a CRM is that it can be customized for use by different companies. There is no 'one-size-fits-all' when it comes to CRMs. You can make changes to the software per your company's needs. You can use different processes specific to your company and integrate valuable software into your business. A good CRM can be customized however you want.
Automation
CRM offers great automation that helps improve efficiency in sales and other company departments. The automated system allows you to fill in all department gaps and improve communication. This boosts data collection that can help throughout the chain of process.
Accessibility
CRMs are easy to use and have a simple user interface, making them easy for all employees. A good CRM is one that comes with a basic structure that is dedicated to making things work. While there may be some advanced functions, the basics should remain simple so it offers ease of use and can improve user experience.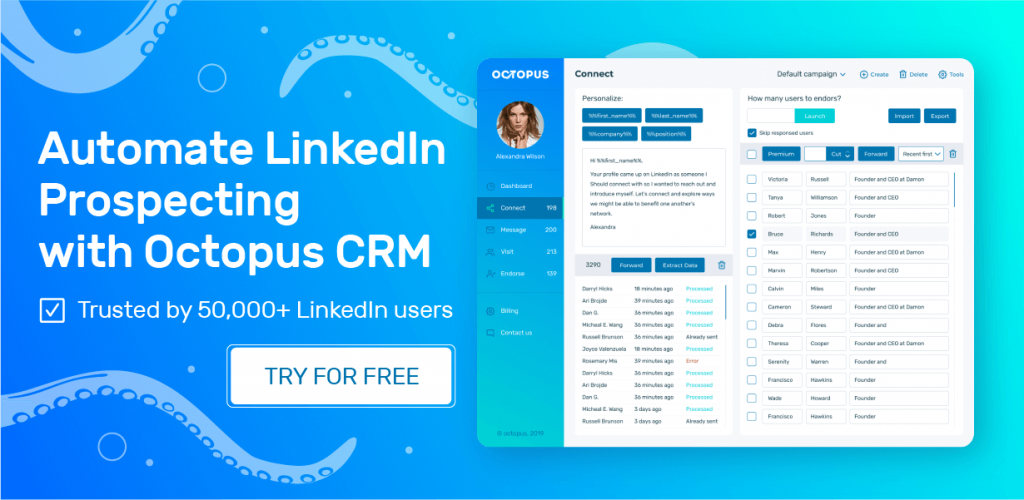 Top 11 Sales CRM Software Solutions
To reap all the benefits of a CRM for sales and marketing, you need to choose the best deals. When selecting the best CRM software for sales, you need to keep several aspects in mind. With so many CRM options out there, here are the top 11 Best CRM for the sales team for you to look into. Let's learn more about each of these CRMs and what makes them among the leading CRMs out there.
Zoho CRM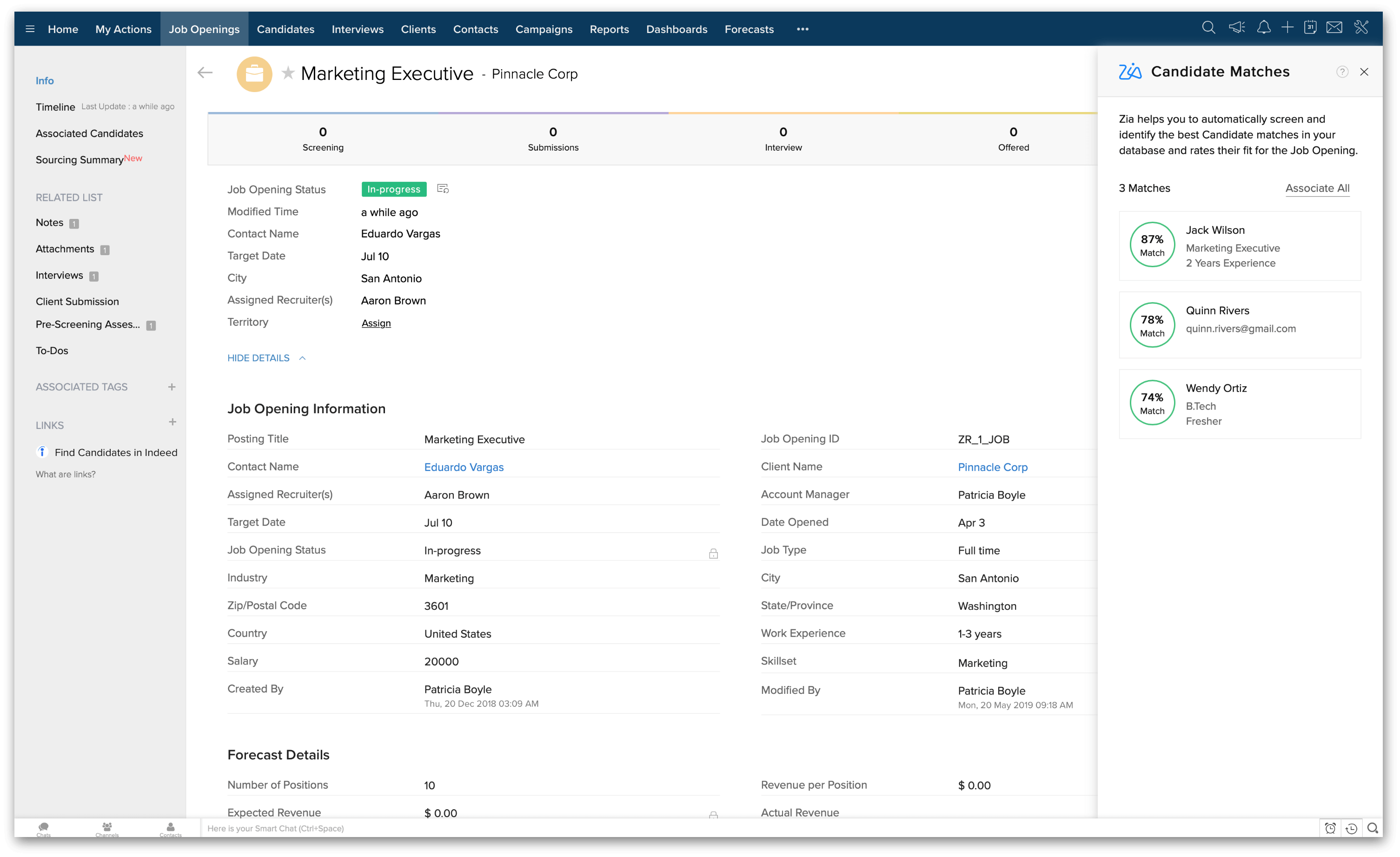 The Zoho CRM tops the list for its affordability. This CRM offers different plans depending on the size of your business. This is one of the best sales management software for small businesses as it offers free software that can cater to three users. Moreover, with time and as your business progresses, you can use other packages they offer, such as Begin CRM and CRM Plus.
CRM Plus is one of the best packages and can help you view the scalability and potential of the company. The CRM also offers add-ons that can help integrate different apps, all depending on the CRM package you go for. This package has a main CRM dashboard connecting other built-in channels. You can access the dashboard's marketing stream, socials, and even relevant settings.
Zoho is highly customizable and can help you change many things about the CRM, such as its look and feel. You can simply select a template and then customize it accordingly. The CRM also offers a complete view of any contact. You will be able to see all their activities, such as all the times they have visited your site, along with all their interactions with the sales team, including emails and other messages.
Moreover, Zoho has a well-built reporting feature where you can get pre-made reports and view them in various methods so you can easily navigate them. With the reports, you will find a comment section that helps members of different teams leave comments and discuss the results from the words.
HubSpot CRM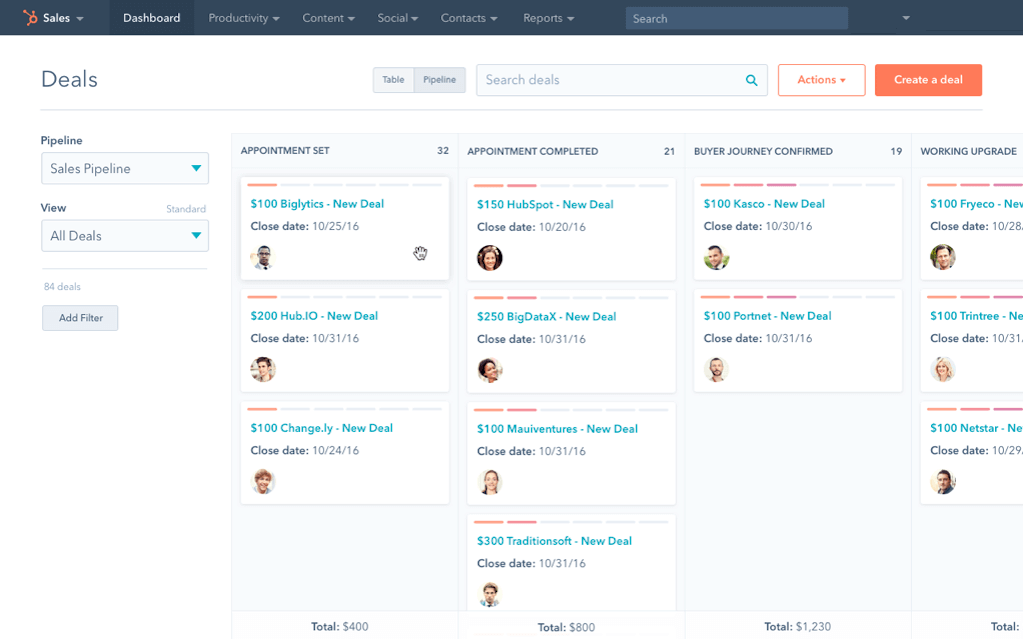 The Hubspot CRM is also a great option if you are not constrained by budget. Over time, the software has improved significantly; it has improved its usage of digital marketing tools and help desk tools. This is what makes HubSpot CRM stand out. If you are a middle-sized company, you can use the HubSpot CRM and get pricing bundles with both of them included.
It also has a free version that is perfect for companies who need a good quality CRM as they are just starting out. The free version offers many features that are hard to come by in other free CRMs; the only problem is that only one user account can limit other people from using it. Other than that, small businesses can go for the starter tier package, which offers two users CRM, but you can pay an additional amount per user. At the same time, the professional tier can help you integrate five users and more at an additional cost.
The last package is the Enterprise Tier, and it features ten users. You can get some of the most advanced features in this tier.
Salesforce Sales Cloud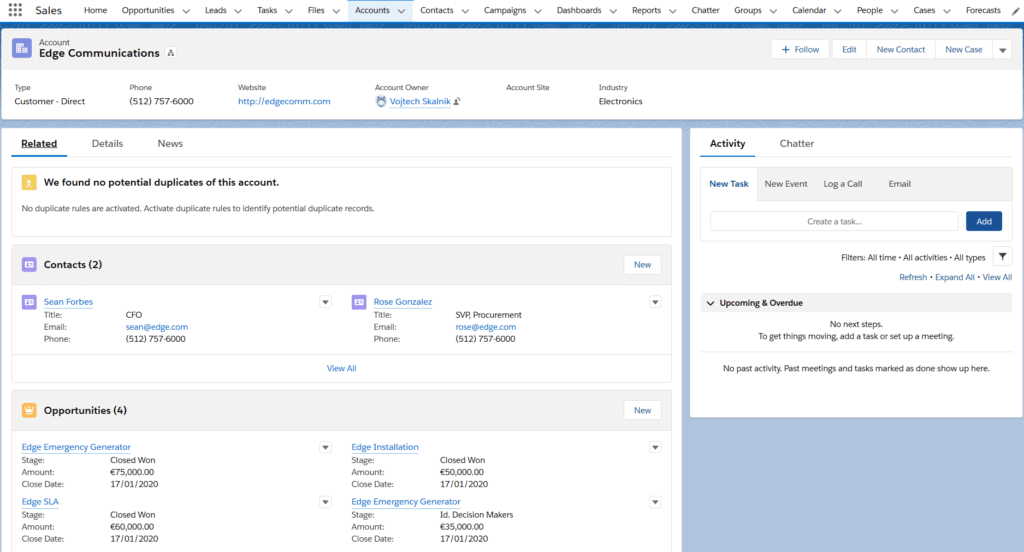 Are you looking for a customizable CRM option? Salesforce Sales Cloud offers several customization options that can leave companies to have a completely custom-made experience. Its third-party App Exchange creates great many customization options.
Its features like the Flow Builder can establish custom process management automation. You can select whatever flow you want by selecting option settings. Moreover, with its customizability, you can retain privacy. You may not want all your employees to access all the information. With that in mind, Salesforce allows you to change the settings in a way where you can control the access your employees have.
Furthermore, this CRM has an App Exchange feature that allows you to integrate paid and unpaid applications with your CRM. You can browse through the available applications that are specific to the type of package you get. The software also comes with several pre-built reports that can help you measure any stats you want.
This CRM is one of the pioneers, and many of the new CRMs measure themselves against it. Its innovative features and add-ons help it stand out from the other CRM software.
Zendesk Sell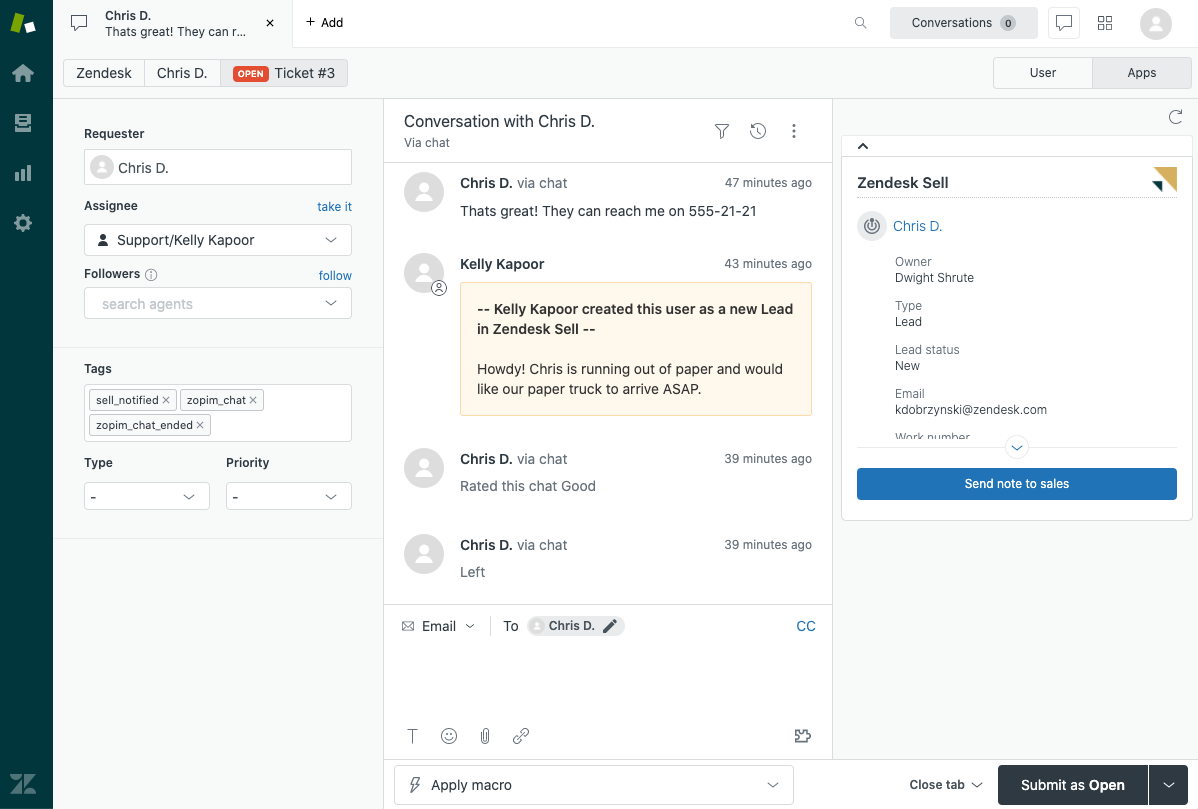 An easy-to-use CRM can make all the difference. Users who are not too familiar with such dashboards can struggle when it comes to CRMs. But Zendesk has user-friendly tools and offers help desk software integration without any hassle whatsoever. It is a good choice for small and middle-sized businesses.
To create custom reports in Zendesk, you can use Explore. Here you can find many pre-built reports that come with other customization tools that you can use to create new reports. Moreover, you can use the Reach feature if you want to gather information on other third-party sources. This feature helps you go through several third-party data sources and help you collect all the information you need, and explore new opportunities.
This also allows you to get more information on your contacts so that you have a detailed profile of them. The company itself has vast database access that expands to millions of other businesses and contacts records. Using the features, you can explore lots of opportunities.
Zendesk can be considered more on the expensive side as compared to other CRMs. It offers multiple tiers, such as the Team tier, Growth tier, and Professional tier. Lastly, you will find an enterprise tier exclusively for big companies requiring many automation features such as analytics, deal scoring, and other roles.
Salesmate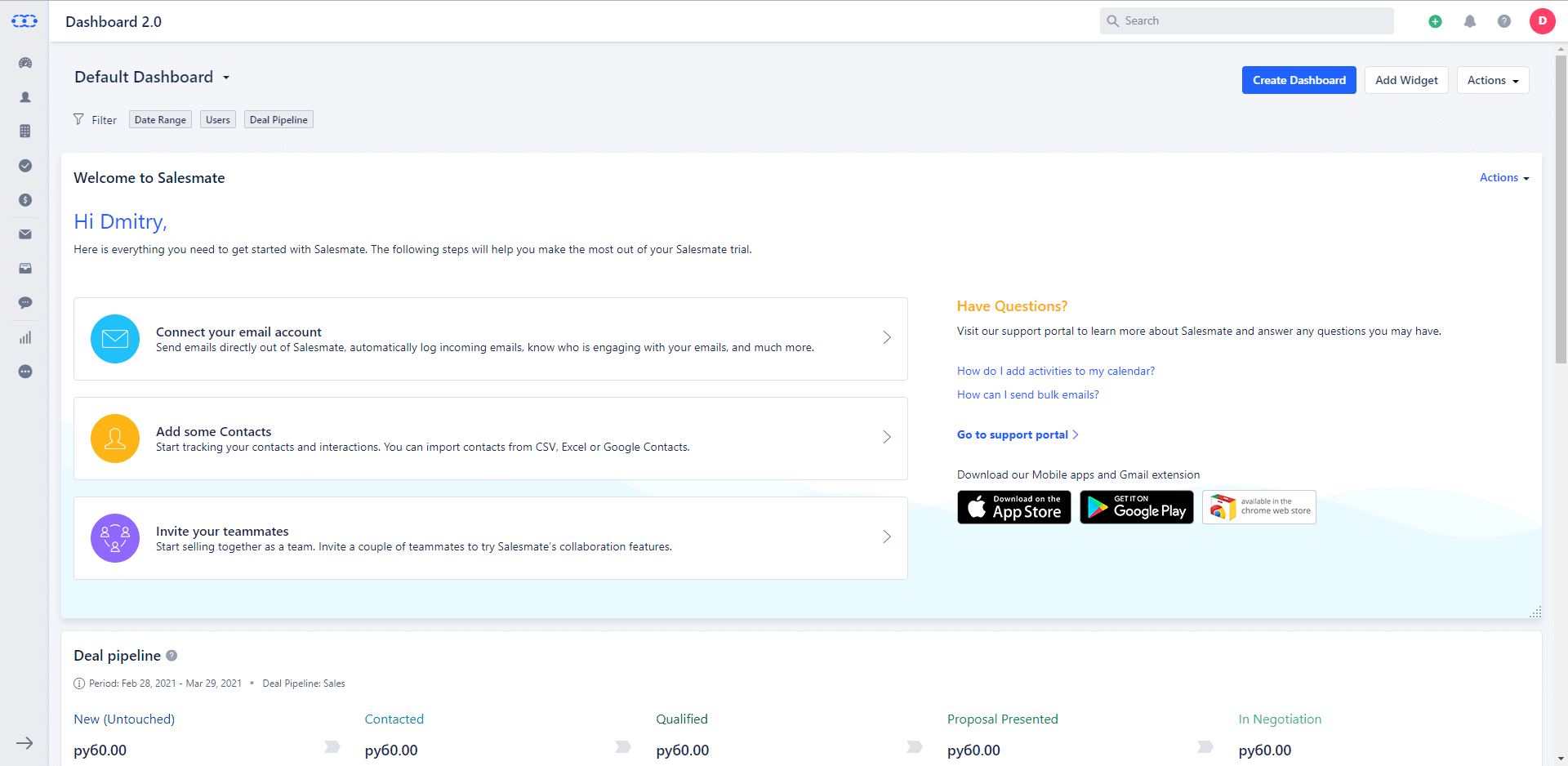 Companies looking for a personalized experience can use the Salesmate CRM and generate more excellent leads. You can run different actions on this CRM, such as lead capture, nurture, and scoring. The CRM comes in three packages: Starter, Growth, and Boost are all viable options for companies. The starter package is best suited for a small sales team, whereas the growth started plan offers more services and is well suited for slightly bigger companies. The boost plan is the highest and is exclusive for businesses that are on a much larger scale.
The CRM offers an intuitive interface and is extremely easy to use. It offers many functions that are interesting to use and very effective when it comes to sales. It is best known for its follow-up functions that formulate a go-to function immediately if the client fails to respond to an email. It also offers customization that helps you change the CRM according to your needs.
Salesmate offers a variety of marketing automation, including email marketing, campaign marketing, lead management, and Marketing ROI analytics. You can have multiple integrations with the same software, such as Data Import, APIs, and other partner applications. You can get reports on all the data collected and fed into the system. Some of its AI and automation features include lead prioritization and lead scoring.
Pipedrive CRM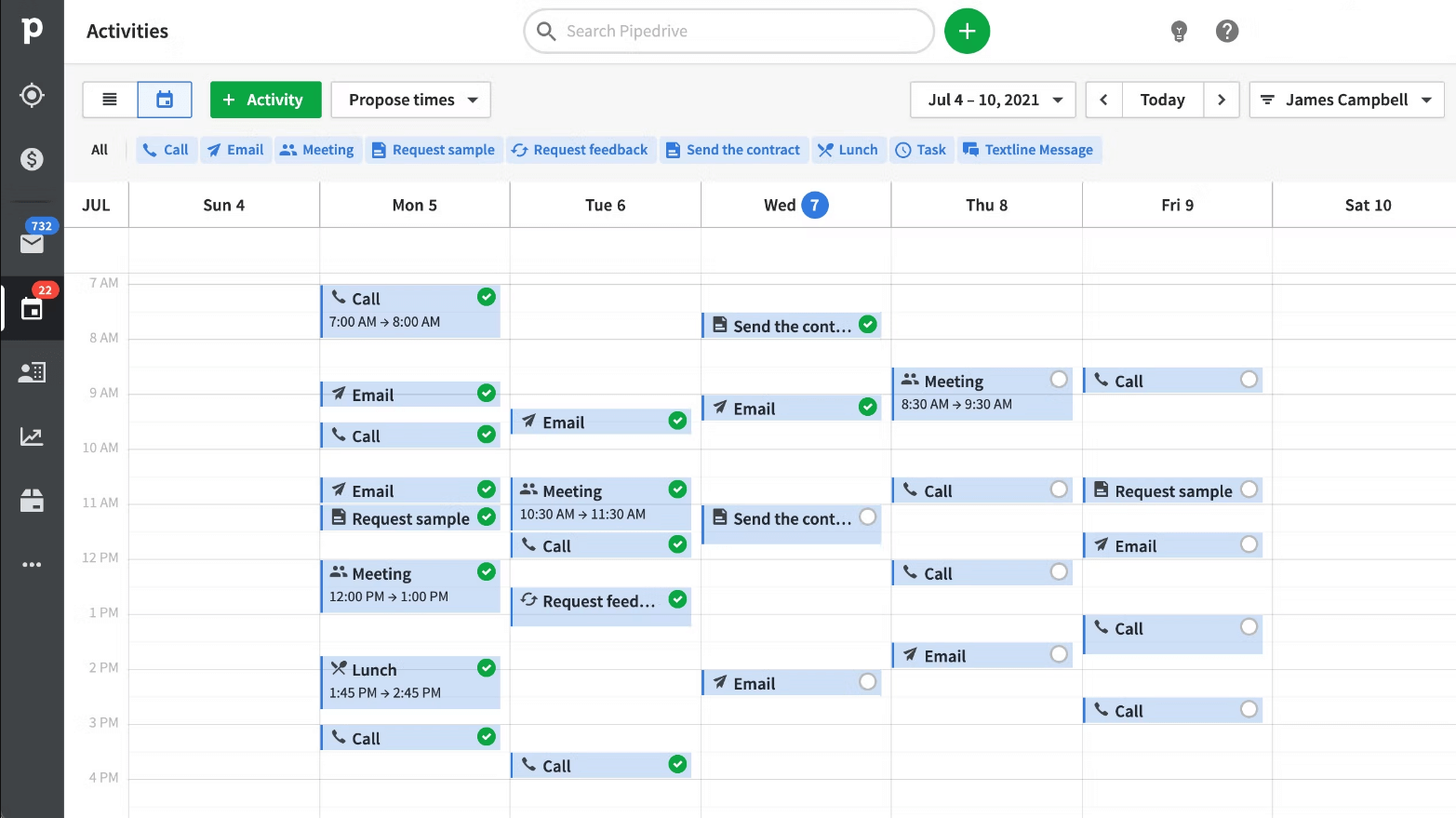 Many people choose Pipedrive for its easy-to-use interface. The CRM is designed to be one of the best CRM software for sales, as it is very flexible and helps you stick to your purpose, which is to sell as much as possible.
Its UI has a simple outlook; to give you effortless navigation, all its menu items are located on the left of the dashboard to make it easier for you to perform different actions. Moreover, the CRM allows you to directly act on other third-party applications. You can sync different apps such as Google and Outlook and take actions from the CRM. If you want more information on different clients, such as their social data, then you can use the Smart Contact Data and get all the information with a simple click.
You can use some sales-related add-ons to improve your lead generations and attract more web visitors. The CRM allows you to use these tools to get real-time data you can use to improve sales. There is workflow automation that helps with premade templates for various tasks. Other than that, some of the reporting features include deal duration, forecasting, and conversions. You can make customizable reports with the help of the data. You can have as many conditions as you'd like.
Salesflare
Salesflare is a great option for sales management software for small businesses. The pricing scheme makes it a viable and profitable option. To start with the signup process, you need to integrate it with email. You can use any email account such as Gmail, Outlook, and more. The data importation on this CRM is not as easy on Salesflare as it is on the other software. Instead of automatically importing the contacts, you will have to add them manually.
The design is simple to begin with, but experts agree that it is, in fact, too simple. It fails to show more detail about the contacts unless and until you click it. The dashboard of Salesflare is all your reports in the form of graphs. You can find more features on the Salesflare dashboard, but you will have to look around for them.
The reports on this CRM software are better than reports elsewhere. With Salesflare, you will get three tiers. The entry-level plan is best for beginners but does not include one of the most important things, such as user permissions support. Then you have the pro and enterprise plans for bigger companies with more CRM users. Its best tier is Enterprise, which offers many benefits and advanced features that are usually hard to find elsewhere.
At the same price tag, you are more likely to find other better CRM options that give you advanced technologies. However, it is one of the top options for its simplicity and more.
Bitrix24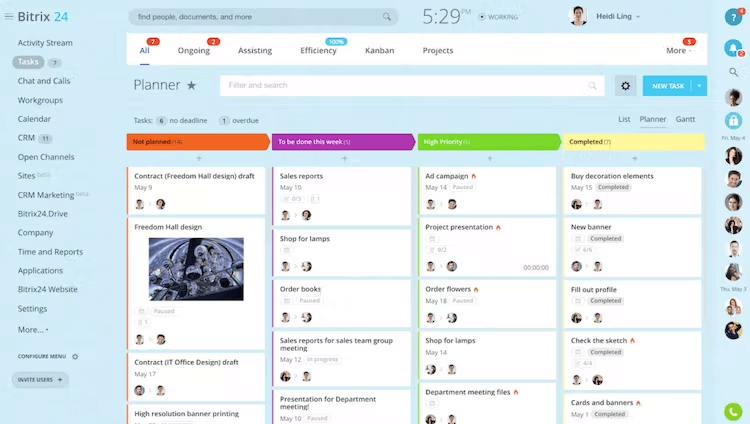 Recently, remote working is no longer a preference or necessity; it has become a norm. If your company has remote teams, then you must use the Bitrix24 CRM, as it has many features that allow you to stay in touch with all your team members and collaborate to get better results. You can find many things on a single CRM, such as marketing automation, web design, and project management.
To use Bitrix24, you can create different segments for different departments. The workgroups are areas that are limited to all the individual employees and other specific groups so they can easily collaborate. These departments can have a complete system of their own. The communication features of this CRM are much better than others. With functions such as internal chat, team members can talk amongst themselves and learn more about a project they have been working on together and then look for possible solutions together. You can also exchange videos and other multimedia.
The plans at Bitrix24 include special features such as unlimited contacts, companies, and other deals. You can use the customizable fields at Bitrix24 and capture all the data. A special feature of Bitrix24 is its Profile. This shows the entire communication load each contact has produced when communicating with the company. You can either use its free version with limited features or its paid plans and get access to all the interesting and useful features.
Apptivo CRM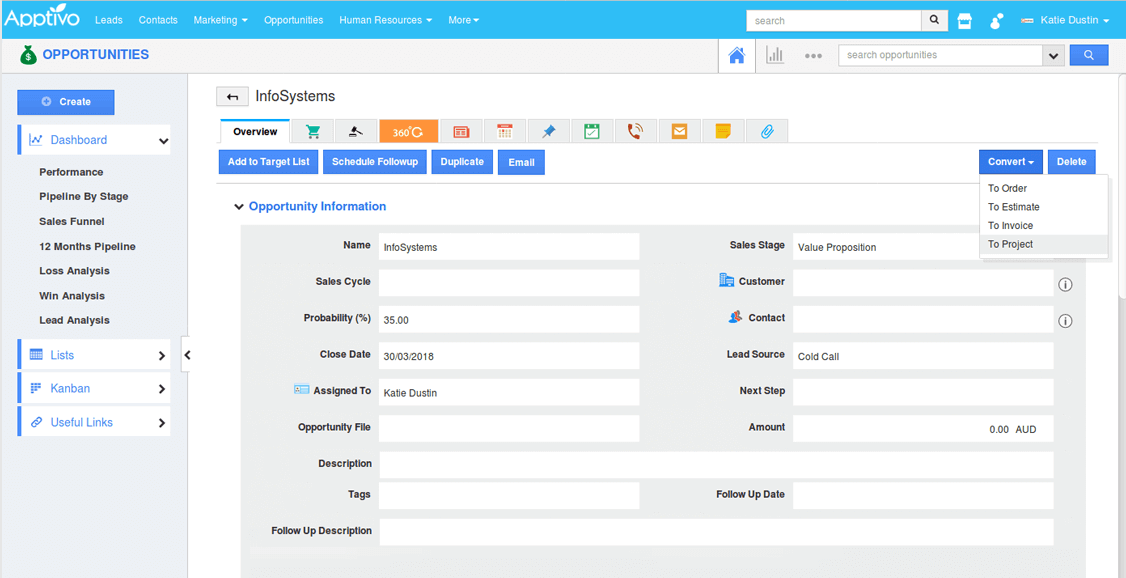 If you're looking for a one-stop solution, you need to try out Apptivo CRM. It can help you manage more than one business function, such as marketing, expenses, invoicing, and, most importantly, sales. It is a great option for businesses as it provides multiple solutions under one roof and is not as expensive as other CRM options.
Some experts say that the design of the CRM is not as updated as the rest of the CRM options out there, but it is very customizable, and you can change it as per the requirements of your business. You can make customized changes to the homepage and all the applications. Using the 360 views, you can learn and record all the information that is related to a contact. You can also add other details on your own such as the price, the name of the manufacturer, and the inventory details, into the CRM.
The CRM also allows you to collect customer payments through the integration of banks on your CRM. Other than that, you also get the option of a Supply Chain suit that allows you to add different suppliers and all the other supply chain stages, such as process and track shipping.
Apptivo CRM has pre-built sales reports that include all the details such as territories, activities, and other customizable options. There are many reports you can develop with the help of Apptivo. The CRM software is free for one user, and if you have multiple users, then you will have to pay monthly charges for each user.
Nutshell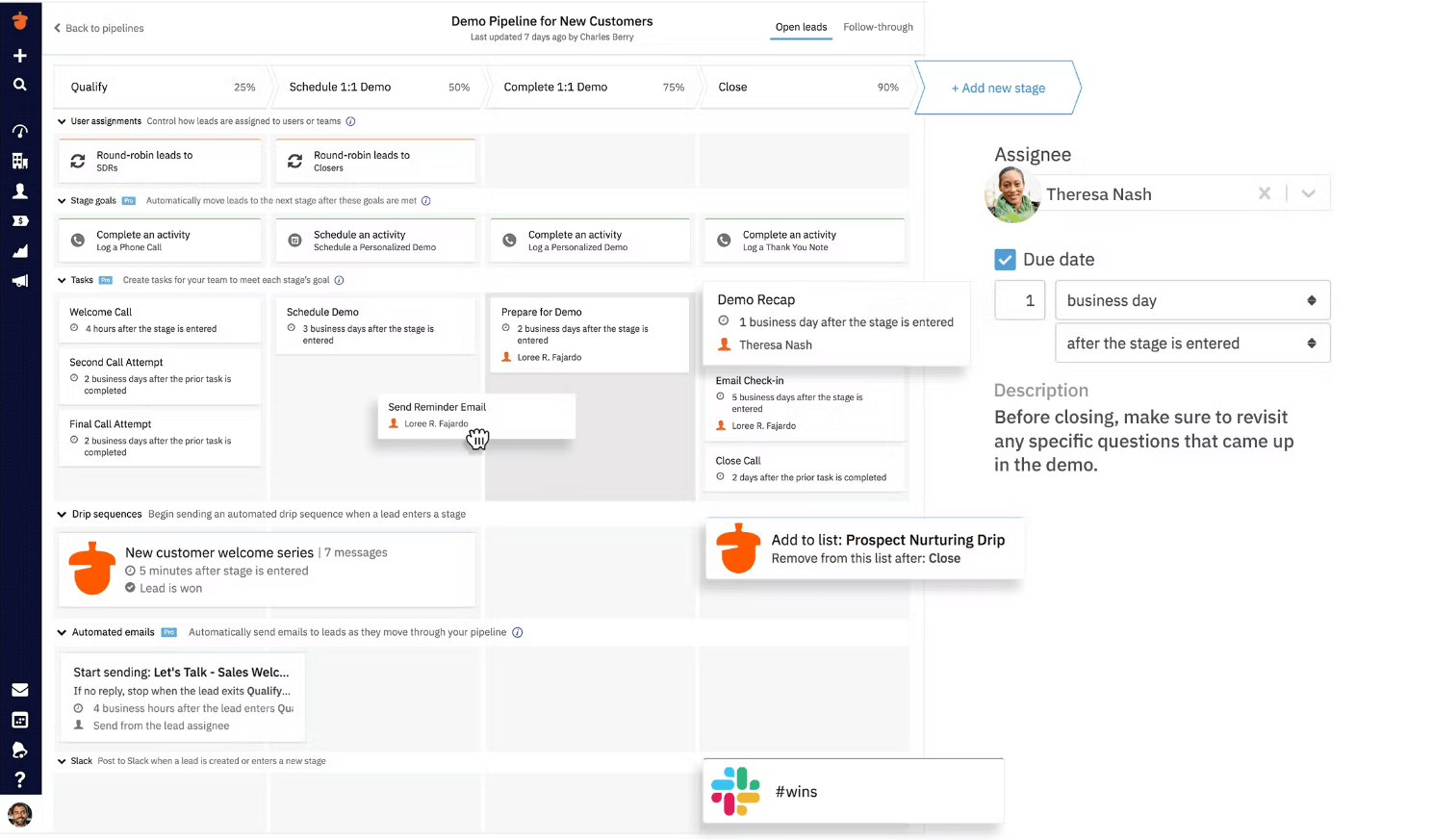 Nutshell is a great choice for startups who wish to focus on sales. It is one of the most preferred CRM software for all sales managers, as it improves productivity significantly. Many features of the CRM offer extreme customizations that can help you target your sales strategy.
Sales managers can customize different notifications such as mentions, new leads, and others. This way, the managers can be well informed of all their team's activities and ensure they meet their sales goals. The customization will help you with actions such as finishing off closings for overdue deals. You can also customize fields such as industries, markets, and competing companies.
You can help your team focus their sale strategies on territories such as geographical locations. This will help direct relevant leads to the sales agent in charge of the particular area. Moreover, whenever you add a contact on the CRM, it will automatically connect with all the relevant social media accounts. The CRM also allows you to use different pipelines for different streams and run them simultaneously.
Nutshell offers stock reporting for all quantities, such as losses, averages, and more. You can also use the forecasting feature and or make custom reports. Last but not least, Nutshell has an exceptional marketing platform that can help you design email campaigns and send them to all the relevant audiences. You can check the emails using the Engagement feature. The packages begin with one user at a time, and then you can add on different users with a fee per user.
Infinity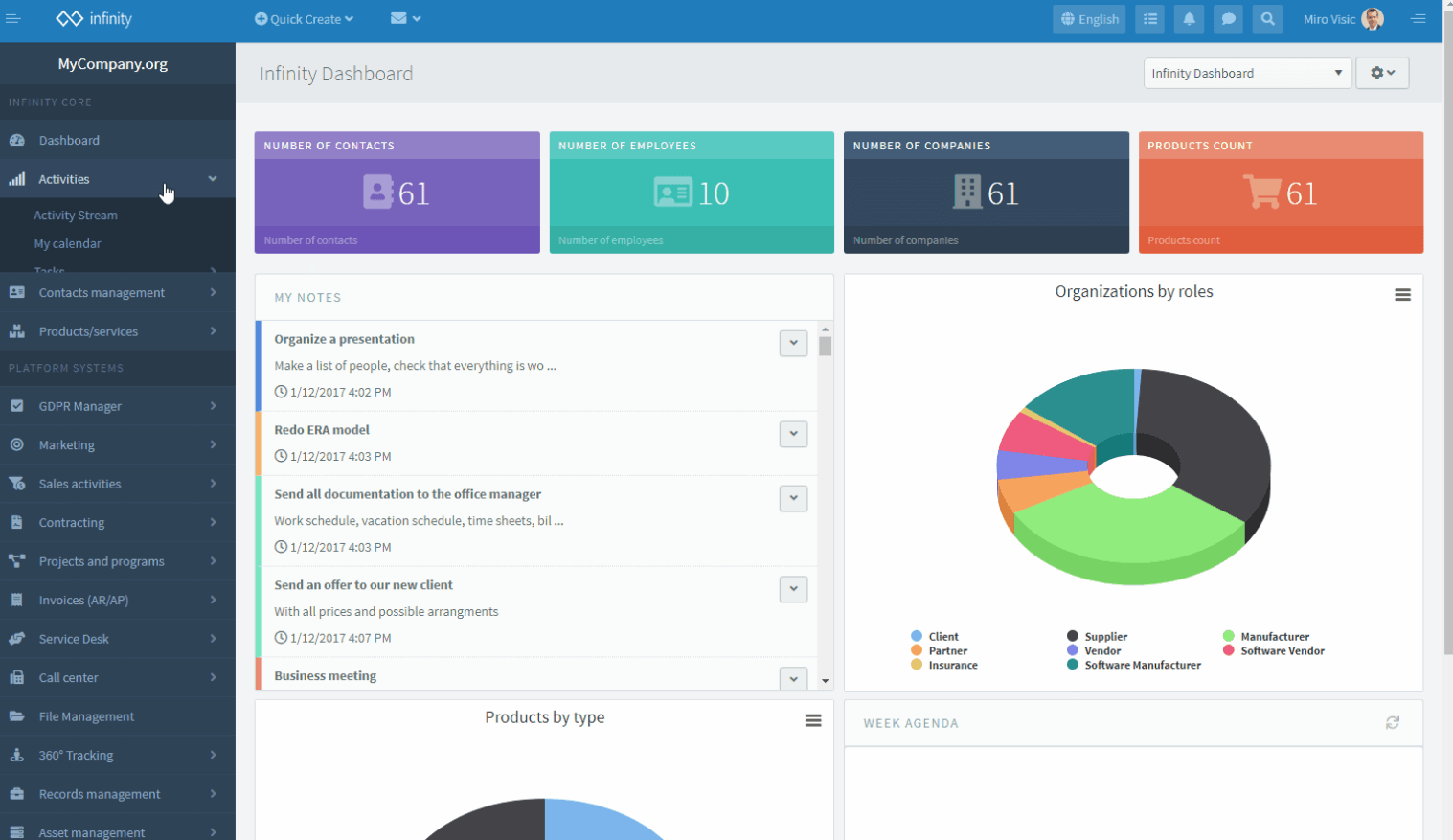 Infinity provides you with a very customizable CRM where you can integrate all the required tasks in one place. It is one of the top choices for people who are looking for a flexible CRM. With this software, you can create your own structure and view it the way you want. You can keep all your documents, images, and more on this platform so that any user can access it. It requires a one-time payment; after that, you can use different automation features and collaborate with different teams across departments. You can also get access to many different templates that can be used to assist our business sales.  
Choosing the Right CRM Software for Sales
One such software is Octopus CRM LinkedIn automation tool; it is not exactly a CRM, but it is a Google Chrome extension for LinkedIn that helps you with several functions such as automating your connection invitations, auto viewing profiles for you, and even auto endorsing your skills. With Octopus CRM you can improve prospecting and boost your sales efforts on LinkedIn.
With this software, you can also access the CRM page and use it to create different campaigns and other uses, such as creating campaigns and building funnels on LinkedIn. You can also export and import data using a CSV file, withdraw all the pending connection requests that come in bulk, and then also integrate different CRM options such as Hubspot and Zapier.
This LinkedIn automation software can make things very easy and help you generate high quality leads using bulk messaging and endorsing skills.
Do you want to choose the best CRM software for sales? Octopus CRM just might be the answer you are looking for.
Conclusion
CRM is one of the best ways to manage your sales and the entire business. Many interesting features help CRM manage all your interactions, leads, and other marketing strategies. With many options out there, you have the liberty to choose from one that gives you the right price and the right structure. For instance, if you are a small company, you do not need a big CRM. You need the best CRM for sales reps that only offer usage for two or more users. This way, you will not end up spending a lot of money on CRM, but you will also be able to expand it when necessary.
In the blog above, we have mentioned some of the top CRM choices. You can choose one of them depending on what fits your needs the best. You may find CRM software for different strong points; while some have an easy-to-use interface, there may be some that offer the most advanced features you can ask for. Therefore, deciding what will be the best CRM for sales teams depends on your preferences.