Software as a Service is a popularly used model due to its ability to improve productivity, reduce costs, and provide a flexible deployment model. The industry is worth billions of dollars. If you're ready to introduce a SaaS management platform to your tech stack, you're likely looking for the perfect option.
To help answer your question, we've compiled the top SaaS management platforms boasting unparalleled functionality and promising increased revenue. Let's dive in!
What Is SaaS Management?
SaaS Management refers to the proactive monitoring and management of the onboarding, purchasing, licensing, renewals, expenses, duplications, and offboarding processes of the Software as a Service application.
The software aims to reduce the risk from unmanaged tools and technologies while increasing effectiveness and improving the software's value. The SaaS management achieves these goals by streamlining the company's Software as a Service process to provide the following:
Visibility and audibility

User lifecycle management

Spend optimization

And more!
A SaaS management solution can help businesses cut hours, produce error-free work, eliminate risks, and increase workplace productivity if implemented appropriately.
What Is a SaaS Management Platform?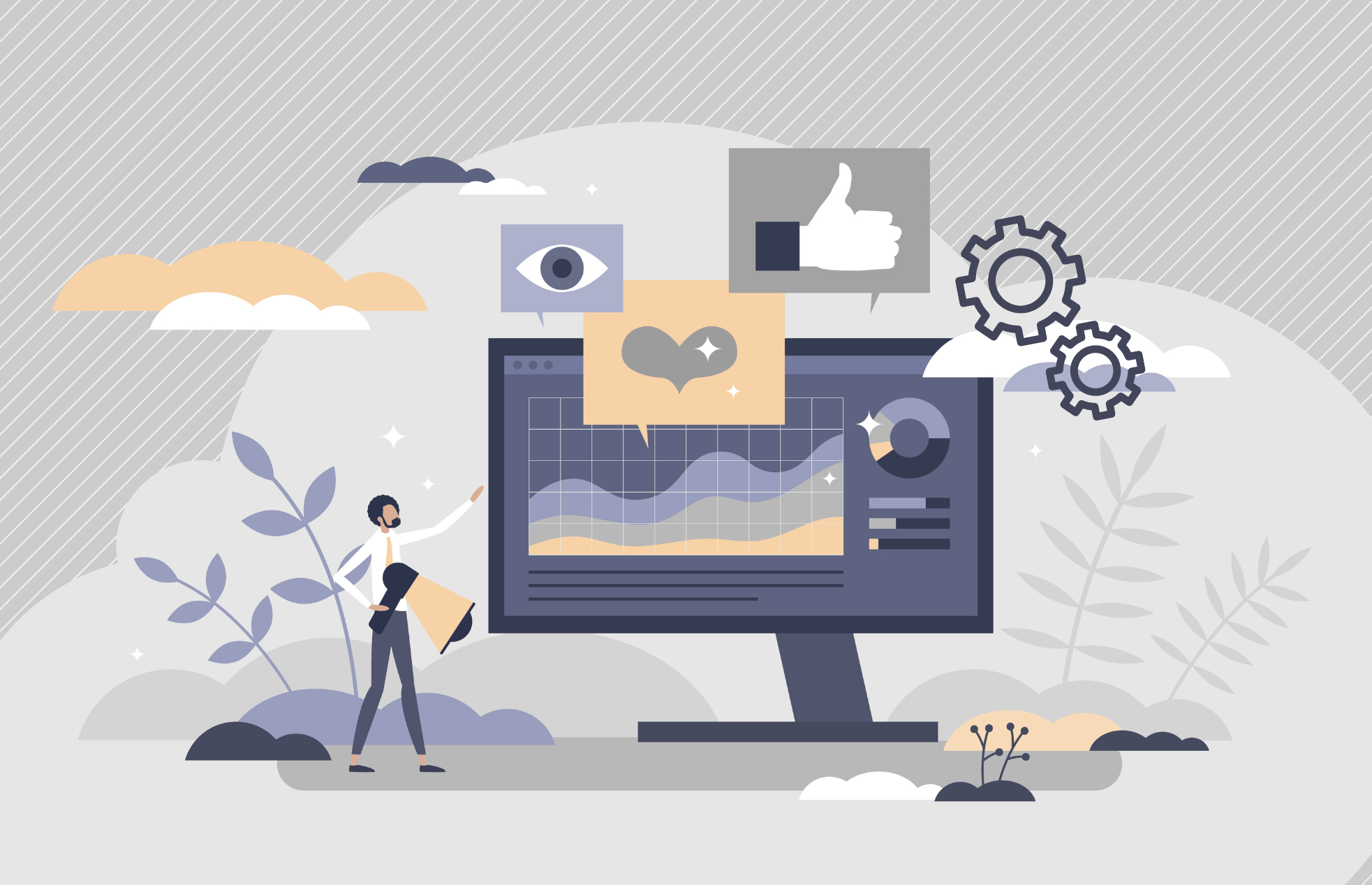 SaaS management platforms are innovative SaaS products dedicated to helping companies manage and run their software. Most businesses utilize SaaS tools to facilitate daily operations and enjoy easier tech management.
The IT and finance departments can take advantage of SaaS management platforms to get a holistic view of the software to eliminate redundant or useless tools. Using a SaaS management platform offers the following primary benefits:
Reduced Risk –

SaaS management platforms minimize the risk of software duplication while enhancing the safety of the company's confidential data.

High ROI –

By overcoming software duplication and providing deep insights into software usage, SaaS management tools help businesses

boost their ROI

. You'll invest only in the software that brings value to your brand while removing redundant ones.

Cost Optimization –

SaaS management tools help maximize your budget by offering holistic insights and removing unprofitable apps. Plus, it enables the IT and finance departments to determine alternative or package subscriptions.

Centralized Control –

SaaS management platforms can manage multiple aspects of your app lifecycle, including operations and maintenance.

Cloud Computing –

SaaS management solutions help you track and manage apps on the cloud or on-premises.

Managed Services –

SaaS management software offers managed services, including monitoring, automation, and renewals, instead of on-site support.

Application Discovery –

Another bonus of cost saving is finding better, more productive solutions. Since SaaS management tools offer usage data, you can quickly discover cheaper, more efficient options!

Enhanced Management –

SaaS management tools help businesses manage SaaS tech stacks, helping reduce the burden on relevant departments. With these platforms, your IT and Finance departments can track tool usage and associated costs.

Removes Security Gaps –

SaaS management tools offer businesses better control over SaaS security threats and enable tracking of purchases across the company.
Key Characteristics of a SaaS Management Solution
Now that we've discussed what Software as a Service management tool is, let's jump into its primary characteristics:
It makes your software accessible over the internet

It involves subscription-based, or usage-based licenses typically billed on recurring bases

It requires little to no maintenance and is cost-effective

It is available on demand

It can be scaled up or down based on your needs

It automatically upgrades or updates

It offers a shared data model, allowing multiple users to share single instances of infrastructure

It runs the same version for multiple users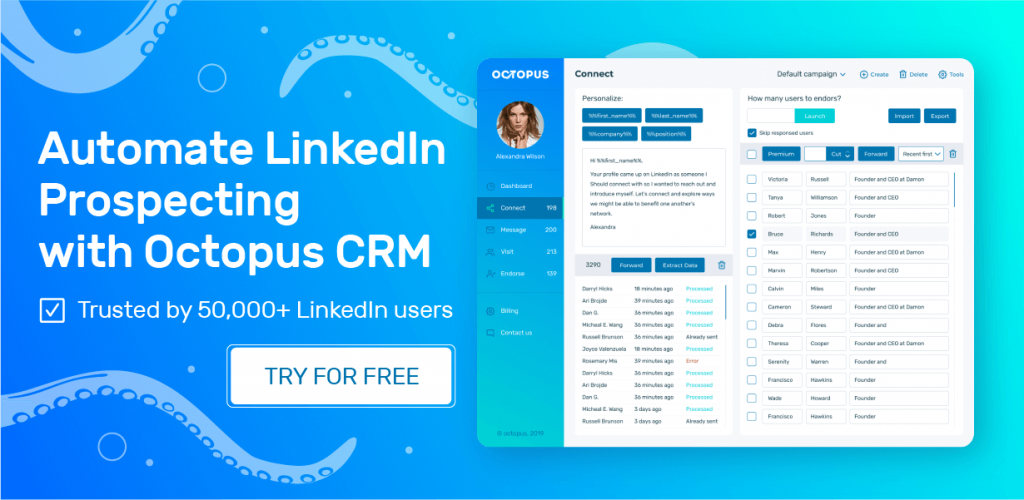 Top 13 Software as a Service Management Platforms
As we discussed, SaaS management tools are easy-to-use software that simplifies SaaS management while improving efficiency. Here we've created a list of top-notch SaaS management platforms to answer the question of which platform is best for SaaS:
Zylo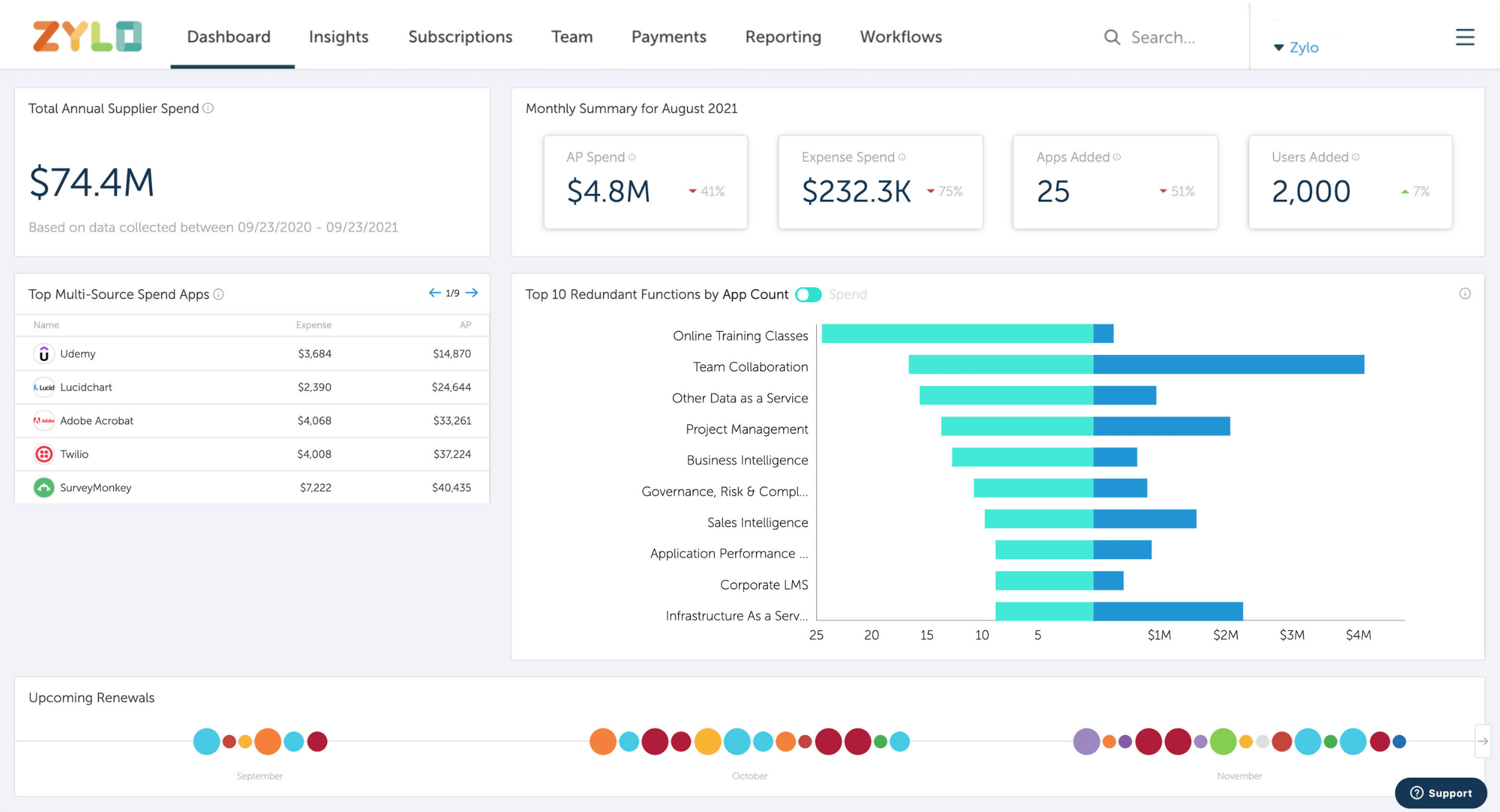 Zylo is robust SaaS management software ideal for all-sizes businesses. The SaaS management platform focuses on shadow IT and spending management, helping you minimize losses and improve efficiency.
Furthermore, Zylo optimizes your SaaS licensing, aids in renewal negotiation, helps boost workplace efficiency, eliminates shadow IT, and more! The tool leverages your login information and financial integrations to extract Service as Software data.
Thus, the SaaS Software management platform offers in-depth insights into who uses tech, its usage, and monthly spending. Ultimately, it provides you the confidence to make data-driven decisions when replacing apps and choosing alternatives.
Productiv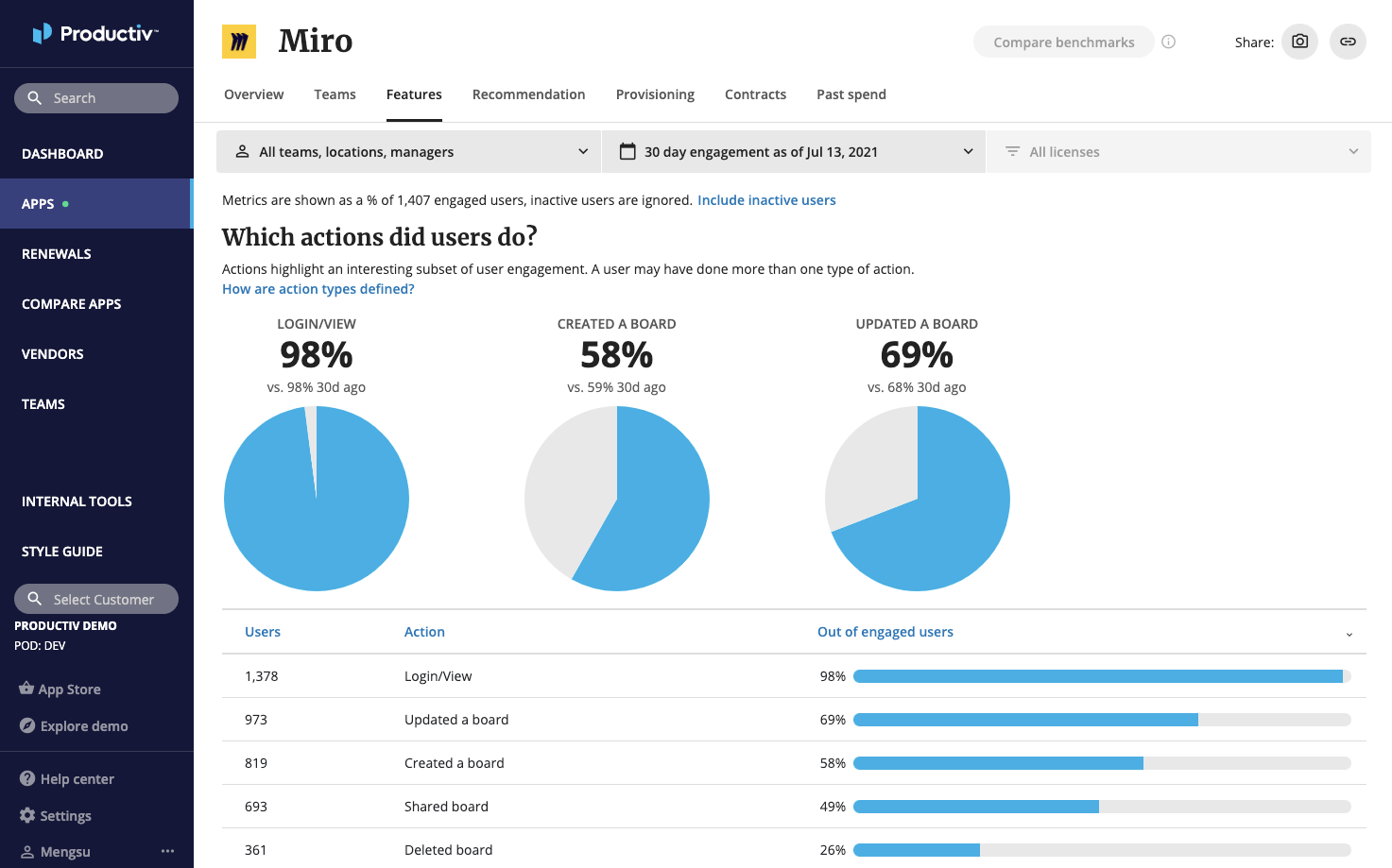 Productiv is a popular software as a Service tool boasting an unmatched UI interface and high-quality features. The SaaS management platform offers users a holistic, data-driven dashboard featuring real-time insights.
The tool is ideal for IT and Finance departments seeking to automate repetitive SaaS tasks. The tool helps you eliminate errors and maximize productivity while simultaneously reducing costs. You can assess your application's effectiveness by checking Productiv's in-depth reports.
Additionally, the SaaS management platform helps users increase their business's value by providing numerous application integrations. Plus, the application's built-in custom connectors collect and analyze engagement insights to determine what applications the company has been using and its features.
Zluri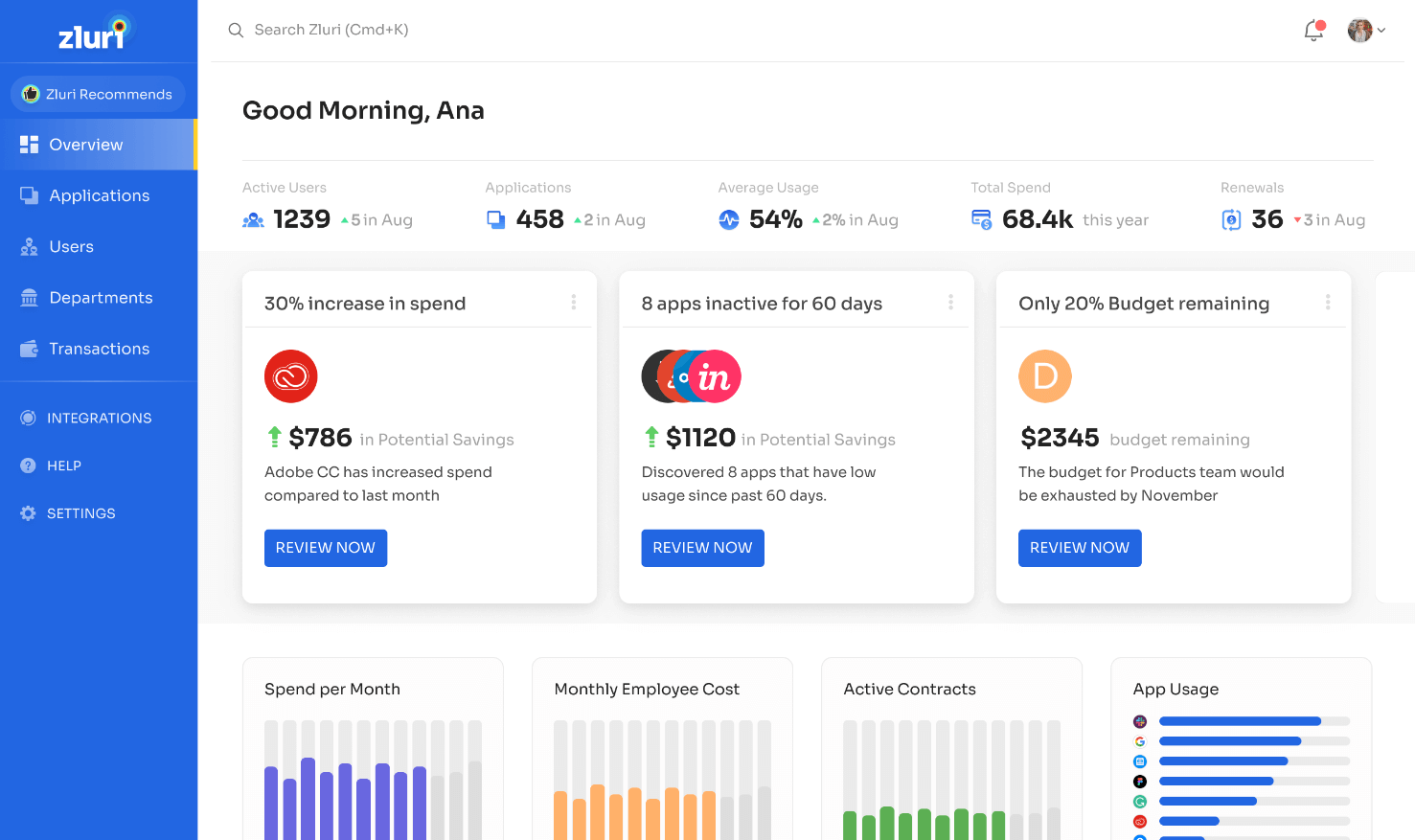 Zluri is another excellent SaaS management platform helping users secure and optimize SaaS applications. The tool is ideal for companies with over 500 employees since it allows users to discover duplicates within seconds. Zluri employs five innovative discovery methods, including SSO, finance, direct integration with app, browser agent, and desktop agent to collect data on different software.
What's more? The platform is your one-stop solution for accessing vendor contracts and metadata data. Consequently, it helps you reduce your software spending and boost overall ROI. In addition, Zluri streamlines the renewal management and approval process by eliminating unnecessary spending.
Besides this, Zluri provides optimization reports to offer real-time insights into which departments and apps perform efficiently. You can also discover tips to manage your finances and improve productivity.
BetterCloud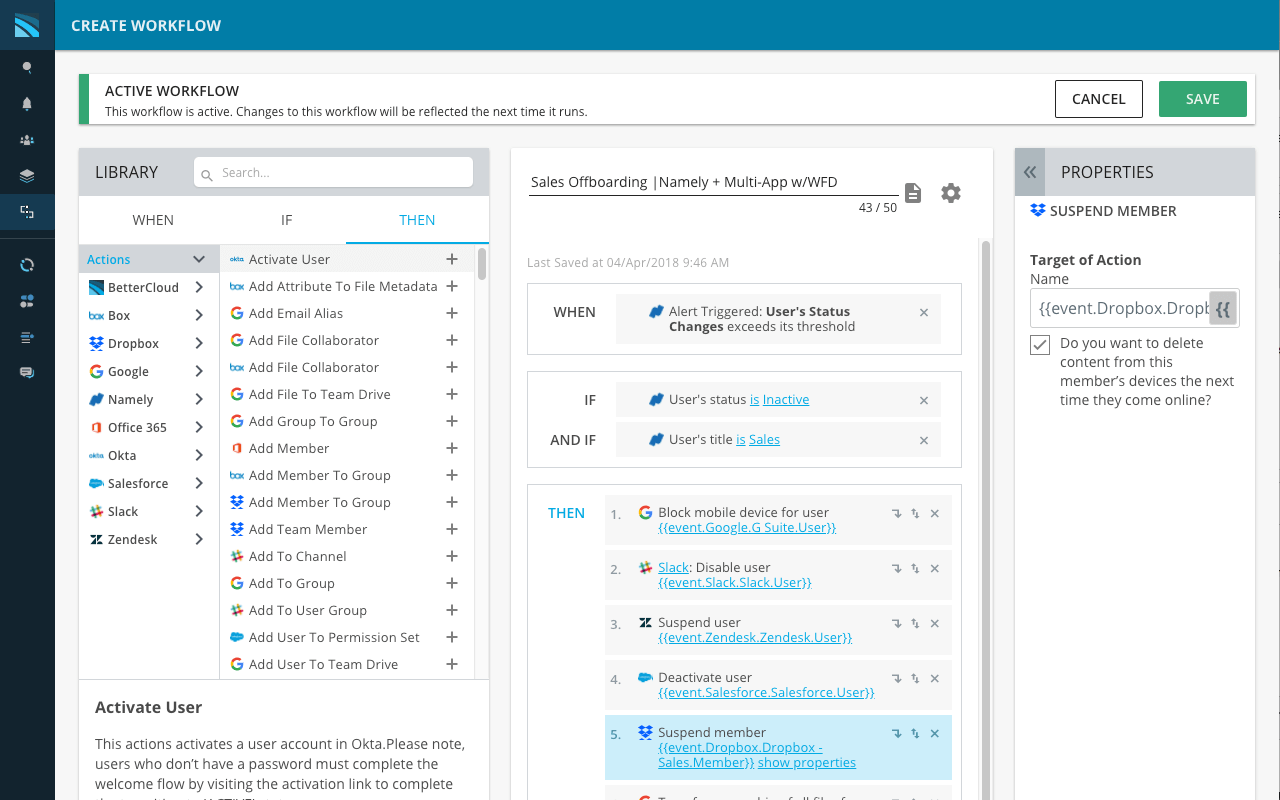 BetterCloud is a state-of-the-art SaaS manager tool empowering IT and finance departments to make informed decisions. The platform takes SaaS management to the next level by providing a centralized dashboard. The interactive dashboard allows you to streamline processes, access detailed reports, and improve security.
In addition, it allows IT to improve its environment with fully automated policy enforcement, individual/bulk remedial action, and advanced customization. The SaaS management platform lets you monitor user behavior, data-related activity, and system configurations.
With BetterCloud, companies can create advanced automation sequences to improve the customer experience by integrating customer policies into their apps. It may include buyer onboarding/offboarding, user and team settings, and data exposure. The best part? You can start monitoring and collecting user insights free of cost!
Torii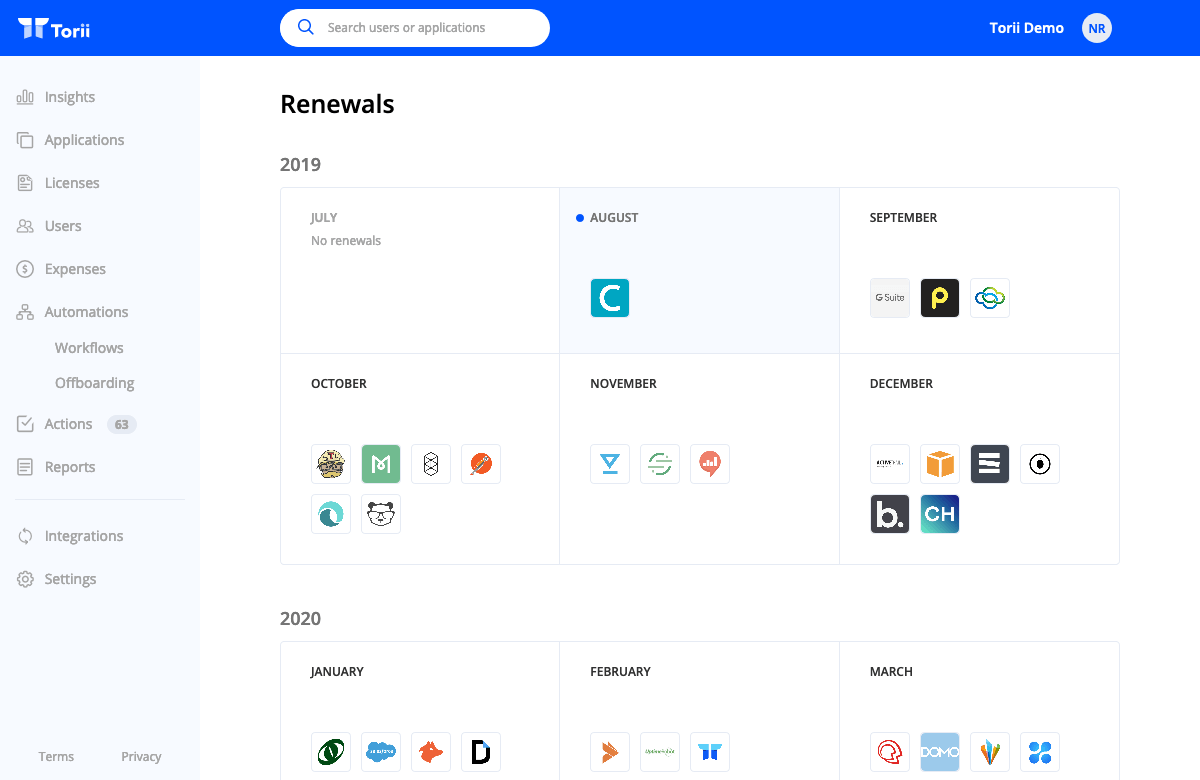 Torii is a leading SaaS management tool designed for IT managers to reduce costs and curate a secure SaaS environment. The platform helps users to audit and discover SaaS apps while handling shadow IT-related threats.
The robust SaaS management platform simplifies the onboarding, offboarding, renewal, and vendor management process, allowing you to minimize losses while increasing efficiency. The comprehensive SaaS management tool transforms your cloud software stack into a user-friendly dashboard offering visibility and automation.
Furthermore, Torii turns complex numbers into actionable insights to help decision-makers make smart business decisions. Lastly, it can manage your SaaS subscriptions and control who can access your app.
Snow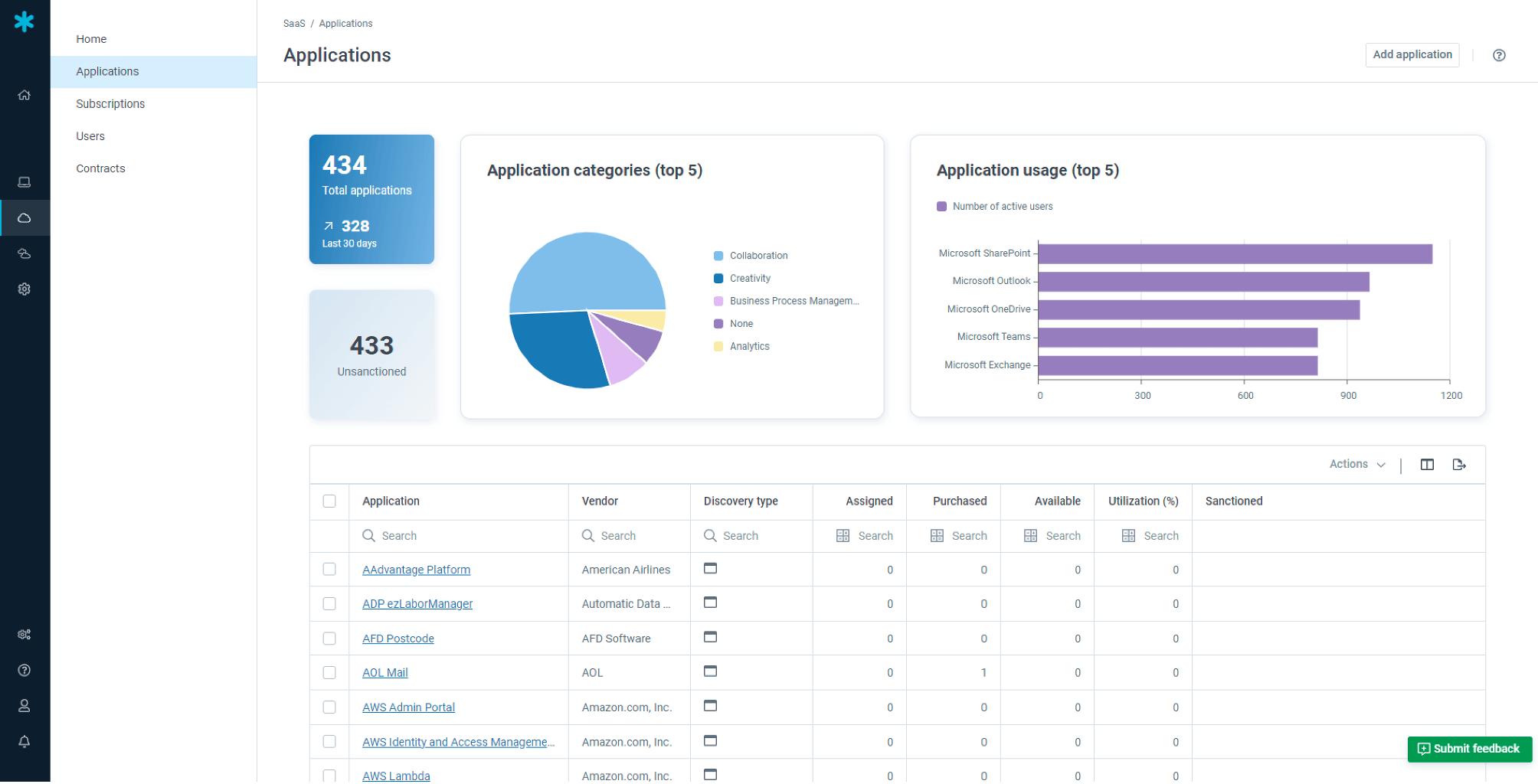 Snow is another top SaaS management platform offering comprehensive insights and visibility across software and the cloud. With this innovative platform, IT and Finance leaders can optimize costs, improve performances, and provide operational agility in a hybrid world.
Additionally, Snow offers users discovery, governance, and optimization of their environment. To improve productivity, you can also access its spend calculator, risk monitor, and productivity optimizer services.
Furthermore, it allows you to create an informative payroll data center and enhances SaaS management to mitigate the risk of IT shadowing. You can also access its free trial to get an idea of its features.
Onetool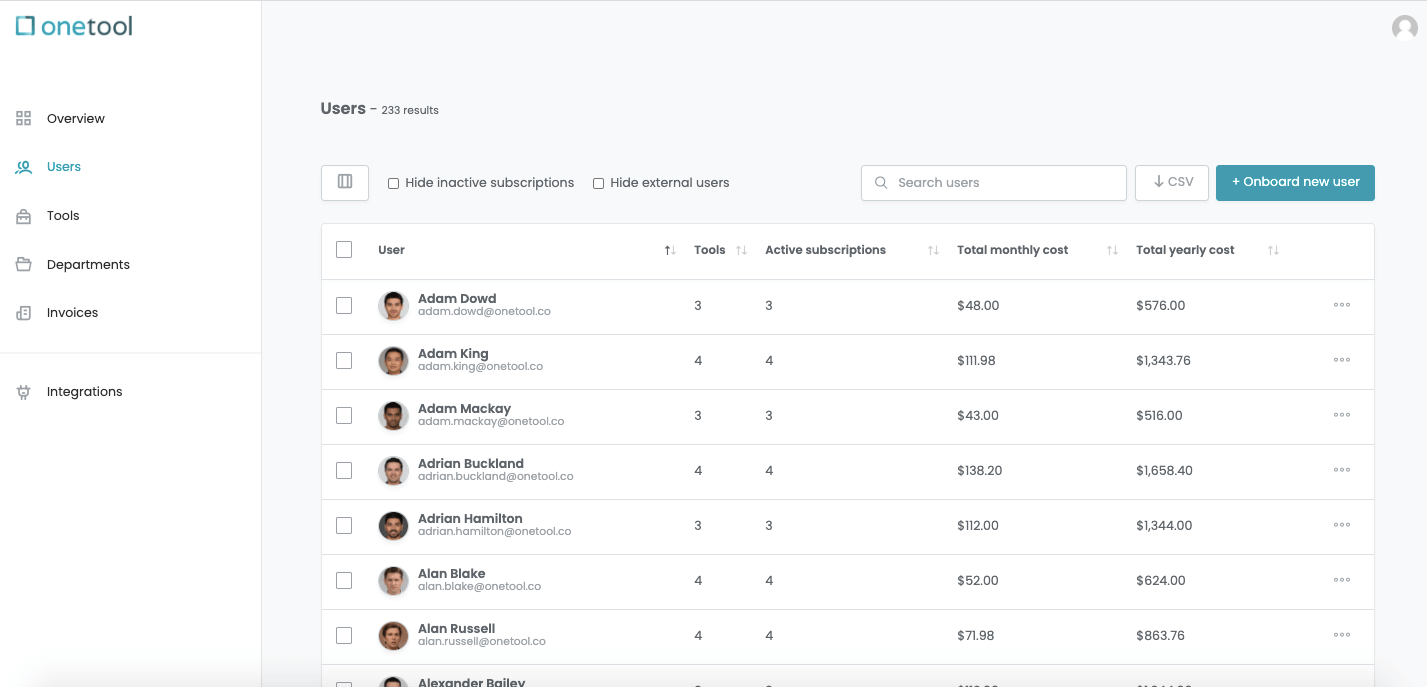 Onetool is a famous SaaS management software helping businesses monitor spending, organization-wide app licenses, and usage from a unified dashboard. In addition, the SaaS management tool enables you to track inventory, activity, and cost to optimize productivity.
What's more? Onetool allows you to manage supplier lists and track assets to ensure efficiency and minimize errors. It also offers visibility into active subscriptions, tool usage, unused licenses, and unsanctioned apps.
Furthermore, Onetool provides IT managers with a holistic overview of SaaS costs, saving potential, and alternative apps. You can also utilize its interactive dashboard to access insights into the organization's tools and usage by department.
Basaas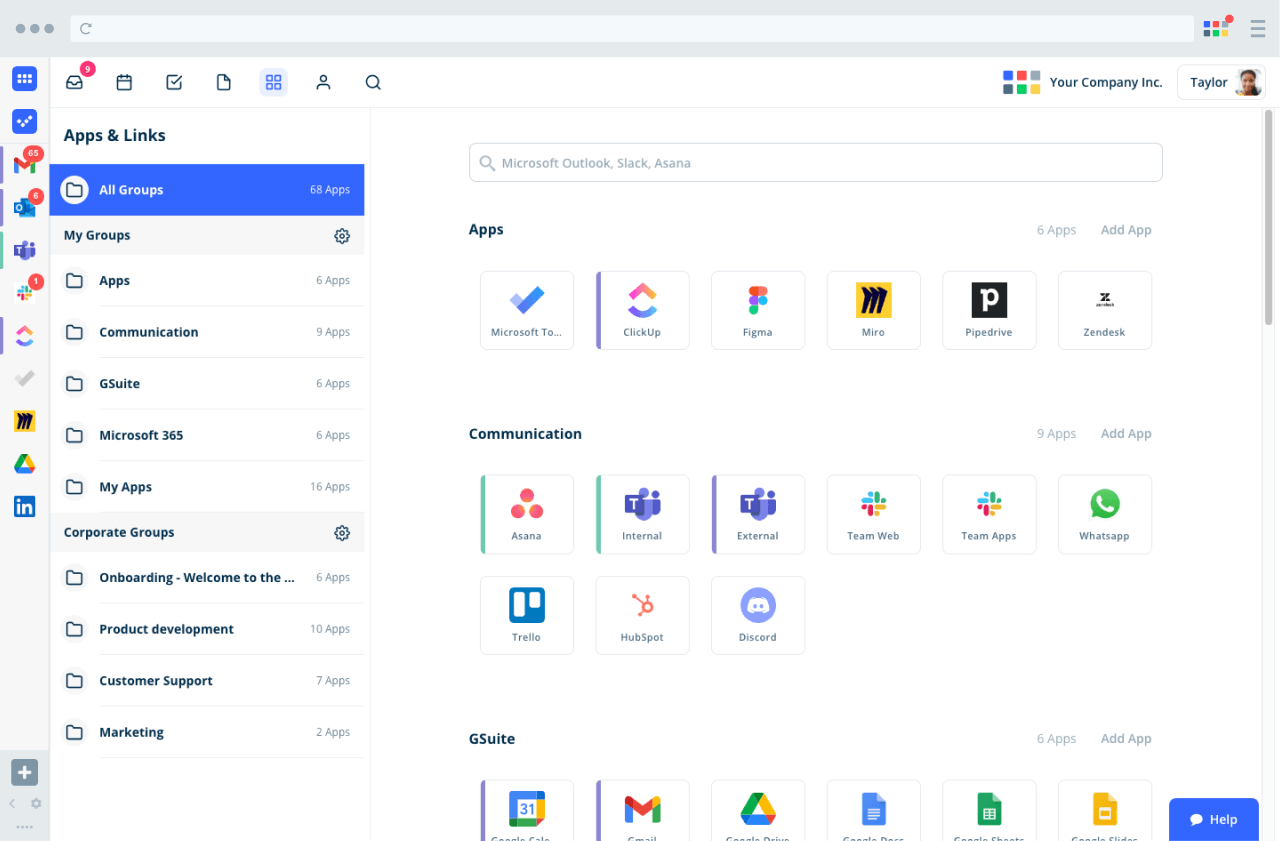 Basaas is another excellent SaaS platform that allows users to work across multiple apps in a single place. With this tool, you can switch various accounts and launch any app with a single click!
Furthermore, Basaas improves organization and efficiency by enabling IT leaders to work cross-app. The SaaS management platform gathers and stores data on widgets present in your workplace. You can also assign tasks, track progress, and collaborate with teams via video or messaging.
The best part? The platform is customizable and complies with industry regulations to offer efficiency and safety!
Cledara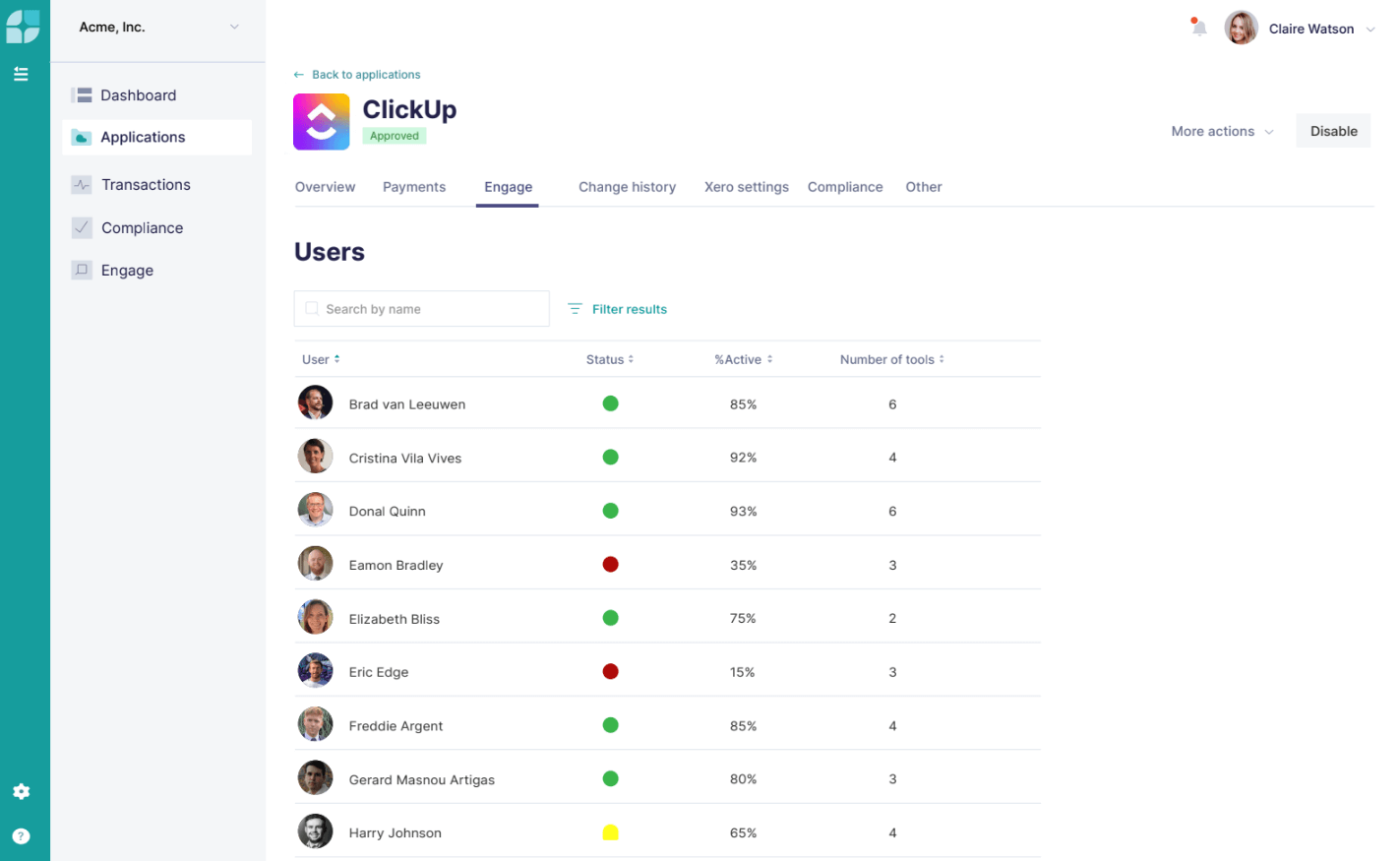 Cledara is a fantastic SaaS management tool that easily facilitates buying, discovering, and managing Software as a Service software. The platform offers in-depth insights into SaaS tools, allowing you to identify what apps your company uses and how frequently.
Moreover, Cledara allows you to access real-time SaaS budget analytics alongside renewal reminders and automated invoices to mitigate the risks of errors and improve efficiency. The cloud-based digital workplace solution also helps manage tasks and track progress to find areas of improvement.
SailPoint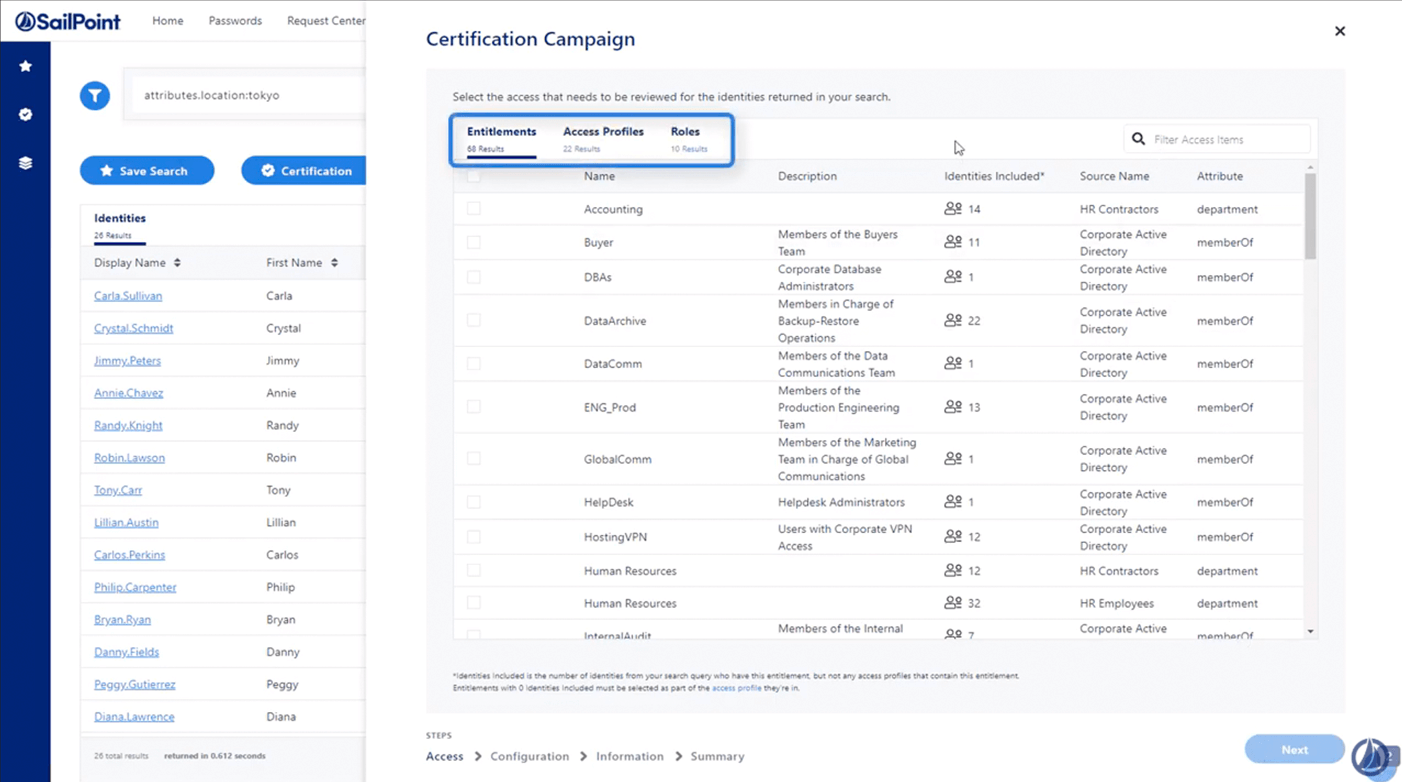 SailPoint is an identity and SaaS management solution that helps businesses manage employee permissions, information security, digital identities, and data access on a single portal. The tool's interactive dashboard enables you to monitor violations, identify sensitive information, and view available resources.
In addition, the SaaS management platform leverages machine learning and AI technology, allowing businesses to streamline management workflows, analyze risks, and define user roles. It also helps you implement effective procedural changes, offers threat detection, and access data classification.
What's more? SailPoint allows IT administrators to conduct and manage audit trails. You can also take advantage of third-party integrations, such as Workday, ServiceNow, Box, and more!
CloudM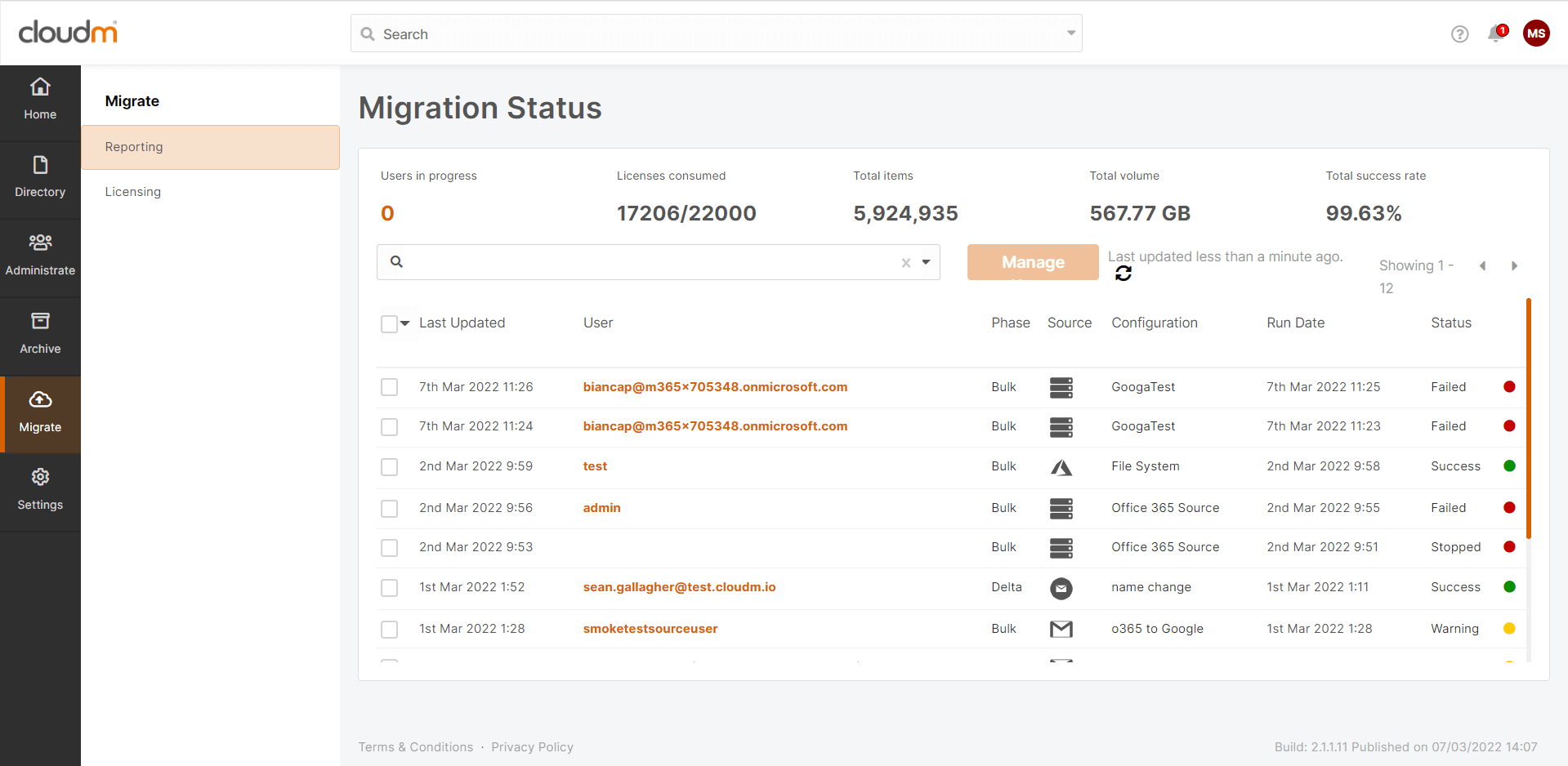 CloudM is the perfect web-based cloud migration tool for businesses wanting to synchronize and migrate various apps. With this SaaS management platform, you can move calendars, emails, archives, files, and more from a source platform.
That's not all! CloudM allows you to audit and troubleshoot and access a live summary dashboard. The tool lets you analyze your source environment and create in-depth reports on item counts, data volume, folder depth, and permissions.
Additionally, Cloud M offers an API, meaning you can integrate with various third-party apps, such as Dropbox, Google Workspace, and Microsoft 365.
Applogie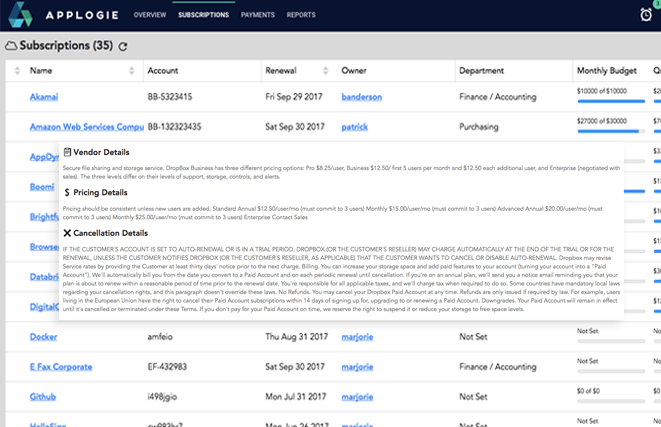 Applogie is another excellent SaaS management platform that helps you understand expenses and ROI and facilitates budget planning. Moreover, the tool allows you to negotiate with vendors with confidence and data!
With Applogie, you can unlock insights into financial data, eliminate waste, and make data-driven decisions. The platform also manages vendor integrations, annual renewals, and usage information to help you save costs without compromising workplace efficiency.
Lastly, Applogie helps businesses optimize expenses by forecasting subscription costs, licenses, and renewals.
Intello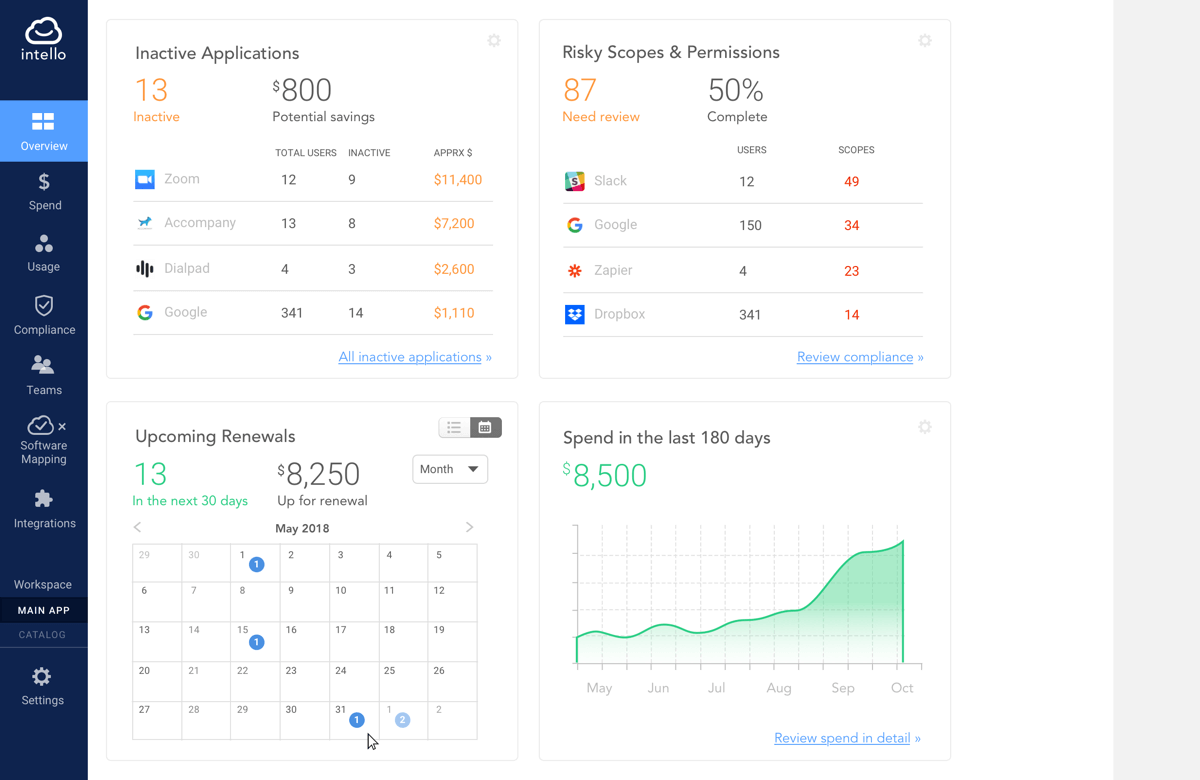 Intello is a revolutionary SaaS management platform that helps users manage, discover, and optimize provisions. The platform allows you to integrate with existing cloud software and provides a proprietary browser extension offering real-time visibility into reports and data.
Intello's solid browser extension and third-party integrations allow you to monitor spending and save costs from unused subscriptions. You can also take advantage of its enhanced vendor compliance feature and audit and contact management to improve efficiency.
What's more? Intello offers users a free subscription package with real-time access to comprehensive reports and app security.
Conclusion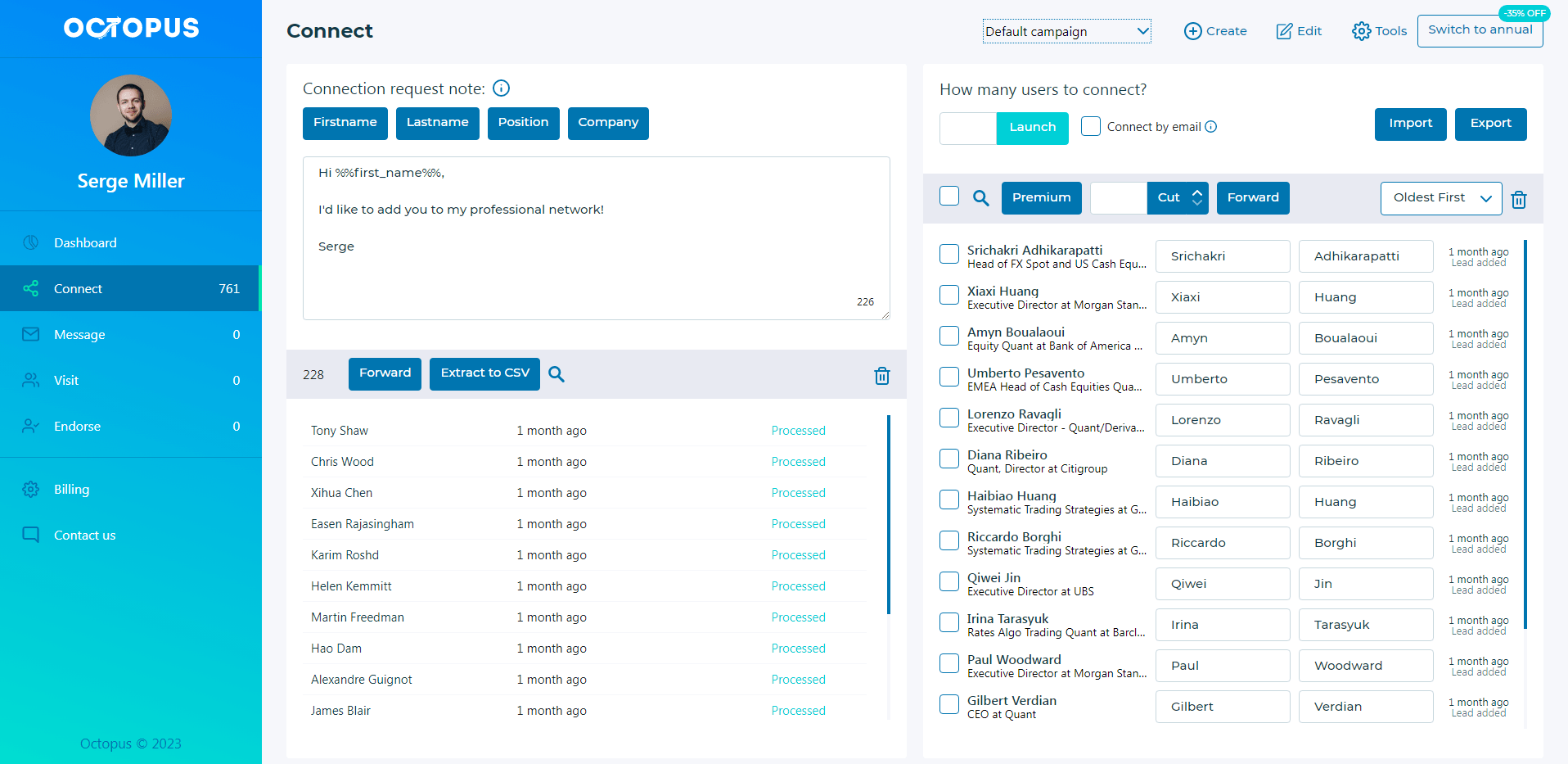 Take your business' efficiency and productivity to a new level by taking advantage of innovative SaaS Software management platforms. Using SaaS allows you to audit and track SaaS apps while minimizing the risk of shadow IT threats.
More importantly, Software as a Service management platforms helps businesses optimize spending by pinpointing unused subscriptions and licenses. You can also streamline processes to enhance productivity without compromising safety.
LinkedIn is the world's second-largest SaaS company based on a B2C2B business model. It attracts millions of individual users and companies to share their data that advertisers, recruiters, and salespeople can access. To automate your LinkedIn functions, you can use tools like Octopus CRM to optimize outreach campaigns and marketing funnels.