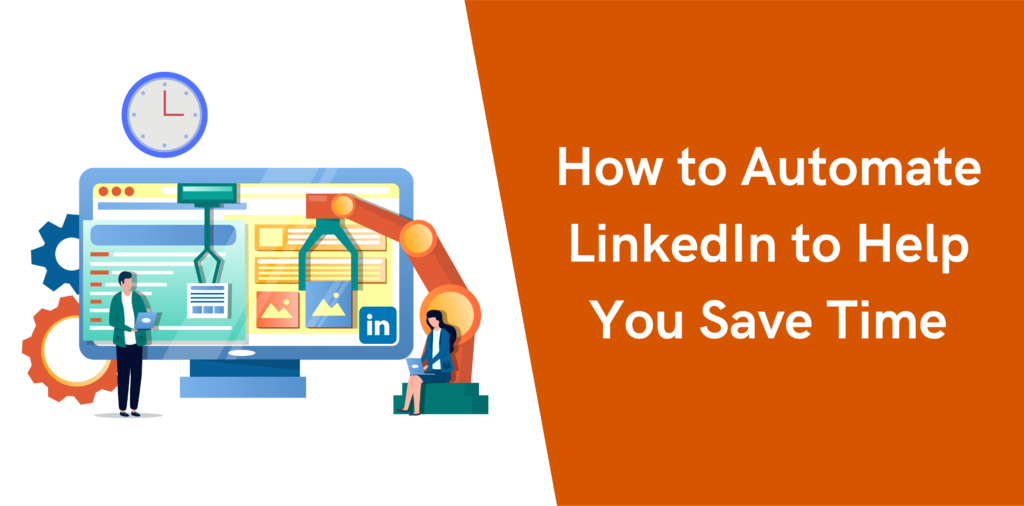 How to Automate LinkedIn to Help You Save Time
LinkedIn is undoubtedly a treasure chest of opportunities to grow your business and career. With over 90 million senior-level influencers from different companies and more than 63 million decision-makers from diverse industries on LinkedIn, the platform presents huge prospects for B2B sales professionals. It is crucial, however, to utilize the features of this platform in a way that they bring out the most fruitful results. A highly efficient and easy way of doing that is by automating LinkedIn.
Things You Can Automate on LinkedIn
With its ample variety of tools and features, LinkedIn provides sales professionals with a powerful avenue for prospecting and lead generation. The good news is that the most essential of these, as explained below, can be automated for optimum efficiency. We'll explain later in this post as to how and why you should automate these functions. 
Sending Connection Requests
The first and most important step to expanding your sales outreach is to send connection requests to high-profile business individuals. Once you're connected to them on LinkedIn, you'll be one step closer to setting up an appointment for a sales pitch. Sending connection requests to your prospects is the first step towards building your network, and one that needs to be a priority to B2B sales professionals. 
Sending Messages and Follow-Ups
The messaging tool on LinkedIn provides you with the ability to reach out to your first-level connections. When your connection request gets accepted, it is common courtesy to send a thank you message as a stepping stone towards establishing a professional relationship. Given that your new, high-profile connections are your prospective buyers, the second step would be to introduce yourself and the business you represent
It is important to stay persistent and message as many prospects as possible (while staying within LinkedIn's terms of use), and also to send follow-up messages to the people who don't reply first time around. 
Viewing Profiles
Viewing profiles is an essential aspect of prospecting. You would need to visit your target connections' profiles to see if they meet the buyer persona requirements of your ideal prospect. Furthermore, second-level contacts are notified when you view their profile. Hence, it is also an excellent way to catch the attention of your target audience and prompt them to send you a connection request.
Endorsing Skills of Your First Level Contacts
LinkedIn allows all of its members to list out their most valuable skills on their profile. It is a good idea to endorse your first-level connections to prepare the ground for successful prospecting. Also, many of your connections will return the favor by endorsing you back, adding value to your profile, and making you look more trusted and reliable to your prospects.
How to Automate LinkedIn With Octopus CRM
Octopus CRM is an autopilot for LinkedIn Chrome that takes care of all of your prospecting tasks with just a few clicks. Since you now know the things you can automate on LinkedIn, let's take a look at how you can automate them with Octopus CRM. 
Automate LinkedIn Connections
Octopus CRM comes equipped with LinkedIn auto connect tool. You can use it to send out bulk connection requests to your targeted audience. Here's how you can use this feature: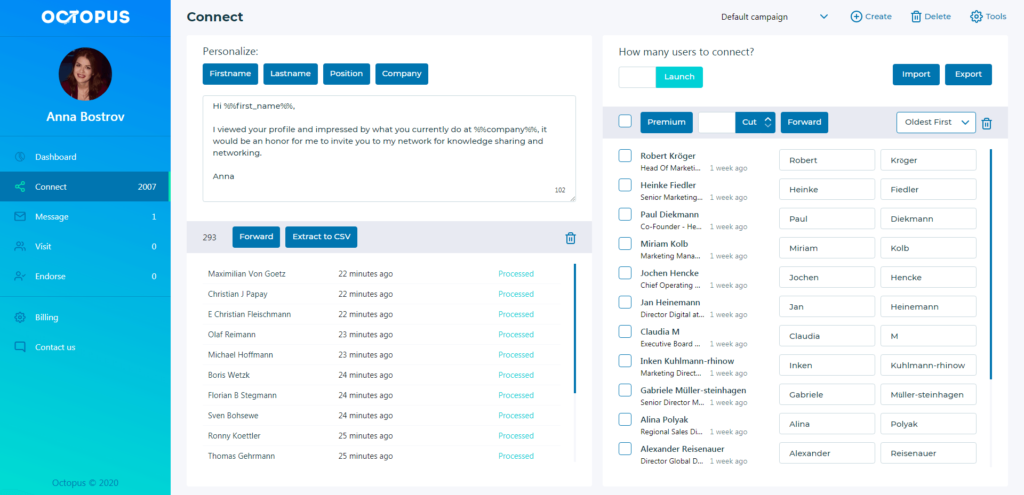 Use LinkedIn's search bar and filters to locate your prospects. 

Transfer the profiles of your desired connections to the CRM by clicking on the Octopus chrome extension while on the page that displays your search results. To complete the transfer, specify your requirements in the form that follows. These include your action (Connect), campaign, URL, and the number of profiles you wish to transfer.

Press the CRM button on the bottom-left of the form. This would direct you to the CRM, where you would write a note or message to be sent along with the connection request. 

Specify the number of profiles you'd like to connect, press "Launch" and the CRM will automatically send your connection requests. 
Automate LinkedIn Messaging
Sending out messages and subsequent follow-ups to your new connections can be automated with Octopus CRM. Here're the steps to do this: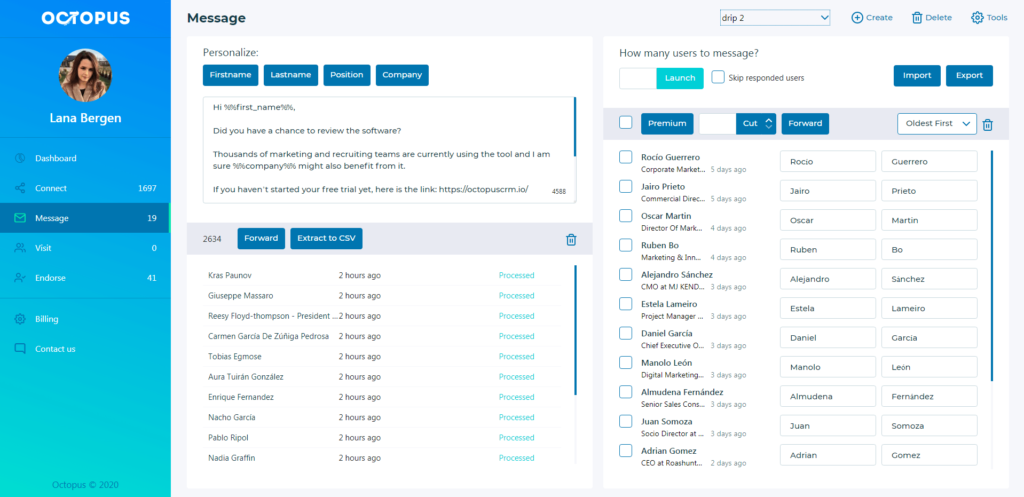 Look up the connections you wish to message via LinkedIn's "My Network" feature or the search bar.

Transfer these profiles to the CRM by following the same method as for connections. You get the option to adjust your requirements.

Go to the CRM and fill the message template. You can personalize the message by using the "First Name," "Last Name," "Position," and "Company" buttons available above the message box.

Specify the number of contacts you'd like to message, press "Launch," and you're done.
The first and second steps for automating profile views and endorsements are the same as those for LinkedIn messages. 
Automate Profile Views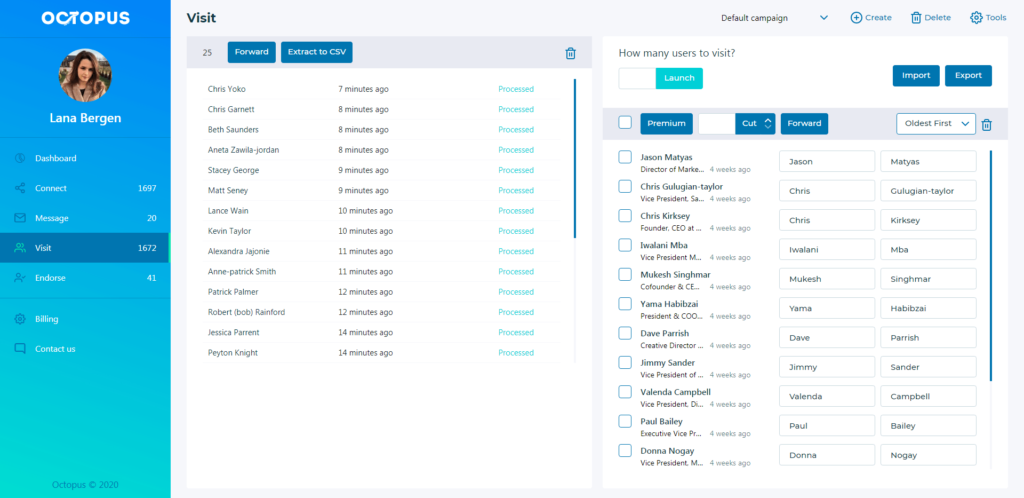 Choose "View" as your action while transferring the profiles to the CRM. Once you're at the CRM, input the number of contacts whose profile you wish to view and then press "Launch." The LinkedIn profile automate content feature will take care of the rest and present you with the results.  
Automate Endorsements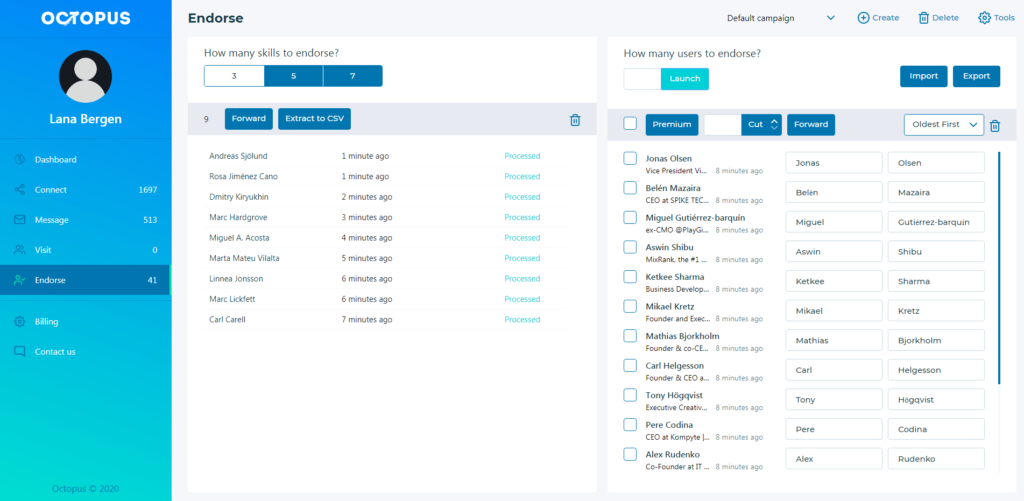 The chosen action, while transferring to CRM, will now be "Endorse." At the CRM, you will be asked to specify the number of skills you want to endorse per profile and the number of contacts you wish to process. Input these and click "Launch."
Why Automate LinkedIn?
Using the traditional method for prospecting and lead generation on LinkedIn can take up a significant amount of time and effort. Sales professionals already have a lot on their plate, and it just wouldn't make sense to waste time and energy on something that can be done with the push of a few buttons. 
Automating LinkedIn will save you time, energy, and resources that you can use for other important tasks in the buyer journey, such as meeting and interacting with your prospects. On top of that, automation can help you grow your LinkedIn profile and network in the most efficient way. And the best part is that it all happens side by side while you can focus on other essential aspects of your work. 
Takeaway
LinkedIn is a powerful resource for B2B sales professionals all over the world. Automation of the time-consuming tasks that accompany the fair use of this platform can substantially elevate your chances at successful prospecting. It can also enable your LinkedIn profile to stand out among others. Use Octopus CRM to automate LinkedIn and put yourself on the road to successful prospecting.